White Horse Golf Club: A Thoroughbred Chomping at the Bit
By: Jeff Shelley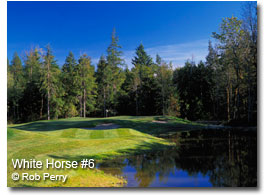 A new golf course is unfolding near the small town of Indianola in Western Washington. White Horse Golf Club will be the centerpiece of a mixed-use development emerging in a rural part of Kitsap Peninsula. Nearby is the quaint town of Indianola, which, with a country store and a few homes overlooking Puget Sound, represents the bulk of concentrated civilization in this beautiful part of the Evergreen State.

I played White Horse's back nine in early November and toured the back, which is now in the grow-in process. All 18 holes should be open for play in April 2007.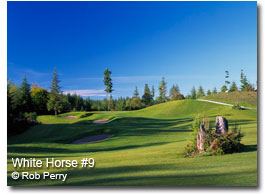 The course winds through what is now a tree-lined expanse. Many of these conifers will be disappearing - though certainly not all - with the eventual development of the 224 single-family homes over four phases. Several dozen homes now dot the periphery - though unobtrusively - of the back nine, and most are impressive in scope. It seems as if many "empty nesters" are finding this pastoral area worthy of investment.

Bob Screen, who came to the golf-development arena with a background as a Seattle-based advertising and marketing executive, is the backer of White Horse. The story of how the place was named is interesting. Screen was driving around a remote section of Kitsap County in 1988 looking for a plot of land where his daughter could keep her horse. Lo and behold, he "stumbled" across a beautiful parcel, but it was a bit larger than the desired 10 acres. In fact, it was 45 times that size. To make a long story short, his daughter's pet equine never stepped a hoof on the 456-acre parcel, but the color of her horse left an indelible imprint.

Another interesting sidebar involves Karsten Solheim, the fabled Ping founder who was a native of nearby Poulsbo and a long-time Seattle resident before moving on to putter-making fame in Arizona. While visiting his sister in nearby Suquamish, Solheim lamented the lack of quality golf courses in the area. Screen heard Solheim's complaints, and asked him - as well as a few golf course architects - to take a gander at his new property and opine whether the land was suitable for a golf course. Solheim and the others said it was an ideal site for such an enterprise.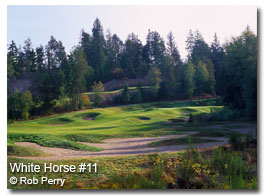 Nearly everyone who has visited the property become quickly aware that the ground here is special. Blessed with a deep and porous soil mixed with sand and pea gravel, White Horse is underlain with an ideal composite for golf courses and near-perfect for these climes (still, the annual rainfall total here is a mere 30 inches). Indeed, the course's builders - led by Richard Arnett of Texas - didn't need to import any topsoil or other materials during construction. Instead, over 400,000 yards of the well-draining grit were removed from the current site of the 14th hole for all 18 tees and greens, which represented a huge savings in cost.

After deciding to proceed, Screen began the laborious process of getting approval to develop the homes and golf course. Starting in 1991, it wasn't until 10 years later that all approvals were in hand and the appeals by opposing environmental groups were quelled by the courts. Now that the neighbors have seen the course and come to the realization that it may actually enhance their neck of the woods, most are supportive.

Screen hired Cynthia Dye McGarey to design the course. It's not surprising that that name may ring a bell. She's part of the famed Dye family of designers - Pete, his wife Alice, P.B., Matt, Perry and Cynthia's late father Roy.
Screen said he was "impressed with Cynthia's ability to see the golf course on the site and visualize the routing that would maximize the property. She's amazing like that." For her part, McGarey was taken by Screen's land and the opportunity to shape it into something special. "It's a great site. Basically, the golf course fits into the topography very naturally. You'll see 18 different holes."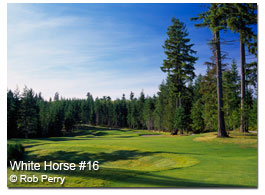 You will indeed, one that the Pacific Northwest Golf Association, the region's official rater of golf courses, has classified as quite difficult. It's given the 7,093-yard, par-72 layout a 74.9 course rating and a 145 slope from the back tees (it's more manageable from the blues, where at 6,234 yards, it warrants 70.2 and 133 ratings). When it debuts to the golf world next spring, White Horse will easily rank among the 10 most difficult golf courses from the tips in the state of Washington.

Besides length - exacerbated by its location near sea level, and 100 feet of elevation changes, the course is imperiled by 130 bunkers and tilted fairways that lean toward impenetrable perimeter rough. Most of the greens complexes feature perched, narrow-but-deep putting surfaces with plenty of character, deep flanking traps and steep runoffs. Because of leftover trees integrated into the layout and the property's endemic rolling topography, players will need to be able to work the ball both left and right on nearly every two- and three-shot hole.

There's not a flat lie to be found on the course, and that's fine with the developer. "Some guy came in and said he couldn't find a flat spot on the course," Screen said with a gleam in his eye. "I said, 'If you find one, we'll go and fix it.' "

Though I wasn't able to "see" the front nine with my feet and the crucible from a player's perspective, my first reaction is that this set of holes is tougher than the back. From the tips, it is 200 yards longer and most holes - starting with the difficult par-4, 439-yard second - seem tighter and more penal. Other tests include the 441-yard par-4 seventh, which contains the only forced carry on the course. Another dandy is the 563-yard eighth, a legitimate three-shotter that goes uphill past assorted bunkers en route to a ponderous green.

Notable tests on the back include the par-4 15th, a neat 366-yarder with an angled waste bunker along the right of the 150-yard mark that is definitely in play. The fairway then rises past five bunkers to a hill-cut, wavy green with a steep right side. The 16th, a 568-yard par-5, is a left-bending, slight downhiller bunkered along both sides. Nicely framed by evergreens, this lovely test eventually concludes at a saddle-shaped green trapped on the left. White Horse's signature hole may be the par-4 18th, which stretches 485 yards from the way-back blocks. From this elevated start, the fairway descends past a pond along the left and bunkers right to a water-guarded green canted at 45 degrees. The back pin is a full club longer than the front flag position.

The facility will also boast an expansive grass-teed driving range. Initial plans call for a temporary clubhouse, with a permanent, full-service structure to commence after the third phase of lot sales. Also in the offing are a boutique inn and recreational amenities for the residents of White Horse Golf Club, which will remain open to the public as a semiprivate entity.

Screen figures that his course's biggest competition will come from Trophy Lake and McCormick Woods in Port Orchard, Port Ludlow at the north end of the Kitsap Peninsula, and the Olympic Course at Golf Mountain, the Bremerton track that hosted the 2006 U.S. Public Links Championship to national acclaim.

As could be expected with a man of his background, Screen's market assessment is sound. My guess is that White Horse, absolutely no pun intended, will be the "dark horse" in this competition, mainly due to its off-the-beaten-track locale. Yet, in the estimation of golfers who play the course, it may very well end up at the finish line ahead of its rivals.

For more details, call 206/842-9000 or visit www.whitehorsegolfcommunity.com.