White Tees, Red Wine - California's Central Coast is a Perfect Wine & Golf Getaway
By: George Fuller
Having grown up in Southern California and gone to college in Northern California, I must have traveled Highway 101 dozens of times over the years. Driving only with the intent of getting from point A to point B, cities such as Buellton and Paso Robles were but mere pit stops for gas and pea soup.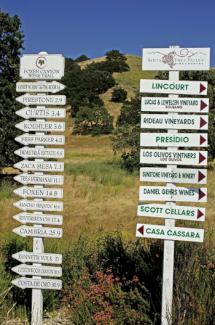 Just a Few of the Wineries on California's Central Coast
Nowadays, I'm not in so much of a hurry when driving, especially in springtime when the golden hills of Central California sport a riot of bright mustard, colorful poppies and ubiquitous stands of stately oak trees casting spiny shadows in the fields. This past May, my brother Dave and I decided to explore this region on our annual brothers' golf trip.

Dave and I are pretty far apart on social and political issues - which makes for lively dinner table discussion, but two areas where we always find common ground are golf and wine tasting. On those topics, we universally agree. With a little research (and a good memory for the film "Sideways"), we realized that we could take any route "sideways" from the 101 and discover that those very same towns I whizzed past as a student are renowned today for their wines and the highways are lined by what looks like tens of thousands of acres of vineyards.

The golf courses are set in these fertile valleys, too, which make it very easy to book morning tee times and to leave afternoons free for wine-tasting and exploration. With 109 wineries in five distinct growing areas, I'd go so far as to say that Southern Californians no longer have to travel as far afield as Napa or Sonoma for their golf and wine vacations. Buellton, Solvang, Los Olivos, Lompoc and points closer to home are just as enticing . . . and a whole lot less crowded.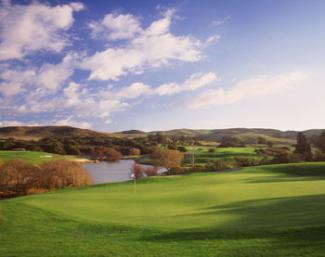 A View Across La Purisima
Driving up on a Thursday evening with a tee time at La Purisima (www.lapurisimagolf.com) the following morning, Dave and I made the first stop of our journey at Hitching Post II in Buellton, long a popular dinner spot for locals, but now close to legendary after "Sideways" brought widespread fame to its rustic charm and delightful pinot noirs.

Walking from the car to the restaurant we noticed the wind had picked up. With La Purisima's reputation as a tough course that tends to get downright brutal as the afternoon breezes come off the coast, Dave and I looked at each other and decided to eat a hearty meal to store up energy for the battle in store.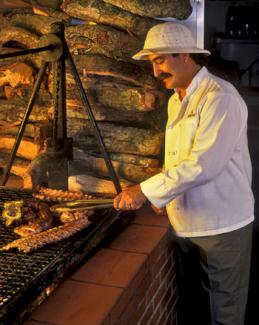 The Hitching Post
Opened in 1986 by Frank Ostini Jr., Hitching Post (www.hitchingpost2.com) specializes in Santa Maria-style barbeque, a method stemming from the culture of the Spanish Rancheros who cooked over the heat of a fragrant red oak wood-fire. The steaks (Dave), baby back ribs (me) and other meats that are cooked in this fashion and served without sauces so as not to mask the smoky flavors and . . . go figure . . . are the perfect match for a glass of 2006 Hitching Post Pinot Noir Highliner.

After dinner we drove the three miles to Solvang and checked into one of Alisal Guest Ranch's cottages. Usually, when a resort is described as "dated," it is not a compliment. But Alisal Guest Ranch (www.alisal.com) is dated in a good way. It's like checking into the early 1960s, when life was simpler and a day spent riding horses, playing poolside and enjoying family life was the norm. There are still no televisions in the cowpoke-themed rooms and that wood in the fireplace . . . it's real!

We got up early for our 8 a.m. tee time, grabbed some eggs and sausage from Alisal's included breakfast bar, and drove back through Buellton on Highway 246, past several wineries we thought might make good stops in later in the day (Babcock, Melville, Foley) and got to La Purisima in Lompoc around 7:45.

Set in a green valley with rolling hills dotted with mature oak trees, and its white adobe-style clubhouse topped by red-mission tiles, La Purisima looks perfectly lovely. No better setting for golf. By 8 a.m., though, as we arrived at the first tee, the wind had picked up big time. The single who had just teed off before us had a funny look on his face when he returned to his cart and said as he drove off, "Usually doesn't start like this 'till the afternoon . . . good luck guys!"
Apparently, luck was in short supply. Every hole was to an uphill green and straight into the teeth of a wind that only got stronger . . . or felt like it. We hit good tee balls that didn't travel more than 120 yards; decent approach shots that had no intention of reaching the putting surfaces; putts that blew offline like butterflies in a tornado.

By the time we reached the eighth tee - the highest, i.e. windiest, point on the course - we had stopped keeping score. I looked at Dave and saw his mouth moving, but couldn't hear a word he was saying over the wind's roar. Taking the initiative - since "honors" were no longer relevant - I walked up to the red tees and we played the rest of the round from there. FYI, the red tees play 5,763 yards without the wind, add a few hundred on the day we played. Were we embarrassed? Not in the least. We started to have fun . . . and even found a bit of luck.

"So what was that you were trying to say on eight tee?" I asked Dave as we got back in the quiet of our car, readier than ever for some serious wine tasting.

"I was saying this course lives up to its reputation as gorgeous but tough," Dave said.

No argument from me.
An afternoon of wine-tasting included Curtis Winery (www.curtiswinery.com), specializing in limited-production Rhone-style wines, including a refreshingly light viognier; Longoria Wines, a "must-stop" for lovers of premium pinot noir and syrah; and Rideau Winery & Vineyards, also specializing in Rhone-style wines with its tasting room located in a historic adobe built in 1884.

Dinner that night was at Brothers at Mattei's Tavern (www.matteistavern.com), a cozy, lovingly restored circa-1886 stagecoach stop that was first used by travelers en route to Santa Barbara. This historic building has, since 1996, housed Jeff and Matt Nichols' Brothers Restaurant. In addition to a warm fire and a long list of Santa Barbara County wines, the creative yet comforting menu includes such choices as a tower of tuna tartare with avocado, spicy yuzu vinaigrette and crispy ginger - which I could not resist as an appetizer - and slow-roasted prime rib served with garlic mashed potatoes that Dave decided would salve the day's golf.

The River Course at Alisal was our golf choice the following morning. Maybe because the wind is less extreme in Solvang than Lompoc, but this was an extremely playable course and an enjoyable experience. There's plenty of room to hit (and even spray) the ball off the tee, the green complexes are very approachable and holes seven and eight, both bordered all along their right sides by a vineyard, reminds you of the taste treats in store after the round.
Opened in 1992, the River Course at Alisal is blessed with a serene and ranch-like setting. The southern flank of the course is bordered by the Santa Ynez River, while farm and ranch lands surround the balance. It is one of two courses to which guests of Alisal Guest Ranch have access, the other being the private Ranch Course, immediately adjacent to the hotel. Being open to the public, the River Course is popular with locals and also one of the better bargains in the region at $60 weekdays and $72 weekends.

After golf, we checked into Hotel Corque (www.hotelcorque.com) in Solvang, a splashy property recently purchased and completely renovated by the Santa Ynez Band of Chumash Indians, which also owns the nearby Chumash Casino Resort (for anyone looking for entertainment, gaming and nightlife).

The rooms are new and nice enough - many overlooking an inviting pool and hot tub, and the lobby is very modernistic. But what we found most exciting about Hotel Corque was the fine dining restaurant, Root 246, where celebrated chef Bradley Odgen - whose San Francisco Bay area and Las Vegas restaurants have consistently elicited national acclaim - has created the menu.

The night Dave and I were there, Chef Ogden - who told us he lives nearby - was in the kitchen personally supervising and turning out some fanciful and very imaginative dishes, in what is without question the finest dining experience on the Central Coast.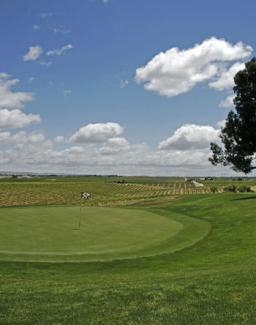 The 4th Hole at Hunter Ranch
With not a freezer on the premises, all the food served at Root 246 is fresh from the farm or sea. Starters include creative flavor and texture combinations such as a Maytag blue cheese soufflé with spring rhubarb and local strawberries. Entree choices include mascarpone and Parmesan cheese dumplings with braised artichokes, heirloom cauliflower and pistachios. Steaks, seafood and chicken dishes are all available and expertly prepared.

On Sunday morning, we took the 1.5-hour drive up to Paso Robles to play Hunter Ranch (www.hunterranchgolf.com) and visit a few wineries there, leaving more than 100 wineries and dozens of golf courses in Santa Barbara County for our next visit.

Guess there's reason to hurry after all.
Award-winning publisher, editor, writer and photographer George Fuller has been covering golf travel and lifestyle for more than 30 years. From 1992 to 1997 he was editor of LINKS-The Best of Golf, based in Hilton Head, S.C. In 2005, after having spent several years in the Pacific starting two magazines for Continental Micronesia Airlines and writing two books, Fuller launched GOLF LIVING Magazine for the Los Angeles Times, a "super-regional" magazine of travel, real estate and the lifestyle surrounding the game of golf. In 2009, he helped redesign and re-launch TEXAS GOLFER, a magazine with 25 years of history in the Lone Star State. Most recently, Fuller partnered with Troon Golf to launch TROON GOLF & TRAVEL, a monthly eMagazine with an annual print component. In addition, Fuller's newspapers and magazines credits include TIME, Wall Street Journal, San Francisco Chronicle, The Los Angeles Times, Robb Report, Coastal Living, Palm Springs Life, Estates West, GOLF Magazine, Golf Digest, Travel & Leisure Golf, LINKS, Successful Meetings, Honolulu and many others. He has reported for Reuters, United Press International (UPI), written for Copley News Service and is a regular on-line travel correspondent for Cybergolf. Based in Pacific Palisades, Calif., he can be contacted at gfuller@earthlink.net or 310/245-9550.