Whither Luke Donald?
By: Tony Dear
Who knew Luke Donald has been out of action for almost half the season? With Tiger Woods sitting out the last four months (with six or more still to come), Donald's forced absence has gone more or less unnoticed. But the Englishman's injured wrist is on the mend, and he's committed to Tiger's season-ending event in California. Will he be ready?
It's been a strange old year for Luke Donald. After a fast start to the season during which he recorded a third-place finish in Los Angeles then missed a playoff with Ernie Els by a shot at PGA National, the 30-year-old missed the cut at Bay Hill and Augusta National before finding his form again at the BMW Championship at Wentworth near London, where he tied for third, and the Memorial, where he came in tied for sixth. Considered a decent each-way bet for the U.S. Open at Torrey Pines, Donald was just three shots off Stuart Appleby's lead after 36 holes.
But his left wrist began bothering him in the third round, and on the 15th tee on Sunday he felt "a huge pop" in the tendon as he made contact with the ball. According to London hand specialist Dr. Brian Cohen, Donald suffered a "subluxation of the extensor carpi ulnaris (ECU) tendon."
Donald, markedly lower key and considerably less outspoken than England's other great young hopes, Ian Poulter and Paul Casey, has spent the last four months in England and at home in Chicago, though you'd have no way of knowing it because news of his recovery has been overshadowed somewhat by that of another of golf's elite who has spent much of the year benched. Tiger, of course, make news opening a packet of cornflakes.
Unlike Woods, who had little choice but to have surgery, Donald's first two months out were spent anguishing over whether to go under the surgeon's knife or not. "Surgery can be risky and that's why I tried to avoid it," said the man who left Torrey Pines 18th in the world but who has now slipped to 27th. "I damaged some connective tissue in my left wrist which holds one of the tendons in place. Dr. Cohen said there was actually nothing wrong with the tendon itself, and if I was an ordinary member of the public it wouldn't have made too much difference to my life. Ninety-five percent of the time my wrist felt normal. It's just that when it flexed in certain positions when I swung a club, the tendon popped out."
Donald's original plan was to rest and recuperate at home with a view to being ready for the Scottish Open at Loch Lomond, then the Open Championship at Royal Birkdale. Both came and went, however; the discomfort still apparent.
In the first week of August, Donald made "one of the biggest decisions of my career" when he opted to undergo arthroscopic surgery, knowing he would probably be out for at least three months following the procedure which meant missing the Ryder Cup. "It's my career which is at stake here, so I have been taking this very seriously," he said. "I just wanted to get to the bottom of what had happened in order to make sure it doesn't happen again."
The surgery was performed in New York on August 11th by Dr. Andrew Weiland, who carried out a similar procedure on baseball's Jason Giambi in October 2006 as well as another wrist operation on Jim Furyk in March 2004. Afterwards, Weiland remarked that the injury Donald had suffered was not all that uncommon among golfers and baseball players, and said he was confident Donald would make a full recovery with the proper rehabilitation and training.
"I spent the following six weeks resting and letting the tissues heal fully," Donald said last week. "After that, I started my rehab, and am currently four weeks into it. Already my strength and range of motion is becoming so much better. I'm probably 80 percent fit right now."

He will swing a club for the first time since the operation in early November, and plans to start hitting full shots at his winter home in Jupiter, Fla., with Pat Goss, his coach from Northwestern University. "I'll have six weeks before the Chevron World Challenge to work on all parts of my game so I can be ready," he says.

Not surprisingly, Donald is itching to play again and is thrilled at the prospect of making his return at the Chevron, which he won in his first appearance in 2005 (when it was the Target World Challenge). That year, a closing 64 saw Donald come from six shots behind 54-hole leader Darren Clarke to win by two.

Donald remembers instantly liking the Sherwood Oaks layout and sensing he was going to have a good week. "I was just so excited to be there, and be a part of the whole event," he remembers. "I knew I was going to have fun, and have a good tournament as I immediately felt comfortable on the course, and felt it suited my game. Still, with 18 holes to play, I was a long way behind Darren, who was playing some brilliant golf. That last round though, everything clicked, and I was able to hit all the shots I was trying to hit."

Donald hopes to be feeling 100 percent fit by the time of the tournament - "otherwise I wouldn't have agreed to play" - but isn't quite sure what to expect in terms of form.

"It's been almost five months since I hit a golf ball, but I have begun to putt and chip, and so far that is going well," he says. "I'm hoping the excitement of being back out competing will carry me through to a good result and, who knows, into a position where I have a chance to win on Sunday. But in all honesty, I think at this early stage, I'll just be happy to be out again competing with my peers."

And where better to do it? Playing Tiger's event in the Southern California sunshine, with its stellar field, no-cut format and guaranteed money - $170,000 to the player finishing last - seems as good a place as any to make a comeback.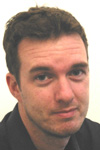 Tony Dear has been writing about golf for 11 years. A former assistant club pro from Sussex, England, Tony started out as a freelancer in 1992 before taking a staff writer's job at Fore!, a magazine based in Peterborough. As the magazine's chief instruction writer, it was Tony's job to compose instructional articles aimed at a youngish readership whose letters to the editor suggested they often got confused by technical jargon and theory. Tony brought his simple approach to teaching golf to the magazine, helping boost sales by 10,000 issues. As a result, he was nominated within the company and nationally for Young Writer of the Year awards.

From there, Tony moved 20 yards across the Emap UK office to join Today's Golfer. There, he was soon promoted to a senior editorial position, focusing on equipment, and became a significant part of a team that saw sales figures double within the magazine's first 12 months.

After three years at Emap UK, Tony was dragged kicking and screaming across the Atlantic by his American wife ("not really, I love it over here") and, after short spells in Phoenix and Denver, wound up in Seattle in May 2003. He recently moved to Bellingham in the far northwest corner of the far Northwest of the U.S. and became a father to a son on whom he has already staked for the 2029 Open Championship. At present, he is freelancing for a number of print and online publications back in England including Today's Golfer, Golf World, Bogey, The Open Championship Magazine and Casino.com. He is also a contributing editor for Denver-based Colorado AvidGolfer.

Recent features include a look at Colorado's self proclaimed 'links' courses, an interview with Suzy Whaley, with whom he played nine holes ("and got soundly thrashed") and a 64-page instruction supplement for Today's Golfer.

Tony has authored three books in the last five years and been nominated for several specialist and young writers awards. "Although I've never actually won one," he admits. He is a member of the Northwest Golf Media Association and the Golf Travel Writers Association based in London.