Who Are the Kids Picking in the PGA Championship?
By: Jay Flemma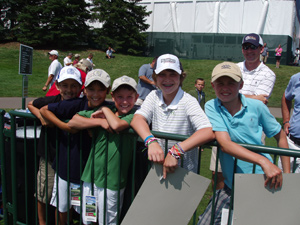 A Group of Kids at the PGA Championship
Everywhere you looked Tuesday, there were tousle-haired boys with beaming faces, teens in braces and "Gopher it!" t-shirts, and girls in barrettes and Nike dresses, all cheering on their favorite players and clamoring for autographs. Let's see who the kids from the Gopher State are picking this week.
Conor Schubring, age 9, Minneapolis - "I want Tiger because he's the Number 1 seed and the world's best player."
Brody Ryan, age 11, St. Louis Park, Minn. - "Phil, because I like his short game and Padraig because he's Irish. I love watching him on TV."
Brent Ryan, age 9, St. Louis Park - "Padraig. I like his game, and I like how his eyes pop out of his head and how he grits his teeth when he hits the ball."
Jake Rooney, age 11, Chippewa Falls, Wis. - "Tiger. He's the greatest."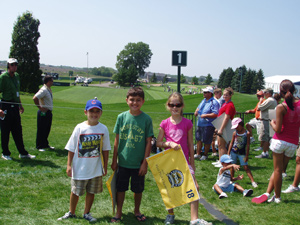 All Set for Tiger & Paddy
Thomas Longbella, age 11, Minneapolis - "Robert Allenby, even though he didn't sign my hat."
Tyler Talbot, age 12, Montecello, Minn. - "He's awesome and he hits the most amazing shots."
Tanner Talbot, age 11, today actually is his birthday, Montecello, Minn. - "Tiger because he wins all the time."
Grace Nelson, age 8, Minneapolis - "Phil Mickelson. He's a lefty like my daddy."
Alexandra Fassand, age 14, Minneapolis - "Tiger, because he's hot."

Bailey Forcier, age 14, Victoria, Minn. - "Phil Mickelson. He can't jump very high when he wins majors and neither can I."