Why Teach Golf to Kids?
By: Nancy Berkley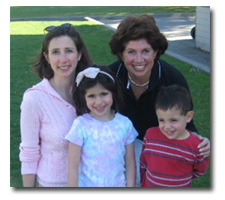 I remember the day very clearly. It was Mother's Day 1995. My daughter, Alison, was 25 and attending Harvard Business School. I was at Harvard to attend an executive business program. I suggested celebrating Mothers Day together with a round of golf on a new public course, Shaker Hills Golf Club, which had just opened about 45 minutes west of Boston. The day was glorious: bright sun and a clear, blue sky.

Those four hours over 10 years ago remain one of our most memorable Mother's Days. We still talk about it.

Alison learned how to play golf when she was about seven. She took a few lessons from our club's golf professional, but I didn't push it. The game always took second place to girls' tennis and soccer. But I hoped the game would stick with her over the long run. We are lucky because it did.

Fast forward to a few weeks ago and my visit to California to see Alison and, now, her children. When my grandchildren ask me to take them to the driving range, it's better than the sound of a long putt dropping in the cup. Here we are:
"Family golf" is gaining in popularity because golf is a rare sport. It offers private time in private space - a unique "Our Space." As our lives get busier and noisier, a few hours together on a golf course are, indeed, a very special place.

If you need more convincing, talk to any parent who plays golf with their children. I have heard dads get mushy as they describe playing with their daughters and moms get emotional as they recount rounds of golf with their children.

In my opinion, the junior golf market will experience strong growth over the next five years. Based on statistics from the National Golf Foundation, there are probably about 10 million children and teens (ages 5-17) either interested in learning how to play golf or are already playing the game at some level - even if just hitting balls at a practice range.

Girls' golf is a special segment of the youth market. Watch that grow! Coming soon is a new magazine - "Golfer Girl Magazine" - targeting the female junior golf market. The magazine is founded by Claude Hooton, a father of three girls who play golf seriously. (I am on the advisory board of the new publication.) The magazine is a response to the girls' question: "Why isn't there a magazine for us?" Now there will be.
Here's how to lay the foundation for an "Our Space" golf experience with your children or grandchildren, or any child that is near and dear to you.

Provide age-appropriate clubs. Most large sporting good stores offer affordable single clubs or sets of clubs designed for specific ages - beginning with five and under. (If it were up to me, every golf facility and resort would provide junior clubs for all ages - free.) Also, look online at amazon.com for many value-priced sets for children. U.S. Kids Golf at www.uskidsgolf.com explains how to fit clubs to children by age, height and skill level. They even have a special "pink" system designed for girls aged 3-5. I like to give children a "carry-bag" because it teaches the independence that golf fosters.

Watch a golf tournament on TV with your children - even for just a few minutes. You will be surprised about how much fundamental information you can teach about the game as you follow a player on a hole or two. Most children love to watch the action on the putting green.

Begin by taking young children to a driving range. Set safety rules: no one can be behind you or close to you when you swing! (For safety reasons, I like driving ranges with long barriers between hitting stations to keep children from wandering into a danger zone.)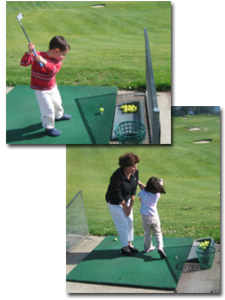 Give them a bucket of balls, suggest a simple baseball grip, show them how to put the ball on the rubber tee, and then let them swing away. Whiffs will not bother them, and don't let them bother you. Even little children will connect with the ball enough times to make the outing a fun experience. Keep the experience a short one and leave as soon as they've lost interest. Resist the temptation to say: "Why don't you kids sit there and watch me swing now." Here's my grandson and granddaughter swinging away.

When your child is ready (which could be as young as 3 but more likely around 7), introduce formal instruction. Find a local junior clinic or a teacher who likes working with young children. A good place to look is the PGA of America website www.playgolfamerica.com. The site offers a new and very helpful section on Family Golf with answers to many common questions like: "How old should children be for lessons?" Search the site by zip code for courses and driving ranges near you and call about their offerings for children.

Another organization that provides lessons is The First Tee at www.thefirsttee.org. The First Tee focuses on golf for juniors in urban areas. Other resources are www.juniorlinks.org (sponsored by the USGA) and the USGA-LPGA Girls Golf junior page on www.lpga.com.     
If a teacher doesn't seem enthusiastic about working with your children, go somewhere else. If your children don't like the teacher or lessons, try another teacher.
Finally, take your children on the golf course. I recommend beginning with a cart-ride, and when they are ready, walk a hole - or two. You will know when to take them out for their first three holes or nine holes and eventually 18. It's on the course that you will have the best chance to teach the core values of the game, such as honesty and integrity, which are also important family values.

May is the PGA's Free Lesson Month. Even though the event is not promoted as a youth event, a PGA golf professional will give 10 minutes with a child or teen. Search by zip code on www.playgolfamerica.com for a local golf professional participating in the Free Lesson program.
July is also a great month to introduce children to golf. July 9-15 is the annual "Take Your Daughter to the Course Week" (sons are welcome, too) sponsored by the National Golf Course Owners Association. Go to www.ngcoa.org or www.playgolfamerica.com to search for a program near you. And the PGA of America recently designated July as "Family Golf Month," so look for more special programs for kids and juniors at local facilities.    
Start laying the foundation now for those special rounds of golf with your family. Grow together in the game and find your space on the golf course.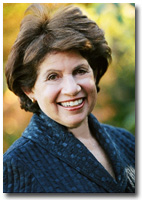 Nancy Berkley, President of Berkley Consulting, is an expert on women's golf. Her book, "Women Welcome Here! A Guide to Growing Women's Golf," published by the National Golf Foundation, is an industry reference on marketing golf to women. She is a resource for golf-industry trends and marketing advice on her website www.nancyberkley.com. She also consults with golf facilities on how to attract more women golfers.

Nancy provides a Quick Question-Free Help Line on her website for those seeking marketing advice in the golf industry. Nancy is a frequent speaker at golf industry conferences and conducts The Woman's Only Guide to Golf programs for women golfers. Nancy's golf course reviews have appeared in The Golf Insider, an international golf and travel newsletter (see www.golfodyssey.com). She also contributes articles for women golfers on Cybergolf and www.ladiesgolfjourney.com.

After a career as a lawyer and business executive, Nancy founded Berkley Consulting and The Woman's Only Guide® to Golf to share her long-time passion for golf and to help grow the game. Nancy describes herself as a bogey golfer who is too busy to play enough golf. Contact Nancy at info@nancyberkley.com or on www.nancyberkley.com.