Widow's Walk Comes of Age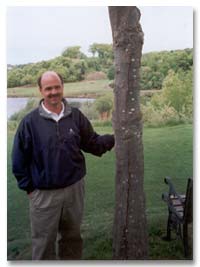 What do Fusaichi Pegasus, winner of the 2000 Kentucky Derby, and Widow's Walk Golf Course in Scituate, Massachusetts, have in common? The short answer is that both were three-year-old thoroughbreds that came into their own in the year 2000.

Located just 25 miles south of Boston on the South Shore, Widow's Walk was built on the site of an abandoned 100-acre former gravel quarry that was long devoid of vegetation and wildlife. The "Pits," as it was known, presented a unique opportunity for the town to transform a biologically impoverished eyesore into an aesthetically pleasing, 18-hole public golf course, while nourishing the native habitat and wildlife.
Designed by Ohio-based architect Mike Hurdzan as a links-type layout adjacent to the historic North River and within sight of the Atlantic Ocean, Widow's Walk was heralded as America's first "environmental demonstration project" in which limited water, fertilizers, pesticides, and herbicides were to be used as part of the course's ongoing maintenance.
The facility opened to much fanfare and on schedule in July, 1997. "Full capacity from Day One, and stayed that way all summer," recalls the club pro Bob Sanderson. But success came at a price. "It had been a cooler than normal spring that year and the grass hadn't germinated quite as fast as it might have under better conditions," Sanderson continued. "There was a lot of pressure to open up the course and there were a number of greens that weren't quite ready; and the same could be said for many of the fairways.
"Like any new course, it takes time for the grass to mature. By mid-September we decided we needed to cut back on the number of rounds being played because the course was beginning to show signs of being over-played. In retrospect, we probably should have waited a few more months to let things mature," Sanderson said. "The result was a lot of people early on were left with a bad taste in their mouths. Some of the criticism was deserved. Some wasn't."
Widow's Walk was named one of the "Best New Golf Courses in America" by Golf Digest in 1998, but like any true thoroughbred (to continue the racing simile), it still had some growing up to do before making its way into the winner's circle.
Under International Golf Maintenance's supervision, Widow's Walk has undergone a number of changes since its inception, including softer, more receptive greens; adding rough along the edges of the fairways to slow down balls heading into woods; overseeding the fairways with sturdier bentgrass for better lies; and judicious thinning of extraneous brush around the tees and greens. "All have made for better playing conditions than we had when we first opened," said Sanderson.
"This will never be an 'easy' course," Sanderson cautions. The 6,403-yard, par-72 layout has some challenging holes and, being so close to the ocean, wind often comes into play. Yet it can be an enjoyable experience for anyone who plays it. "Last July, exactly three years after we opened, more and more players started to stop by the pro shop and tell me just how much they enjoyed the course," Sanderson recalls.
Come and try the course for yourself. Whether you'll be playing Widow's Walk for the first time, or if you're someone who played it once back in 1997, you will find a fun and beautifully maintained course that has come of age.
For more information, call Bob Sanderson at 781/544-0032, or go online at http://www.widowswalkgolf.com. For tee times, call 781/544-7777. The staff at Widow's Walk looks forward to seeing you soon.