Wie Boosts TV Ratings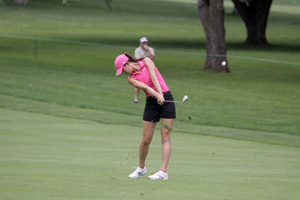 Michelle Wie's first victory at the Lorena Ochoa Invitational garnered one of the year's best LPGA Tour ratings for Golf Channel.
Sunday's 0.72 final-round rating represents the network's second-highest-rated LPGA Tour round and second-most-watched LPGA Tour telecast on any cable network this year. Day 3 of the 2009 Solheim Cup owns the top spot.
The number also represents a 60% increase over the tournament's final round in 2008 and is double the typical final-round ratings for LPGA Tour events on Golf Channel in 2009 (excluding the SBS Open at Turtle Bay and McDonald's LPGA Championship presented by Coca-Cola).
Also over the weekend, the 0.36 final round rating for the PGA Tour's Children's Miracle Network Classic represented an 18% increase over 2008.
Additionally, Golf Channel's heavily promoted "Tiger World Tour," which began with the World Golf Championship-HSBC Champions event in China and concluded with a Woods' victory in Australia at the JBWere Masters, achieved the highest-rated Saturday/Sunday tournament rounds for all European Tour telecasts in 2009.