Will New Swedish Course Host a Future Ryder Cup?
In its first year of operations, the Robert Trent Jones II (RTJ II) designed Stadium Course at Bro Hof Slott Golf Club on the shores of Lake Malaren near Stockholm has been voted Sweden's best golf course by Golf Digest. The ranking comes at a time when the golf course is being touted as a contender for the 2018 Ryder Cup, which may finally see Sweden host an event few deny it deserves.
The brainchild of Swedish multi-millionaire Bjorn Oras, whose aim was to create a world-class championship course, Bro Hof was constructed without compromise. Although the harsh Northern European climate places restrictions on average Scandinavian golf courses, Bro Hof was built using innovative techniques in irrigation and drainage to create optimal playing conditions for as long as seven months each year - a rarity in the region.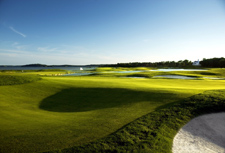 The architects at RTJ II were the first in Sweden to design greens with underground ventilation systems similar to those at Augusta National, and the first to use creeping bentgrass on fairways in the Stockholm region. This attention to detail contributed to Bro Hof's being selected to host the European Tour's 2009 Scandinavian Masters.
Jones, Jr. describes the course: "Everything is big at BroHof! The holes are longer, the greens are bigger, the course has more water and the bunkers are larger and well-placed. Besides which the wind always factors into the playing strategy. On the dog-leg holes you not only have to hit the ball a long way, you also have to get it to stop. Mother Earth must have created this area for a golf course."
RTJ II's other European legacies include Moscow Country Club, the first 18-hole golf course in Russia (1994), and introducing paspalum turfgrass at Mallorca's Club de Golf Alcanada Golf Club in Spain. RTJ II has also handled new designs in Denmark, Norway, China, Korea and Dubai.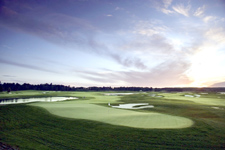 In its 80-year history, the Ryder Cup has been staged just once in continental Europe, at Valerrama Golf Club in Spain in 1997. Bro Hof Slott boasts all the credentials for hosting the event, including a spectator capacity of up to 300,000. Observers believe the odds are that Sweden may follow in Spain's footsteps by staging the biennial contest in 2018.
The decision will not be made until 2010, but, after visiting Bro Hof during the 2007 Scandinavian Masters, European Tour chief executive George O'Grady said, "Myself and Richard Hills, our Ryder Cup director, have been impressed by all we have seen during the week and indeed visited an inspiring course which will be truly stunning as a tournament venue. As a nation, Sweden will be given the strongest consideration when it comes to discussion on future home venues for The Ryder Cup."