Will 'Seven Days in Utopia' Benefit Golf in the U.S.?
By: Nancy Berkley
"Seven Days in Utopia" is a new movie opening Labor Day weekend. I hope it's a blockbuster and that millions of golfers and would-be golfers will be inspired by it to play the game more often. The industry needs it as the number of golfers in the U.S. continues to decline. Maybe this movie will be the tipping point that changes the downward trend.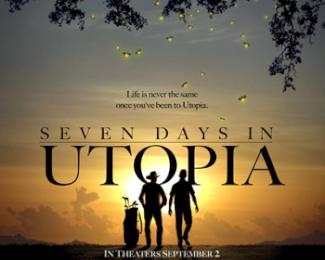 "Seven Days in Utopia" is based on the 2006 book by David L. Cook entitled, "Golf's Sacred Journey: Seven Days at the Links of Utopia." The pre-opening reviews of the movie are generally positive. The stars are 80-year-old Robert Duvall (a fabulous actor though not a golfer), Lucas Black and Melissa Leo.

Cook, who wrote the screenplay as well as the book, is a performance psychologist. He helps people - including famous athletes - get in touch with their individual mind, heart and God to enhance performance. The movie has a Christian theme but, regardless of one's religion, a little help from above can't hurt (visit www.sevendaysinutopia.com and watch the trailer).
Cook is not the only psychologist or golf instructor that has written about the mental side of the game. Dr. Rob Rotella, author of "Golf Is Not a Game of Perfect" published in 1995, emphasizes the need for mental confidence. Pia Nilsson and Lynn Marriott's new book (written with Ron Sirak of Golf Digest), entitled "Play Your Best Golf Now," has a spiritual component that interweaves lessons from golf and life.

I am sure I will enjoy the movie and look forward to offering my opinions. And, of course, I will be thinking, "Would a woman golfer respond the same way in Utopia?" One of the reviews commented it was a great "family movie." If so, will it inspire junior golfers?
On that point, I have just completed a chart on the home page of my website (www.berkleygolfconsulting.com) that tracks the number of golfing adults (ages 18 and over) and juniors (ages 6-17) from 1998 to 2010. I think these are the most complete and consistent statistics available over that period. The numbers are derived from participation rates provided by the National Golf Foundation (www.ngf.org) and related industry organizations.

The numbers indicate that the only segment holding steady is junior girls, who are the "sweet spot" in the industry right now. The total number of golfers in the U.S. declined 3% in 2010 compared to 2009. Adult female golfers declined slightly less than men. The most surprising decline, however, came in the junior boys segment.
Reminder: the numbers only record survey respondents who played at least one round the previous year. Players taking lessons, playing a few holes for practice and visiting driving ranges are not included. The good news is that there are more golfers than these statistics suggest. The industry just has to win them over.
So for starters, buy a ticket and watch "Seven Days in Utopia." Hope you can still get in a round of golf. Be inspired and play well.
Nancy Berkley, President of Berkley Golf Consulting, is an expert on women's golf and junior-girls golf. She is a frequent contributor to www.cybergolf.com/womensgolf. Her book, "Women Welcome Here! A Guide to Growing Women's Golf," published by the National Golf Foundation, is an industry reference on marketing golf to women and spotting trends within the industry. She offers information and advice about the golf industry on www.berkleygolfconsulting.com and is often quoted in national publications. She was a contributing editor of "Golf for Women" magazine and a founding advisor of "Golfer Girl Magazine." Her interviews with women in the golf industry now appear on www.golfergirlcareers.com. Nancy lives in Palm Beach Gardens, Fla., and is a graduate of the University of Minnesota, Harvard University and Rutgers Law School. After a business and legal career, she decided to write about the game she learned and loved as a teenager. She describes herself as a good bogey golfer with permanent potential.