Williams Wins 2013 Ben Hogan Award
The University of Washington's Chris Williams was named the recipient of the 2013 Ben Hogan Award on Monday in a black-tie ceremony at Colonial Country Club in Fort Worth, Texas. Williams became the second Husky for college golf's most prestigious award; he joins Nick Taylor in 2010.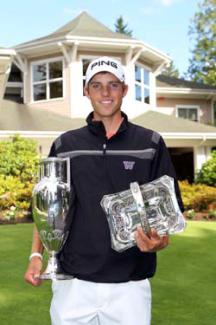 Chris Williams after Winning
2011 Sahalee Players Championship
The Ben Hogan Award is presented annually to the top men's NCAA Division I, II or III, NAIA or NJCAA college golfer taking into account all collegiate and amateur competitions during the 12-month period dating from the previous award's banquet. The Ben Hogan Award selection committee is made up of 23 leaders and experts in amateur, college and professional golf. As the 2013 The Ben Hogan Award recipient, Williams will receive an exemption into the PGA Tour's 2014 Crowne Plaza Invitational at Colonial - which starts this Thursday, as well as earn a $50,000 grant for the UW men's golf scholarship program, $25,000 of which will be donated under his name.

Williams edged California's Michael Kim and TCU's Julien Brun for the award. Kim was the 2013 Pac-12 Player of the Year and had four wins, but on the strength of Williams' outstanding summer play and solid senior season, he received the Ben Hogan Award.

"This is pretty surreal for me," Williams told a full-house crowd at Colonial Country Club after accepting the award. "I grew up in Moscow, Idaho. I never thought I'd be here today.
"Our golf season is about three weeks long," he joked of the UW's location in rainy Seattle. "We don't get a lot of time to play, but I took advantage of it."

Williams is the world's No.1-ranked amateur in both the World Amateur Golf Rankings and the Scratch Players World Rankings. He was the 2012 recipient of the Mark H. McMormack Medal as the world's top-ranked amateur, earning berths into the 2013 U.S. Open and the Open Championship. He swept the 2012 Western Amateur match-play and stroke-play titles, and advanced to the quarterfinals of the U.S. Amateur last summer.

On the college circuit this season, Williams, who was named first team All-Pac-12, has a 70.97 scoring average per round, which is fourth-best in UW single-season history. He has seven top-10 finishes and has shot in the 60s 11 times this season. His seven top-10s this year are tied for eighth-most in UW single-season history.
Williams' senior season was not without bumps. He fought mononucleosis in the fall, causing him to struggle with his game. He returned healthy in the spring but had to give up a top-10 finish at the Western Intercollegiate after he signed an incorrect scorecard in the final round. On Monday, all the trials from a hectic year paid off.

Williams and the crowd paid tribute to Pat Summerall and Ken Venturi, two golf legends who recently passed away, before guest speaker Corey Pavin wowed the audience with his own stories.

Following that, Williams received the Hogan award and thanked many people, saving his last for UW Coach Matt Thurmond, who was in the crowd and whom Williams credited with convincing him Washington was the right place for him. "No one really gave me a chance except him," Williams remembered back to his days as a junior golfer. "At the time we had a top-five-ranked team and he told me 'you have a spot on the squad.'
"He's been there every step of the way and I can't thank him enough. It was definitely the best decision of my life to go to Washington."

That decision has led to three All-America honors so far, four All-Conference honors, a school record six individual wins and 12 team victories. Thurmond is thrilled that Williams chose Washington and couldn't be happier that the senior is culminating his career is such fashion.

"It has been more emotional than I expected," Thurmond said from Fort Worth after Williams collected his trophies. "I'm just so happy for him. Any time you get these kinds of things it causes you to reflect on all the little things it takes to get to this point. For him to have that experience tonight, it's something that will be with him for the rest of his life. In so many ways it's such a thrill. I'm just so happy for him that he got to experience something so joyful and satisfying."

Williams' career at Washington is not over as the Huskies' season continues next week. Williams tied for 14th at the NCAA Regionals in Tallahassee, Fla., on Saturday and now moves on to the NCAA Championship in Atlanta May 28-June 2 with his teammates.