Wilson Golf Names Vrska as Global Director of Research & Development
October 24, 2011. Wilson Golf, the Chicago-based company with more major victories (61) than any other club manufacturer, has named Michael Vrska as Global Director of Research & Development. Vrska will be responsible for overseeing the entire research and development efforts for all Wilson Golf equipment including clubs and golf balls.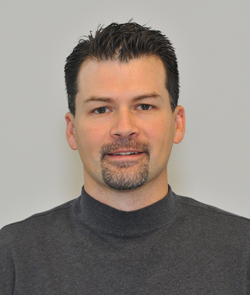 Michael Vrska
Vrska's professional career includes more than 13 years in golf club design, engineering and manufacturing. Vrska most recently served as Director of Product Development at Adams Golf where he assisted in designing and developing award-winning products in the iron and hybrid categories. Vrska was previously a Project Engineer at Wilson Golf from 1999-2002.
"We're excited to have Michael back to lead the Wilson Staff R&D team," said Bob Thurman, Vice President of R&D for Wilson Sporting Goods. "Michael's passion for developing world-class golf products and his unwavering focus will help carry on the innovation of Wilson Staff golf equipment and uphold our rich history as a premium golf company."
Vrska appreciates the heritage Wilson Golf has as an iron company, and is looking forward to continuing the legacy that Wilson Staff irons have by producing award-winning irons and increasing the company's focus in the driver/wood category.
"It feels great to be back with Wilson Golf, a company with so much heritage," said Vrska. "I look forward to working closely with the entire Wilson Staff team and specifically the R&D team to develop world-class golf equipment that delivers in performance and design."
Vrska graduated from Purdue University with a degree in Mechanical Engineering. He and his wife, Robin, have three children.
About Wilson Golf

For nearly a century, Wilson Golf has designed, manufactured and distributed premium and recreational golf equipment throughout the world. Since 1914, Wilson Staff irons have won 61 Major championships, more than any other iron manufacturer in history. Wilson Staff's Di11 irons, D-FY combo set, FG Tour irons, Conform glove and the distance D:25 golf ball were honored with Golf Digest's Hot List awards in 2010 and 2011. Wilson Staff, Profile, ProStaff and Hope consumer brands continue that tradition today by delivering the highest quality golf equipment to all golfers to enhance performance on the course and overall enjoyment of the game. Wilson Golf is a division of Chicago-based Wilson Sporting Goods, one of the world's leading manufacturers of sporting equipment by Amer Sports. For more information, visit www.wilsonstaff.com or call 773/714-6400.