Winged Foot Hosts 78th Anderson Memorial - America's Fourball Begins Thursday
By: Jay Flemma
There won't be any TV cameras, merchandise tents the size of football fields, or phalanxes of instructors prowling the practice range. But this weekend at Winged Foot spectators will see some of the greatest golf shots played outside next week's U.S. Open. From Thursday to Sunday Winged Foot, the Yankee Stadium of Golf and situated in Mamaroneck, N.Y., will host the country's greatest amateur players in the 78th Anderson Memorial Tournament - "America's Fourball" for all intents and purposes.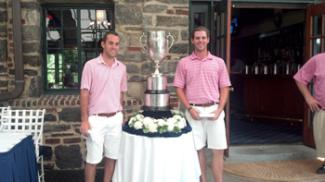 The Mad Maxes Will Try to Defend at Winged Foot
Part reunion, part revival and always rousing, the Anderson is one of the pre-eminent amateur tournaments of the golf calendar, along with the USGA Am and Mid-Am, the Travis at Garden City, the Coleman at Seminole, and the Crump Cup at Pine Valley. Close to 90 two-man teams from clubs across the globe will play 36 holes of stroke play over both the East and West courses on Friday and Saturday. Teams will come from as far as Peru, Cabo San Lucas, England and Ireland for the competition this year. The top 16 teams (plus 16 more in a Seniors division) will advance to a match-play bracket for Saturday and Sunday, contested on the East Course this year. (The match play course rotates back and forth - the East in even years, the West in odd.)

No club in America has two courses as equally good as Winged Foot. The East is every bit the equal of the West in difficulty, and has a more diverse, prettier natural setting. Did you know that for the 2004 U.S. Amateur, the East Course played harder in score-to-par than the West Course? The par-3s are particularly tough, especially 13 and 17, beautiful, but deadly. If Winged Foot and the USGA wanted, they could simply rearrange the footprint of the event and host the Open on the East course just as easily with little to no difference in aggregate winning score.

"The East Course isn't as relentlessly long as the West Course, but it makes up for that by having greens that are just as undulating, if not more in certain places," observed defending champion Max Buckley, who teamed last year with Boston College star Max Christiana (the "Mad Maxes" are they are known in Metropolitan Golf Association circles).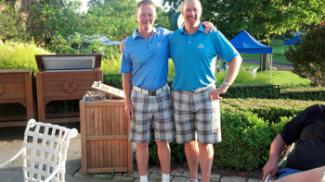 The Dapper Gents from England Dressed Like Ian Poulter
"The East course is a shot-maker's course. It's a little tighter than the West, and requires precise placement in the fairways and on the greens. Accuracy is at a premium," added Congressional Country Club's Trevor Randolph, who along with partner Paul DeRosa finished tied for third in 2013. "The key is to give yourself good looks on the greens, avoid three putts, and try to take advantage of the reachable par-5s."

Indeed, short par-5s like the fourth and 12th should see some wild swings, as will gorgeous but deadly par-3s like three, 13, and 17.

"It's tough enough putting one ball on the green on 13 or 17, let alone two," observed golf design expert Bruce Moulton, a former four-ball club champion at National Golf Links of America. "A birdie on either of those holes is a big plus; they will see particularly few all weekend."

Though the Mad Maxes are one of the favorites - "the most dangerous names on the leaderboard," as Randolph put it last year before the final round - a veritable Who's Who of amateur golf will be chasing after the title as well.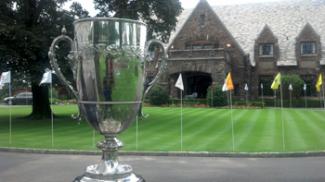 The Anderson Memorial Trophy
First are the Smoky Mountain Boys, three-time defending match play champion Parker Smith and his two-time defending champion partner Dan Crockett. They are, in a way, co-defending champions with the Mad Maxes. Last year's torrential rains shortened the tournament by a day and changed the format to three rounds of medal play. But Smith and Crockett won the 2012 and 2013 Anderson in its normal match-play format, and Smith also won in 2011 with a different partner. Smith is an unbelievable 12-0 in his last three years of Anderson match play and Crockett is an equally splendid 8-0. Make no mistake, the tournament may be in Mamaroneck, but the road to the title goes through Rocky Top, Tenn.

"Two balls in the fairway and two balls on the green," observed Crockett when asked how to survive Winged Foot in the crucible of world-class competition. It's tough to lose a golf match if you do that all day.

Then there's the feel-good story of the tournament, the father-and-son dynamo of golf architect Steve Smyers and his first-team All-American and 2013 Division 2 National Champion son, Scott. They took the lead on Saturday with a blistering 63 and battled the Maxes all the way to the 72nd green before a five-putt by Scott ended their gallant run.

"We came out for a little father and son fun, and the hole wouldn't stop getting in the way of the ball," deadpanned Steve as he reflected on the team's sparkling Saturday round which included seven birdies, one eagle, and at least three hair-raising, scrambling saves.
Finally, perhaps the best international team is Mark Wharton and John Kemp of John O'Gaunt Club in England. Twice runners-up in the tournament, the dapper gents bring a little Saville Row to the proceedings, often winning the unofficial "best dressed" team award in a tournament also known for it's own impromptu "apparel scripts." Indeed, the Maxes won the title last year wearing matching pink-and-white outfits.

Other top amateur stars competing this year include 2012 and '13 Travis Invitational champion Joe Saladino of Huntington Country Club, Winged Foot's Hans Albertsson, the Fox Club's Eoghan O'Connell, the Country Club's Mike Kelley, and Whisper Rock's "Big Ben" Hayes. The first round begins early Thursday.

"It's one of the games great traditions, played at one of its most storied courses. When you're at Winged Foot, you're looking at golf history," said Moulton. "It's the archetype of a Golden Age American golf course, and to come and play in this tournament is to walk in history. It's the greatest feeling a player can have. It's why we play the game."
Since launching his first golf writing website in 2004, http://jayflemma.thegolfspace.com, Jay Flemma 's comparative analysis of golf designs and knowledge of golf course architecture and golf travel have garnered wide industry respect. In researching his book on America's great public golf courses (and whether they're worth the money), Jay has played over 420 nationally ranked public golf courses in 40 different states, and covered seven U.S. Opens and six PGA Championships, along with one trip to the Masters. A four-time award-winning sportswriter, Jay was called the best sports poet alive by both Sports Illustrated and NBC Sports writers and broadcasters. Jay has played about 3 million yards of golf - or close to 2,000 miles. His pieces on travel and architecture appear in Golf Observer (www.golfobserver.com), Cybergolf, PGA.com, Golf Magazine and other print magazines. When not researching golf courses for design, value and excitement, Jay is an entertainment, copyright, Internet and trademark lawyer and an Entertainment and Internet Law professor in Manhattan. His clients have been nominated for Grammy and Emmy awards, won a Sundance Film Festival Best Director award, performed on stage and screen, and designed pop art for museums and collectors. Jay lives in Forest Hills, N.Y., and is fiercely loyal to his alma maters, Deerfield Academy in Massachusetts and Trinity College in Connecticut.