Winged Foot to Celebrate 77th Anderson Memorial Four-ball Tournament, Three-time Defending Champion to Return
By: Jay Flemma
Winged Foot Golf Club will again return to the informal U.S. Open rota in 2020, but next week America's greatest amateur players will take center stage at one of our beloved game's ancestral seats as the club hosts golf's premier two-man team event. The 77th Anderson Memorial begins next Thursday with two days of stroke play qualifying, one round on the East Course and one round on the West Course, then continues over the weekend with a 16-team match play championship bracket contested over the West course. There is also a senior division for players over 50.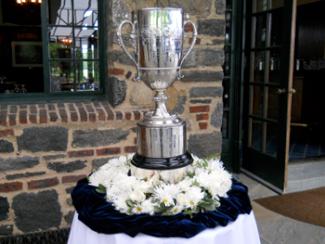 The Anderson Memorial Trophy
Last year, Tennessee's Parker Smith and Dan Crockett successfully defended their title in an epic 19-hole title match against England's John Kemp and Mark Wharton. I chose that word with precision: epic. You've heard of pistols at dawn? Well that match was carronades at sunset.

The final was delayed twice by thunderstorms out of the pages of the Book of the Apocalypse, but the maelstroms were followed by two joyous double rainbows which flowered majestically over the golf course, delighting even the most jaded observer. Because of the long delays, the match finished in semi-darkness as a gibbous full moon towered over the first fairway of the East course before Smith and Crockett finally prevailed.

"It was one of the most exciting matches I've ever been a part of," stated a relieved Smith, who actually completed a three-peat in the event. He won the 2010 Anderson with a different partner. "Winning it once is special, but three times? I never dreamed of it. But they treat us so well, and it's such a privilege and honor to come here, just getting to play in it is a life event in any golfer's career. I'm grateful just to get the chance to compete."
Indeed, the Anderson is considered one of the major championships of amateur golf, along with the U.S. Amateur, the Travis Invitational at Garden City Golf Club, the Coleman at Seminole, and the Crump Cup at Pine Valley. Teams will come from as far as Peru, Cabo San Lucas, England, and Ireland for the competition this year.

"It speaks to both the success and stature of the event that people fly in from across the globe to take part," explained golf expert Bruce Moulton. "It's a veritable Who's Who of world amateur golf," and he's right. This year (as usual), Smith and Crockett will have their hands full to defend their title. Beside the cloak and dagger danger of the perilous West course - seemingly so inviting off the tee, yet so exacting with long, lush rough and cunningly intricate green complexes - this year's field boasts many well-decorated champions.

Perhaps the hottest player in the field is the Metropolitan Golf Association's favorite son, Joe Saladino, who will represent Huntington Country Club with partner Dave Boccia. Two weeks ago Saladino became the first player since Champions Tour star David Eger in 2000 to successfully defend his title at the Travis Invitational. He won that tournament in a deluge, sandwiching his back-to-back Schenectady Putters with a victory at the season-opening Havermeyer tournament at Seawane a month ago.

"Saladino's swinging the club great, and his course management is nigh unparalleled," said Moulton. "Plus he's unflappable in the clutch. Look at the way he came back from 2-down with two to play in the Travis final this year or the way he defeated seemingly unbeatable Ben Hayes in the final the year before."
Moulton brings up another excellent point: Don't forget about long-hitting, sweet-swinging Big Ben Hayes - so nicknamed because his golf victories are like the inexorable march of time itself. Hayes and partner Jon Marisco will represent Whisper Rock G.C. of Scottsdale, Arizona, one of the country's premiere players clubs. Other teams capable of making make deep runs in the tournament include Mark Thompson and Tim Schmitt of Garden City, Eoghan O'Connell and Dan O'Callaghan of the Fox Club, Mike Miller and Matt Minerva of Knollwood C.C., Mike Kelley and Ken Weixel of Albany C.C. in Ohio, Chuck Del Priore and Craig Leonard of Wykagyl, and Winged Foot's own teams of Hans Albertsson/Brian Williams and Greg Rohlf/Jeff Putnam. Albertsson in particular is an unnerving opponent. Iron-willed and steely-nerved, he's every bit as tough as Hayes, O'Connell, or fellow amateur star Kevin Hammer.

He'll need that mettle, indeed they all will. No golf courses showcase such a devastating synergy of history and agony as Winged Foot's West and East courses. In a stroke play tournament, the West is a behemoth of a golf course, a dragon slumbering with one eye open, waiting for the right time to strike. Utterly relentless, without a single weakness in any aspect, a golfer is tested on every shot all the way around. Even with a great short game, a golfer can't count on being able to escape unscathed due to the wild green undulations and heaving terrain. The East course, interestingly divided into a Front 10 and a Back 8, is an intricate puzzle box of a golf course, with a few more birdie opportunities than the West, but also just as many chances for bogey. With equally challenging green complexes, the East course tends to play just as tough as the West.

In the match-play phase, the attitude of the golfer changes dramatically.

"It's completely different. Every hole - every shot is a new tournament," stated Smith, who has won his last twelve consecutive competitive matches at Winged Foot. "In stroke play, you're trying not to make mistakes. To advance in match play you must make birdies so you need to be more aggressive."
Then the cool, earthy Tennessean sat back, smiled broadly, and said, "It's more free-wheeling."

Though the event is played on one of the country's most venerable private country clubs, tournaments like the Anderson are truly the lifeblood of the game. The beating heart and immortal soul of golf are not its professional millionaires globetrotting around the planet in private jets, raking in gobs of cash while posing for the TV cameras. They are, instead, you and I and our regular foursome who love golf with all the ardor of any Tour player and who come from vastly different walks of life. Amateur golfers are bankers, doctors, lawyers, clockmakers, pilots, bartenders, policemen, teachers - virtually any profession. But on weekends, they are also among the greatest players in the game, and they vie fighting for something far more precious than gobs of cash. They play for the love of the game, the camaraderie of good friends, and the thrill of competition at any level…and they do it while exhibiting the grace, class, and dignity of the everyman golfer whether they win or lose.

"Watching these guys play and the way they carry themselves in life, it often makes me think they're the role models and the pros could learn a thing or two from them about class, sportsmanship and being a role model," observed Moulton.

Yes, Winged Foot hosts the greatest players in the World for the game's largest events. But when she also hosts tournaments like the Anderson, that's when every one of us can feel the great virtues of golf so much closer and on a more personal level. And in the end, that's what keeps us coming back.
Since launching his first golf writing website in 2004, http://jayflemma.thegolfspace.com, Jay Flemma 's comparative analysis of golf designs and knowledge of golf course architecture and golf travel have garnered wide industry respect. In researching his book on America's great public golf courses (and whether they're worth the money), Jay, an associate editor of Cybergolf, has played over 420 nationally ranked public golf courses in 40 different states, and covered seven U.S. Opens and six PGA Championships, along with one trip to the Masters. A four-time award-winning sportswriter, Jay was called the best sports poet alive by both Sports Illustrated and NBC Sports writers and broadcasters. Jay has played about 3 million yards of golf - or close to 2,000 miles. His pieces on travel and architecture appear in Golf Observer (www.golfobserver.com), Cybergolf, PGA.com, Golf Magazine and other print magazines. When not researching golf courses for design, value and excitement, Jay is an entertainment, copyright, Internet and trademark lawyer and an Entertainment and Internet Law professor in Manhattan. His clients have been nominated for Grammy and Emmy awards, won a Sundance Film Festival Best Director award, performed on stage and screen, and designed pop art for museums and collectors. Jay lives in Forest Hills, N.Y., and is fiercely loyal to his alma maters, Deerfield Academy in Massachusetts and Trinity College in Connecticut.