Wisp Resort in Maryland to Unveil Course Enhancements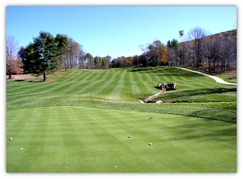 Wisp Resort in the Deep Creek Lake area in McHenry, Md., plans a June 2008 unveiling of its remodeled golf course. The enhancements were overseen by Todd Schoeder of Denver-based Design Workshop, with construction management services by Scottsdale-based OB Sports Golf Management.
Schoeder says the upgrades are a throwback to the Classic-design era when architects such as George C. Thomas and Allister Mackenzie designed some of storied layouts that still test the game's best players.
Wisp will unveil four new golf holes and a totally revamped routing. The new routing is a continuous 18-hole loop as part of the "core golf" experience (the residential component lies outside the playing corridors). As for the new holes, original hole Nos. 4-7 will be taken out of play in June when the four new holes will open. Since the new holes were routed on additional acreage, 18 holes of the golf have remained open to public and resort play throughout the reconstruction.
"We tried to bring the character of the existing course to the new holes," said Schoeder. "The original golf holes at Wisp had a 'classic feel' with abrupt shapes, shallow bunker designs and simpler features that hark to an older school of design. Even though the course was built in the '70s, it had design elements that created a feeling of a course that was built in the 1920's.
"Although the new holes were designed in a way to match the style and character of the original design, they were 'modernized' somewhat to provide even more interest and strategy from tee to green," he continued. "It's not about length, it is about strategy. It's about creating an interesting journey from tee to green . . . providing more strategic options off the tee and providing alternate approaches into green complexes. It's about using shot options to 'defend par' versus just simply using length."
Another element used commonly in the Classic era of golf design (and at Wisp Resort) was the use of green undulations to create challenge and intrigue. "Wisp has some very 'old school,' very interesting, undulating greens, that are certain to test the putting prowess of golfing guests," added Schoeder.
Schoeder was able to incorporate an old spring house on the new 10th hole. The structure was a shelter built decades ago that protected a naturally occurring headwater from a spring - one that still flows today. On the 10th golfers may face tough putts as the 10th green sits on a site that once housed a barn rumored to be haunted.
About Wisp Resort
Located just two hours from Pittsburgh and three hours from Baltimore and Washington D.C, Wisp Resort is Maryland's only four-season destination resort. Golfing guests enjoy the 6,700, par-71 Wisp Resort Course ranked as one of the "100 Must-Play Courses of the Mid-Atlantic" by GolfStyles Magazine. After golf, guests can retreat to the Wisp Resort Hotel & Conference Center, a smoke-free property with 102 suites and 67 guest rooms. Other outdoor activities include skiing, snowboarding, fly fishing, boating, tennis, a fitness center, spa, hiking, mountain coaster and kayaking.
For more information, call 301/387-4911 or visit www.wispresort.com. The WISP Resort Course is managed by OB Sports.