With the Help of Strangers, She Could Reach the LPGA Tour
By: Dave Andrews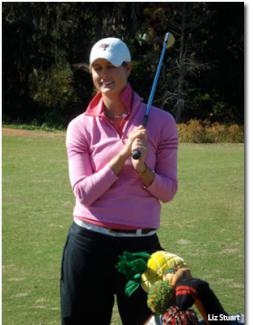 Editor's Note: Cybergolf's Dave Andrews is in Daytona Beach, Fla., this week to cover the LPGA Q School finals. Dave will be putting his spotlight on the event itself as well as individual players. Today, he focuses on Liz Stuart of Tampa, Fla.
At the beginning of the year, she was on the verge of having to give up professional golf forever. She didn't have enough money to pay the entry fees to play in the first events on the Duramed Futures Tour's schedule. Today, she is competing in the LPGA Q School finals in Daytona Beach and is possibly on the verge of competing on the LPGA next year.
It has been an eventful year for Elizabeth Stuart, to say the least. The tall and thin 27-year-old from Tampa, Fla., with a model's good looks, is one of the 143 women players at Q School hoping to earn a playing card for the LPGA's 2009 season. If she makes it to the tour, it will be her ability as a golfer that has taken her that far. But she will also know she couldn't have done it without the help of some total strangers.
Back in February, Stuart's financial plight was brought to the attention of some fans of the Duramed Futures Tour. They were told that unless she could come up with a couple thousand dollars in a few days, she'd miss the deadline to pay the registration fee to play on the tour that season as well as the deadline to pay entry fees for the tour's first two events in March.
Some of these people had met Stuart over the previous two seasons when she played in the tour's event in their hometown. A few phone calls were made and a few emails written, and within a week a couple dozen people chipped in enough money to ensure that Stuart would be able to begin playing in the 2008 Futures Tour's season.
"I couldn't believe that people who didn't even know me would care enough to want to help me," Stuart said during practice at LPGA International. "I figured I wouldn't be playing professional golf this season."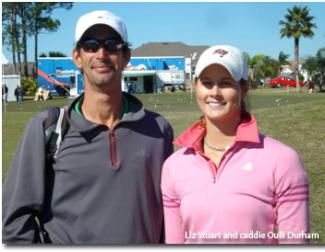 Elizabeth Stuart (Liz, as her friends call her) had a rough beginning in life: a domineering father who died from cancer when she was a teenager; growing up on welfare; and living in public housing. She is believed to be the first professional golfer to have gotten her start in the game through the First Tee, the national golf instruction program for inner-city and disadvantaged children. She had a natural gift for the game and progressed quickly. Former PGA tour pro, Jim Dent, gave the budding young player some lessons and even let her have an old set of his clubs. Her performance in high school earned her a golf scholarship at the University of Georgia; she later transferred to Florida International University.
After graduating, Stuart turned pro and qualified for the Duramed Futures Tour's 2006 season. However, in her first two years on the tour money was always a problem. As is the case for most players on the tour, the few thousand dollars Stuart earned in prize money each year was not nearly enough to pay the thousands of dollars in entry fees and traveling expenses. Jobs in the off-season kept her afloat for the first two seasons, but by the beginning of this year's schedule, she was tapped out. Without the help from a group of strangers, many of whom she had never met, she very likely would have been forced to end her professional golfing career last spring.
Before the season began this year, Stuart had been chosen as a contestant on one of the Golf Channel's Big Break series. As she herself said on the show, if there was ever a golfer who needed a big break it was her. Stuart did not make any money on the show. In fact, she was one of the first players eliminated in the competition.

However, the show resulted in a big break she could not have anticipated. This one also involved people she didn't know. The Golf Channel series aired during the first half of this year's Futures Tour season. An elderly couple from Texas who had been watching the shows was captivated by the beautiful young woman with the long and lustrous auburn hair and feisty attitude. They got in touch with Stuart and offered to write her a check for the $5,000 it would take to enter her into the LPGA Q School sectional qualifying schools in the fall. Stuart played very well in the first sectional in Rancho Mirage, Calif. She shot 1-over par for the tournament, finished in a tie for 18th place and earned her way to the Q School finals in Daytona this week.

"They are wonderful people," said Stuart. "I wouldn't be here at the finals if it weren't for them."

Liz Stuart fired a 2-over par 74 in Wednesday's first round of Q School. That puts her in a tie for 72nd after the first day, right in the middle of the field. She will have to shoot much better scores over the next three days if she hopes to finish the tournament in the top 20 and earn an LPGA card.

Golf is one of the most individual of sports. Out on the course it is up to a player, and the player alone, to make the shots that will take their game as far as it can go. The players at Q School this week may feel all alone when they stand over their ball on the tee or look over a long putt, but none of them could have gotten to this point without the help of others. Just ask Liz Stuart.
Dave Andrews is a Harvard-educated former television news reporter. He's also an avid golfer who has become a fan of the Duramed Futures Tour. His home course in Concord, N.H., is annually the site of one of the tour's events. The inspiration for Dave's 2007 novel, "Pops and Sunshine," came from meeting many of the young aspiring women golfers on that tour. Each of them has a passion, dedication and determination that he finds remarkable. His novel is a fictionalization of the dream that these young women share. To order Dave's book, visit http://popsandsunshine.com.