Woods Amazed at Obama's Win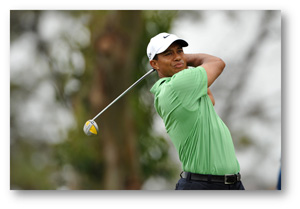 In an interview by Jane Wells televised Monday on CNBC, Tiger Woods discussed a wide range of topics, including his recovery from knee surgery, the economy and its effects on golf, President-elect Barack Obama, and his first American golf course design, The Cliffs at High Carolina in the Blue Ridge Mountains near Asheville, N.C.
"I hope to play next year," Woods said of the long recuperation following surgery after his thrilling win in the 2008 U.S. Open, "but I don't know when. That's the most frustrating thing." He can chip and putt, but his surgeons and trainer won't tell him when he can swing a longer club.
"I can watch other people hit balls," he laughed, adding he can still go to the driving range. He's handling the downtime by acknowledging he's not quite ready to test his nonpareil skills. When asked if he missed playing, Woods replied, "No, not really, because I'd probably embarrass myself."
Woods intends to begin hitting full shots around the first of the year, with the Masters in April the target for his first tournament back on the PGA Tour.
Concerning America's current economic woes and what it means to professional golf, Woods spoke realistically. "It is going to be a difficult thing," he said. "I don't know if some of the tournaments, if they're going to go away or have new sponsors come in." His endorsements haven't changed, but his deal with Buick, a product of struggling General Motors, may be tenuous.
Woods expressed worry about the impact on regular golfers, including junior programs. "In these economic times, it becomes even more difficult not only to bring them in, but to keep them in the game."
He was clearly thrilled with America's selection of Obama as the 44th President of the United States. "I think it's absolutely incredible," Woods told Wells. "He represents America, he's multiracial, and I was hoping it would happen in my lifetime. My father was hoping it would happen in his lifetime. He didn't get to see it, but I'm lucky enough to see a person of color in the White House." When asked how his father might have reacted, Woods said, "He would've cried. Absolutely no doubt about it."
Though lot sales at The Cliffs at High Carolina has, like the rest of golf development in the U.S., slowed because of the economy, the presence of Woods at the site set off a relative frenzy. Last Saturday, after Woods spoke to invited clients, the project's backer, Cliffs Communities, signed contracts on 45 of 50 lots, worth a total of $45 million if the contracts close.
The president of Cliffs Communities, Jim Anthony, said that Woods has spent more time on this project than all the other architects with whom he's worked before. That list includes Jack Nicklaus, Gary Player, Tom Fazio, Ben Wright and Tom Jackson. Despite his knee issues, Woods has repeatedly traipsed across the hilly, rocky site and, since his original plans were revealed, has reworked the layout several times.
Obama defeated John McCain to become the first black U.S. president. Obama is the son of a black Kenyan father and white American mother. Woods, whose lineage includes his African-American father, who died in May 2006, and Thai mother, Kutilda, didn't campaign for Obama and last weekend didn't reveal who he voted for. Woods has traditionally avoided taking political stands, which has brought flak from some media members and civil rights advocates.

However, based on his reaction Sunday in the mountains of North Carolina, it was pretty clear where his sentiment lies.

For a full transcript of Wells's interview with Tiger Woods, visit http://www.cnbc.com/id/27642529.