Woods, Stenson, Ko, Gamble Sands - Which will Shine Brightest in 2014?
By: Tony Dear
While Henrik Stenson, Adam Scott, Phil Mickelson, Inbee Park, Kenny Perry and one or two other mega-achievers were no doubt sad to see the end of 2013, others must have been thrilled to see the back of it.
Rory McIlroy, No. 1 in the world at the start of the year with a 4.58-point lead over Luke Donald thanks to a very impressive 2012, failed to contend at the majors (T8 at the PGA Championship, seven shots behind winner Jason Dufner, his best finish) and won only once - at a post-season tournament whose field sadly failed again to match the event's pedigree. There was a time when winning the Australian Open was a significant feather in a player's cap but, besides Adam Scott, Jason Day and a smattering of B-, C- and D-listers, the Ulsterman beat a few dozen Australasian players who, with all due respect, have yet to set their own country alight let alone the rest of the world.

Before his admittedly enthralling one-shot victory over Scott, who came so close to winning the Australian Grand Slam (PGA, Masters and Open), McIlroy had dropped to sixth in the world - 5.61 points behind Tiger Woods. He finished the year ranked fifth, 5.20 points behind.

Speculation over the cause of his troubles hounded McIlroy for most of the year, with many speculating he was having difficulty adjusting to his new Nike equipment or that he and girlfriend, tennis star Caroline Wozniacki, were finding their respective travel schedules and media-darling status too much to handle.

It's highly unlikely a player of McIlroy's caliber and a manufacturer with Nike's resources can't find a solution to the equipment dilemma, however. And if relationship strife did impede McIlroy at any point, he and Wozniacki certainly appear to have overcome their hurdles with the announcement of their engagement earlier this week.
A more settled personal life, ever-increasing familiarity with his clubs, and what must be a fierce determination to put 2013 firmly behind him and return to the top of the world rankings by way of a couple of major championship victories might prove an irresistible impetus for McIlroy in 2014. Could this be the year, in fact, we get to watch him and Woods - McIlroy's boyhood hero and Nike stablemate, go hammer and tong at the game's biggest tournaments in a way that Woods and Mickelson never really did?

As for Woods, he too is probably glad 2013 is over. Yes he won five PGA Tour events, including the Players Championship and two WGC tournaments to take his career PGA Tour tally to 79, and he was named PGA Tour Player of the Year for the 11th time in his amazing career. But he couldn't win the major he craves and which a few misguided elements of the golf press still insist he has to win before he is fully back. (After winning 14 PGA Tour events since taking time out following the knee injury he endured at the 2008 U.S. Open and eight wins since his unfortunate extramarital activity toward the end of 2009, the suggestion he is not already back is, frankly, comical.)

There was the unseemly spat with Sergio Garcia at the Players Championship, too, which certainly reflected worse on the Spaniard than Woods, but was bothersome all the same. And then, of course, there were the multiple rules glitches that might have taken the polish off his victories and that definitely led to a number of press conferences and face-to-face audiences with officials he could have well done without.

It's likely that were they to look deep down and resist the temptation to descend into social-network trolling mode, the vast majority of golf fans wouldn't question Woods' integrity at least where the Rules of Golf are concerned. They would surely concede he is not the cheat the worst of the cynics implied he is and that, while he certainly could have done himself a favor by withdrawing from the Masters after taking the dubious drop on the 15th hole, and reacting to Slugger White's decision to give him a two-shot penalty for inadvertently moving his ball at the BMW Championship a little less vociferously, he did not intend to break the Rules.

Now that all this foul-smelling water has thankfully passed under the ugly bridge, Woods is free to focus on winning his 15th major. We've been saying it is bound to happen at the start of every season for years and, while his competition grows ever stronger and though, at 38, he's likely to be giving up significant yardage to the young guns, there's no reason to believe he can't win one of the four Grand Slam events in 2014 especially given his 2.09-point lead at the top of the world rankings (over Scott), and the venues for this year's championships.
His record at Augusta National, home of the Masters, is astonishing. In 18 starts as a professional, he has four wins and 13 top-10 finishes, including four top-six finishes since his injury and personal woes began in the middle of 2008. He finished in the top three on the two occasions Pinehurst No. 2 has hosted the U.S. Open (T3 in 1999, second in 2005), played almost flawless golf in winning the Open Championship at Royal Liverpool in 2006, and the last time Valhalla staged the PGA Championship he beat Bob May in an unforgettable playoff.

Woods would take a "W" at any one of them, of course. But perhaps he harbors a particular desire to win at Pinehurst, where he would avenge his thoroughly disappointing defeat to Michael Campbell in 2005 while joining Jack Nicklaus, Ben Hogan, Bobby Jones and Willie Anderson at four U.S. Open victories.

The USGA will be staging both the U.S. Open and U.S. Women's Open at Pinehurst this year, the result of a splendid decision it made back in June 2009. Thanks to Ben Crenshaw and Bill Coore's masterful renovation of Donald Ross's original layout, this year's U.S. Open will be the first ever without rough. With strategically-placed waste areas and bunkers adorning each hole, some dotted with wire grass and other native vegetation, the USGA wisely decided the course didn't need the savage rough that typifies most U.S. Open venues and which many will tell you marred last year's host site - Merion. Executive director Mike Davis rejected his established policy of graduating the rough no doubt fearful that Merion's limited length would allow the game's top players to shoot un-U.S. Open-like scores. It was a terrible shame, however, as the genius behind Merion's design was largely obscured by a set-up that forced the defensive golf that usually prevails.

It was one of multiple controversial moves the USGA made in 2013, the most provocative of which was undoubtedly its decision to ban the anchored putting stroke, a resolution that old-schoolers were pleased to see in place at last but which angered players whose games were resurrected by using long/belly putters, and the club professionals who sold them.
Changing Rule 18/4 following Woods' moving ball violation in Chicago was another low moment as the new rule - "The ball will not be deemed to have moved if that movement was not reasonably discernible to the naked eye at the time" - seemed bizarrely vague and appeared to exonerate Woods. It also said committees should "consider all evidence, regardless of the source" in determining certain rules, giving armchair rules officials the green light to call in with observations.

The late-year announcement that president Glen Nager would be leaving the USGA in February following a failed attempt to bring major changes to the organization and the resulting discord with some of its most senior officials was also a terrible nuisance - one it will want to downplay in the coming months.

On the flip side, however, it did land a billion-dollar-plus TV deal with Fox to present the U.S. Open and its other national championships, a deal that begins in 2015, meaning Johnny Miller's final U.S. Open call will come at Pinehurst in June. But the USGA chose to announce the deal on the eve of the PGA Championship, another action that went down like a lead balloon.

After all the polemic hullabaloo it caused in 2013 the USGA will be hoping 2014 comes in like a lamb and stays that way for the rest of the year. A successful fortnight at Pinehurst (the U.S. Open and U.S. Women's Open will be played in consecutive weeks) will certainly help.

Though Woods will start among the favorites at Pinehurst and indeed all the majors, it is perhaps Hoylake where he will be favored most having subdued the Lancashire course's considerable challenge so brilliantly in 2006. Though he and the locals will be hoping for a repeat of the hot, sunny and docile conditions which accompanied that Open, most observers agree it would be great to see the George Lowe-designed layout, where Bobby Jones won the second leg of his 1930 Grand Slam, buffeted by steady winds. And though firm and fast is always preferable to damp and slow, it might be better if the Hoylake turf had a little more give in it than it did eight years ago when it seemed the only things stopping shots were bunkers and the rough.

Woods will be looking for a fourth Claret Jug and his first since 2006. His biggest threats will surely come from Scott, who has been so close to winning the last two Open Championships, and Stenson, whose ball-striking in the second half of last year reached heights only a select band of golfers have ever seen. If he hasn't won the Masters or U.S. Open already, the Swede will be looking to win his country's first-ever major championship (male) on a stout and beefy course that would appear tailor-made for his brawny game.
You might think Stenson was cut out for Augusta National, too, but the 37-year-old has never finished higher than T17 there in eight appearances. U.S. Open champion Justin Rose, defending champion Adam Scott, and fellow Aussie Jason Day who has finished in the top three twice in the last three years, might be better bets, along with Matt Kuchar, the young but outrageously talented Jordan Spieth, and a 43-year-old Phil Mickelson, who confounded the critics last summer by winning consecutive events in Scotland - one the Open Championship - on courses that would once have left him dazed and confused. The five-time major winner will be vying for a fourth green jacket and trying to become the second-oldest winner of the Masters at 43 years and 10 months (Nicklaus was 46 and three months when he won in 1986).

The season's final major, the PGA Championship, will again do well to distinguish itself from its elite brethren, but a pulsating finish down Valhalla's dramatic par-5 closing hole involving two or more of the game's top players will persuade sports editors to give it a few more column inches than it might otherwise get. Another way to increase the tournament's exposure and prestige around the world would be for the PGA of America to follow through on its proposal of taking the event overseas once or twice every decade. Not only would that separate it from America's other majors - the Masters and U.S. Open, it might also give Australia, South Africa, Japan, Canada and other established golf nations the chance to host the major championship they have long deserved. The PGA of America would also be doing its bit to grow the game worldwide. One hopes the various parties involved in this discussion come to an agreement this year and that dates and venues can be set for the not-too-distant future.

Six weeks after the PGA Championship, and two weeks after the FedEx Cup season-ending Tour Championship, the 40th Ryder Cup will be played at the Gleneagles Hotel in Perthshire, Scotland. Europe will be working on its eighth win in the last 11 matches and will be captained by Ireland's Paul McGinley, a veteran of three victorious European sides. His opposing captain will be 65-year-old Tom Watson, himself a member of three winning U.S. teams (plus the side that tied in 1989) and captain of the 1993 team that won at the Belfry in England.

The PGA Centenary Course, designed by Nicklaus and opened in 1993, will play to 7,290 yards and should throw up some exciting finishes with three reachable par-5s in the final seven holes, two of them in the final three.

Elsewhere in the pro game, all eyes . . . well, a lot anyway . . . will be on 16-year-old Lydia Ko, the two-time winner of the Canadian Women's Open who turned professional in October and finished tied for 21st in her first event as a pro - the CME Group Titleholders on the LPGA Tour. The New Zealander then won her second event - the Swinging Skirts World Ladies Masters in Taiwan, beating four of the top seven players in the world. She has been granted membership on the LPGA Tour in 2014 despite her age, and will kick off her rookie campaign at the Pure Silk Bahamas Classic in three weeks' time.

A number of current and past PGA Tour players will become eligible for the Champions Tour this year, including Davis Love III, Paul Goydos, Jeff Maggert, Scott Verplank and Lee Janzen, but they will all have to keep pace with 53-year-old Kenny Perry, who won two senior majors and the season-long Charles Schwab Cup last season.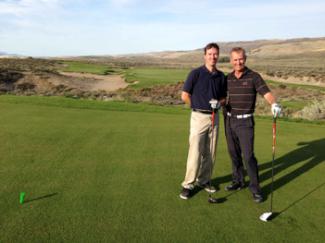 Tony Dear & David Kidd on the 14th tee
at Gamble Sands
With the fragile economy still lingering, new course openings will again be few in 2014, although a handful of projects will generate a good deal of interest, none more so than the David McLay Kidd-designed Gamble Sands in the middle of Washington State. Covering 300 acres owned by the Gebbers Family, which has grown apples in the area for over 100 years, Gamble Sands was built on a sandy hillside overlooking the Columbia River. The course will have a small membership but will also be open to the public who will debate long and hard over which is now the best course in the Evergreen State - Gamble Sands, Wine Valley in Walla Walla or 2015 U.S. Open venue Chambers Bay near Tacoma.

Gil Hanse's work on the Blue Monster at Doral will be seen by TV viewers for the first time in March when the WGC Cadillac Championship returns to Miami. And the Olympic Games' course Gil Hanse is building at Venue Reserva de Marapendi in Rio should almost be completed by year's end.

The Pennsylvania-based architect might also get to start work on the long-anticipated Bandon Muni, now that Bandon Dunes owner Mike Keiser and his company, Bandon Biota LLC, have secured a land-swap arrangement with Oregon's state park department. The deal, in which the state will receive 6,100 acres of rangeland and ponderosa forest in Grant County in return for 280 acres of the 878-acre Bandon State Natural Area a few miles south of Bandon, will allow Keiser to build his sixth course in the area.

Assuming it passes through the courts without too much trouble, work might also get underway at Pacific Gales, 30 miles south of Bandon, outside the town of Port Orford on the Pacific coast. Part of the Knapp cattle ranch, the course is being developed by former Bandon Dunes construction member Jim Haley and designed by Chicago's David Esler.

Cabot Cliffs, the second course on the Cabot coastline (Rod Whitman's Cabot Links was the first) a few miles from the town of Inverness in Nova Scotia, and which Keiser is heavily involved, has been designed by Coore and Crenshaw and should be ready later in the year.

Also due for completion is Tiger Woods' first design - El Cardonal at Diamante, near Cabo San Lucas in Mexico. The course is set inland from Davis Love's highly-acclaimed Diamante Dunes, which opened four years ago but is already ranked inside the world's top 100.

El Cardonal is tentatively scheduled to open in August. One wonders if its designer will be any closer to reaching Jack Nicklaus's record of 18 major championships by then.
Tony Dear is an Englishman living in Bellingham, Wash. In the early 1990s he was a member of the Liverpool University golf team which played its home matches at Royal Liverpool GC. Easy access to Hoylake made it extremely difficult for him to focus on Politics, his chosen major. After leaving Liverpool, he worked as a golf instructor at a club just south of London where he also made a futile attempt at becoming a 'player.' He moved into writing when it became abundantly clear he had no business playing the game for a living. A one-time golf correspondent of the New York Sun, Tony is a member of the Golf Writers Association of America, the Pacific Northwest Golf Media Association and the Golf Travel Writers Association. He is a multi-award winning journalist, and edits his own website at www.bellinghamgolfer.com.