Work Completed on Remodel of Belmont Country Club in Fresno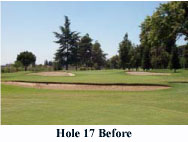 A grand opening ceremony was held in late June to celebrate the completion of a bunker-remodel project at Belmont Country Club in Fresno, Calif. Overseen by golf architect Neal Meagher, the work involved extensive upgrades to the course, the second of 16 designed by Bert Stamps and opened in 1956.
Meagher's task was to redesign and renovate the fairway and greenside bunkers, while maintaining Stamps' routing. "Much of the original strategy had been usurped by today's superior playing equipment. So, I worked closely with the club to determine which bunkers were appropriately placed," Meagher said, "This helped us determine which to re-construct and which to replace."
Meagher also added bunkers in new locations, as well as replacing some traps with banked landforms. Meagher worked the new contours into the layout's flat terrain to provide more strategic playing options.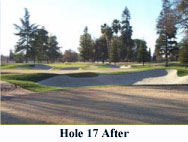 In all, Meagher rebuilt 50 bunkers. Many were sculpted as part of a larger swale, or excavation area. "Aesthetically, we wanted these to look completely natural, to blend seamlessly into the native topography. The site's native sandy loam soil made it easy for us to create beautiful strategic and visual companions to the sand bunkers. I'm very proud of the work we did."
Construction began at Belmont in mid-November 2007 and was completed in early March. Construction management services were provided by Dale Siemens of Fresno, while Specialized Shaping of Forest Ranch, Calif., headed by Art Strain, did the work.
Meagher is based in Pleasanton, Calif., and has practiced golf course architecture since 1984. For more information, visit http://www.nealmeaghergolf.com/.