Work Continues on Gary Player-Designed Cliffs at Mountain Park Course
Construction is continuing on The Cliffs at Mountain Park Golf Course in Marietta, S.C. The Gary Player-designed layout between Asheville, N.C., and Greenville, S.C., is slated for a fall 2013 completion.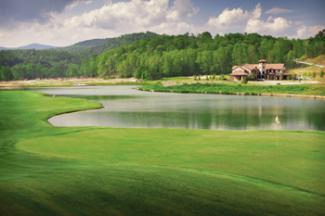 Cliffs at Mountain Park Golf Course
One of only a few new courses currently underway in North America and the seventh at Cliffs Communities, the new venue is part of a private, 5,000-acre Mountain Park development on the southernmost edge of the Blue Ridge Mountains.

"I have a tremendous amount of optimism for the future of The Cliffs under the new ownership, especially our project at Mountain Park that will be open for play in the fall of next year," said Player. "I continue to enjoy my relationship with The Cliffs and hope to enjoy many more trips to the area as the construction of the course continues."
Surrounded by more than a million acres of state parks and national forests, The Cliffs at Mountain Park Golf Course occupies a wooded valley ringed by mountains and divided by the Saluda. Routed to enhance native flora, fauna, trees and grasses, measures were also taken to minimize operating and maintenance costs by using organic materials and implementing eco-friendly practices.
"In designing the Mountain Park golf course we paid close attention to making the fairways firmer, not use as much water, not use as much fertilizer and take full advantage of the natural characteristics of the land," said Scott Ferrell, president of Gary Player Design. "The setting is extraordinary and will prove to be a perfect showcase of our most recent design work, as well as a great base for our company's operations."
Black Knight International's global headquarters are adjacent to the course, which borders the Gary Player Estates enclave and the Player Residence, an 8,000-square-foot home with artifacts, fabrics, furniture, light fixtures, reclaimed wood and rugs from various parts of Africa.
"We are happy to now call the Gary Player Estates home, and bring a bit of African infusion to The Cliffs," said Gary's son, Marc Player, the CEO of Black Knight International. "The pristine mountain scenery has really given us the feeling of being tucked away in paradise, yet we are just minutes from the convenience of Greenville, South Carolina."
Grassing is expected to be completed over the next several weeks, with the course operational for the 2013 season.
For more information about the project, visit http://www.cliffsinfo.com/community-page/mountain/the-cliffs-at-mountain-park/mountain-park-golf/.