Work Continues on Norman Design in Idaho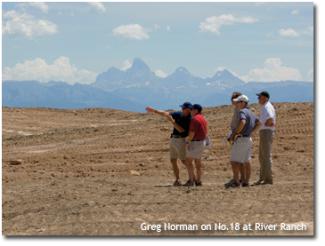 Even though a fresh blanket of snow conceals all 18 holes of the new Greg Norman signature course in Tetonia, Idaho, there's no hiding the fact that the Teton Rim Course at River Rim Ranch is turning out to be everything the design team and developers had hoped for when ground was broken for the "mountain links" layout in 2007.
Situated at an elevation of over 6,300 feet in the Teton Valley, Teton Rim will stretch well over 8,000 yards from the tips. Multiple sets of tees, including eight on one hole, provide players with flexibility in choosing the length of course they want to play. This same flexibility will also provide staff the ability to set up the course in very unique ways for tournaments and daily play. Wide fairways and large, closely-mown areas around the greens coupled with firm, fast playing conditions lends to the "links" feel that the course embraces.
"Teton Rim is a rare opportunity to design a high-altitude links course. Our design approach fits in well with the large scale and expansive views of the Teton Valley and surrounding mountains." said Norman. "We develop a design philosophy that is unique for each project. It is our goal at Teton Rim, as with all projects, to provide players a memorable golf experience that can be enjoyed by all ability levels. This is achieved at Teton Rim by providing several tees, wide fairways, and open interesting greens and surrounds. The design and course conditions will encourage players to bounce shots into the greens. This is a key element of links course design. I want players to have fun and hit different shots than the typical round of golf."
"I believe that the Teton Rim course will become one of the most photographed courses in the country from the day it opens" states Sean Cracraft, general manager at River Rim Ranch. "Greg and the team from Greg Norman Golf Course Design have been an absolute pleasure to partner with every step of the way. We have worked together to create what we all think will be one of, if not the premier golf experience anywhere in the Rocky Mountain West. The amount of brainstorming that has gone into the course and clubhouse, and even how we will operate the club, is beyond anything I have ever experienced."
Next up for the project will be the installation of drainage and irrigation, then the replacement of over 500,000 cubic yards of topsoil stockpiled from the farm land prior to shaping. Grassing will then commence, with much of the 350-acre site being returned to native grasses and habitat that existed on the property prior to generations of agricultural use. As long as the mountain weather cooperates, the course is targeted to open in the summer of 2010.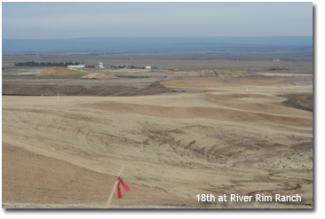 River Rim Ranch embraces the agricultural traditions and open-space legacy set forth by the Hoopes family nearly 100 years ago. The Ranch's master plan blends long-term agricultural preservation with discrete residential sites. Described as "the quiet side of the Tetons," a laid-back approach to life is embraced in the environmentally balanced, low-density neighborhood. This vast property involves a lot of diversity, ranging from rolling hills to treed hollows and an open space system that protects more than two miles of the nearly untouched Teton River and canyon.
River Rim Ranch will also offer access to world-class fishing, hiking, biking, horseback riding, golfing, snowmobiling, downhill, and cross-country skiing, as well as easy access to Yellowstone and Grand Teton National Parks.
River Rim Ranch is located seven miles west of Tetonia, Idaho on Idaho Highway 33. For more information, call 208/456-8300, email info@riverrimranch.com or visit www.riverrimranch.com.