Work Continuing on Norman's Blue Shark Golf Club in the Bahamas
Greg Norman's redesign of the former South Ocean Golf Club in Nassau, Bahamas, is well underway. If all goes well, the reconfigured course, renamed Blue Shark Golf Club, will debut this year.
The 160-acre layout borders the Caribbean on the erstwhile plantation property called "The Promised Land." Norman lengthened the par-72 course to nearly 7,200 yards. When it opens, Blue Shark will become the area's first course to offer a forecaddie program.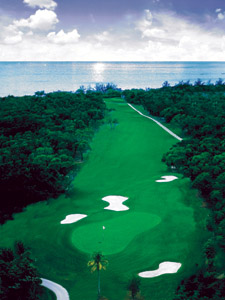 "Blue Shark offered a rare opportunity as a course designer," Norman said. "It was a challenge and an inspiration to transform a popular and well-designed existing layout into a new and entirely distinctive golfing experience."
Perhaps the signature stretch will be Nos. 10-12, the so-called "Sharks' Teeth," which will challenge players with bunkers, distinctive terrains, wetlands and fresh-water lakes. All holes, however, will feature vistas of the nearby Caribbean, and the remains of Bahamian broadleaf coppice (described by Christopher Columbus as the "marvelous groves").
Backed by New York developer, Roger Stein, the project also involves a large practice facility that will be home to the Blue Shark Golf Academy. The course will be semiprivate with an invitation-only program for the club's first 30 members. Membership will be linked to the overall development's master plan, which also includes luxury hotels, home sites, villas, spa, a beach club, a mega-yacht marina, tennis center, and casino.
"Norman was brilliant in preserving the best elements of the pre-existing course and dramatically enhancing and modernizing them," said Stein. "Greg is a one-of-a-kind visionary. He saw things others didn't. The finished product speaks for itself."
For additional information, visit www.bluesharkgolf.com.