Work Finishing up at Makai Golf Club on Kauai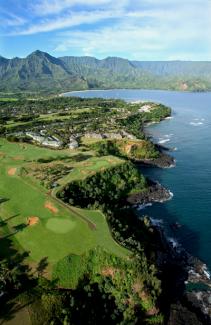 Aerial View of Makai Golf Club
The Makai golf course on Kauai's north shore has long been considered one of Hawaii's top 27-hole layouts. Over the years it's been ranked as one of Hawaii's top courses.
Designed by Robert Trent Jones, Jr., Makai opened in 1971. It's comprised of three nine-hole courses that extend like spokes from the clubhouse and encompass 200 acres. Each nine has a distinctive name that reflects its predominant traits: the Lakes Course (winds around lakes), Ocean (runs to the coastline and back) and Woods (meanders through native forests).
In October 2008, a multi-million-dollar renovation was initiated at Makai. The firm of Robert Trent Jones II, the architects of the original Makai layout, is overseeing the renovation. The golf course construction phase (see below) has been completed, and the project is now in the grow-in phase.
The course is currently closed, with reopening planned for January 2010. The revitalized Makai will feature an 18-hole course (comprised of what were the Ocean and Lakes nines) and a separate nine-hole course (Woods).
The renovations involve:

Golf Course Construction Phase:

• Introduction of Seashore Paspalum to the teeing areas, fairways, and greens.
• Reconfiguring the strategy of greens complexes.
• Bold reshaping of bunkers and filling with G-3 Silica sand.
• Additional tee boxes to provide gold tees.
• Upgrading of the practice facility to include two large, new practice tees, a practice fairway bunker, and a new, expanded practice putting green.

Grow-In Phase:

• Irrigation, fertilization, and mowing of new turf.
• Post-construction clean up of the course.
• Grooming of trees and vegetation.

Ongoing Renovation Projects:

• New golf course signage.
• Remodeling of restroom facilities.
• Renovation of the Golf Clubhouse is planned to start in 2010; a temporary clubhouse will be in use during this renovation period.
For more information, visit www.princeville.com/makai_course.html.