Work on Carrington's Cross Roads Golf Continues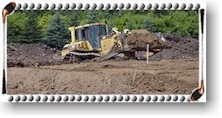 The Tri-County Recreational Project in Carrington, North Dakota is underway. The plan involves an 18-hole, par-72 municipal golf course, 10 one-acre residential lots, and a recreational sports complex on the site of Carrington's former nine-hole course. The 185-acre site is split by a five-and-a-half mile recreational trail connected to the city of Carrington.

The layout, to be called Cross Roads Golf and Recreation Parkway, stretches 6,800 yards from the tips. There are five different tees, including the front juniors. Golfers may get their first chance to grip it and rip it at this new North Dakota track as soon as fall 2001, although it may not be ready until spring 2002.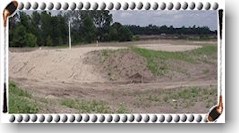 Ten acres of man-made wetlands on the course weave through half of the holes, many of which will be lined by evergreen, pine and deciduous trees. The plan also includes a clubhouse. Lisa Waldoch recently submitted a prospective drawing for the clubhouse. Her husband Ben helped J.S. and Associates president, Jim Swart, designed the course. The Waldochs are from nearby Bismark, where Ben is a local golf pro.