Work on Old Marsh Completed; On Track for July Opening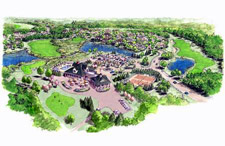 The goal at Old Marsh Country Club in Wells, Me., was ambitious: to build a brand new, 18-hole golf course in a single year. It turned out to be cautious. Old Marsh broke ground on New Year's Day 2007; the last hole was seeded October 9, 2007, and the club is scheduled to hold its grand opening July 4th of this year.
As it did last winter, activity on the property continues to buzz throughout Maine's harsh winter months. According to Old Marsh developer Jeff Harris, president of Bath, Me.-based Harris Golf, work on the clubhouse foundation began at the end of January.
Old Marsh CC is a real estate community that will feature 131 homes. Harris Golf's housing partners, Haverhill, Mass.-based DC Development and GFI Residential of Boston, poured two more foundations this month and seven more will go in the ground before February 1. Two houses are completely finished, according to DC's Steve Doherty, who reports seven signed purchase and sale agreements, with seven more reservations.
"We're all proud that course construction went so quickly, but it wouldn't mean much if we didn't build the course right - and we built it right," said Harris, whose firm also developed, constructed and continues to manage Sunday River Golf Club in Newry, Maine. "The pace of course construction also benefited other components of the development process. Homes and memberships sell faster when the fairways are green, and we could have played 90 percent of the holes out throughout the fall."
Old Marsh Country Club, featuring a golf course designed by architect Brian Silva, will be a semiprivate club open to public play. In mid-January, Harris said the club already sold 238 golf memberships. Initiation fees at Old Marsh are $3,000 with anticipated annual dues of approximately $2,000.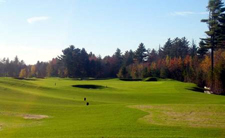 "The original plan was for Harris Golf to sell 169 memberships, setting aside membership options for the 131 homebuyers," said Harris. "But sales have been better than brisk, and the research says that only some 38 percent of homeowners in golf real estate communities want golf course memberships. We think that figure will be a little higher in New England, but we are very gratified to see the market respond so well to Old Marsh. The bottom line: Old Marsh will be sold out when we open in July."
Clearly, the golf course itself has proved an extraordinary draw on its own. Silva, GolfWorld magazine's "Architect of the Year" in 1999, explained that the design and construction of Old Marsh was closely akin to course development in Florida. The site in Wells is basically flat and quite swampy. A series of ponds, 12 in all (encompassing 20 acres), were excavated and the resulting material was used to raise the entire playing area and shape the course features.
"I'm sure Jeff [Harris] is excited about the 10-month construction time-line, but here's what's truly impressive: that Jeff and his company made the financial commitment to build this golf course on this piece of property," said the Dover, N.H.-based Silva, who should know. He is New England's most accomplished course architect. His original designs range from the celebrated Redtail GC in Ayer, Mass., to the feted Black Creek Club in Chattanooga, Tenn., while his renovation portfolio includes ultra-private Florida classics like Seminole and The Everglades Club.
"I really give Jeff credit for making the necessary investment here, because just clearing a few trees and pulling the stumps would not have done the job on this particular piece of ground. We had to raise every square inch of the property to make sure the course was playable all year long. To do that, we needed to conduct an extraordinary amount of excavation - and that costs money. Jeff and his people gave me all the dirt I needed."

Silva also praised Harris Golf project superintendent Clayton Longfellow, who coordinated the construction effort on a site the architect termed "unforgiving" in terms of access and maneuverability. "There were times when we were out there on that site, and it had been raining for three days, and we needed a submarine," Silva recalled. "But Clayton kept it all moving and working. I admire what he did there. He did a tremendous job there for me, logistically, and for Jeff Harris financially."

Old Marsh Country Club will be unlike anything in New England. It is a Florida-style layout in terms of terrain, and Silva has equipped its super-wide fairways with random bunkering of uncommon depth. Like Pete Dye, Silva is a devotee of Seth Raynor, a Golden Age architect who believed putting surfaces shouldn't slope gently into the greenside bunkering - their edges should be almost sharp, and the bunker faces steep. The Raynor influence at Old Marsh is obvious.

The greens at Old Marsh are uncommonly large, enabling broad, bold undulations - again, in the finest Raynor tradition. The 17th, at some 15,000 square feet, is surely the biggest green in all of Northern New England. Finding the green on this 200-yard par-3 is but a small step toward marking par.

Silva singled out No. 2 as a favorite. It's a striking, 380-yard par-4 that features two more staples of the Raynor repertoire: an "Alps" component (a blind approach over a mountainous man-made barrier) and a punchbowl green. The architect especially likes the 2nd because it also serves as the development's leach field, though golfers would never know it. "That hole is truly a triumph of man over man," the architect quipped.

Harris pointed to the next hole, a short par-5 over water to a long sliver of green that appears to float low on the water's surface. "There's all sorts of room off the tee, so you're going to be making a decision on that hole - do I go for it? - every other time you play it," Harris said. "It's a great green at 3, but I really love a lot of the green settings at Old Marsh. The Raynor influence gives the place a vintage feel, but the sharp edges also create great shadows. I love the way the light interacts with the terrain.

"What's most impressive to me is that all the green settings and all the elevation were essentially created, in the dirt. At a place like Sunday River, the natural elevation change created much of the drama. Here, Brian created it."

In other ways, Old Marsh and Sunday River have a lot in common. The Sunday River project sat dormant for more than 10 years and was presumed dead until Harris Golf purchased the property in 2003. Last year, Golf Digest named Sunday River among the nation's top six upscale public courses to open during 2006.

Old Marsh is another back-from-the-dead project. Golf was first proposed here in the mid-1980s. Since then, however, several previous owners were frustrated in their attempts to develop site, which was first known as Ocean 18 and then Maine National. After 20 years, all manner of environmental restrictions, permitting squabbles and potential impact issues had presumably doomed the project forever. It wasn't until Harris Golf expressed an interest in the property 30 months ago that the wheels started turning again.

It was Silva who first routed golf holes on this terrain. "Yeah, I don't know what Jeff is talking about with all this '10-month construction' business," Silva said with a wry smile. "I flagged this course in 1987. So far as I'm concerned, it's taken more than 20 years to get it built."
For more information on Old Marsh Golf Club, call Harris Golf at 207/442-8725 or visit www.harrisgolfonline.com.