Work Resumes on Tribal Course in Western Washington
After a multi-year hiatus, work has re-started on Salish Cliffs Golf Club, an 18-hole track designed by Gene Bates.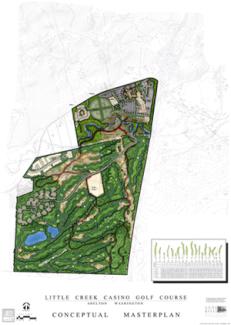 Salish Cliffs Rendering
The course is being built by the Squaxin Island Tribe next to its Little Creek Casino on the outskirts of Shelton, Wash. The resort is accessible by highway from Tacoma, and is across Puget Sound via ferry from Seattle.

The par 72, 7,300-yard track is now slated for a fall 2010 opening. Site prep had begun back in 2006, but the slow American economy brought the project to a halt. (For more background on the project, visit http://www.cybergolf.com/golf_news/building_a_new_track_part_1).
Squaxin Island Tribe officials believe 2010 is a more propitious time to complete the course and they envision big things for their new venue. "Salish Cliffs is dramatically beautiful, comparable to famous courses nationwide," said the tribe's executive director, Ray Peters.

"It's only a matter of time before Salish Cliffs is a staple among Pacific Northwest golfers and a favorite resort destination for visitors," he added.
Offering 360-degree views of the Kamilche Valley (Squaxin for "Pleasant Valley"), the course crafted by Bates involves 16 holes encircled by woodlands and natural vegetation. The venue is named after the property's rocky outcrops - some of which soar upwards of 600 feet.

The elevation changes are clearly seen at the 12th hole, a 437-yard, par-4 offering broad panoramas from the tee and a 100-foot drop from fairway to green. The primary hazard here will be the large, cavernous bunker along the left of the fairway that extends up and around the face of the putting surface.
Another stern test can be found at the 440-yard, par-4 16th, which features a banana-like dogleg-right fairway that plays along a hillside and is lined by wetlands.
The front and back nines will conclude at a 15,000-square-foot double-green. The ninth is a 415-yard par-4, while the closing hole is a risk-reward, 540-yard par-5.
Unusual for a Western Washington track, Salish Cliffs will boast bentgrass tees, greens and fairways, with ryegrass sown in the rough. The course has already achieved a rarity in golf, earning "Salmon Safe Certification" for its protection of native wetlands and wildlife habitats.
The Florida-based Bates has made his mark in Northwest golf, having designed the highly acclaimed Circling Raven Golf Club in Worley, Idaho, just south of Coeur d'Alene. Other recent projects include his remodel of Bayonet Black Horse in Monterey, Calif., which brought that 36-hole facility into the rankings for the "100 Greatest Courses in America" and "Best in State" by Golf Digest and Golfweek, respectively.
About Little Creek Casino Resort

Owned and operated by the Squaxin Island Tribe, Little Creek Casino Resort features nearly 190 well-appointed rooms. The casino showcases more than 900 slots and table games, including poker, blackjack, craps, roulette and Texas Hold-Em. Nationally-known, live comedy, music and other acts perform in the resort's Skookum Creek Event Center that hosts business and events for up to 2,000 guests.

Little Creek Casino Resort and Salish Cliffs Golf Club are situated just off Highway 101 north of the state capitol of Olympia. For more information, call 800/667-7711 or visit www.little-creek-casino.com.