Restoration Underway on Bartholomew Course in New Orleans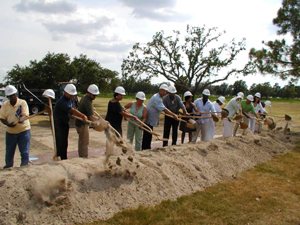 Groundbreaking Ceremony at Bartholomew Course
Things haven't been easy in the Big Easy in the years since Hurricane Katrina struck the Louisiana coast in 2005, but things - especially in the area of golf - are slowly getting back to normal in New Orleans.
Duininck Golf has teamed with course architect Garrett Gill and Kelly Gibson, a PGA Tour member and New Orleans native, are now in the process of helping rebuild the most historically significant Joe M. Bartholomew Sr. Municipal Golf Course in New Orleans.
The layout is located in Pontchartrain Park, a neighborhood that was one of the first areas in New Orleans to provide home ownership to middle- and upper-income African-Americans. The tree-lined course occupies the northern portion of the subdivision across from Southern University at New Orleans.
The course takes its name from Joseph M. Bartholomew, Sr., who was born in New Orleans in 1881 and later became one of the city's most successful African-Americans. He learned to play golf at the turn of the last century as a caddie at Audubon Golf Course in New Orleans. He once shot a 62 at Audubon and competed against the likes of Walter Hagen and Gene Sarazen. Demonstrating a talent for course maintenance, he was later became a greenskeeper at Audubon.
After being sent to New York by a group of wealthy private club members in the 1920s to study golf course architecture under the tutelage of Seth Raynor, Bartholomew returned to build several courses in and around New Orleans, including Lake Pontchartrain, a nine-hole course expanded to 18 holes in 1957. The layout is acknowledged as the first course designed by an African-American architect in the U.S. During the segregation era in New Orleans, this course was the only one in the city available to African-Americans. In 1979, the layout was renovated and renamed the Joe M. Bartholomew Sr. Municipal Golf Course in honor of its designer, builder and first pro.
This will be Duininck Golf's second go-round at the city's best-known public facility. "We had previously worked on the golf course in 2005," said Judd Duininck, a principal in Duininck Golf. "In fact, we were completing construction in June before Hurricane Katrina slammed into the Louisiana coast on August 29, 2005. We had renovated tees, re-graded fairways, improved irrigation and had also made driving range improvements before the storm hit. The golf course never reopened due to the extensive damage incurred, but the city of New Orleans wants us to be part of a $7.5 million rehabilitation project that will entail a complete makeover of the layout.
"Anytime you work in New Orleans it's a challenge because of the soft soils, especially when you're working on a site so close to the water," Duininck explained. He noted that the layout, surrounded by canals, is a stone's throw from Lake Pontchartrain. "We've had experience working in the swampy lowlands of New Orleans, but from a construction point of view, this project will be an ultimate challenge because we can't move the waterlogged dirt with traditional earth-moving methods."
Nevertheless, Duininck Golf expects to meet the city's tight deadline and projected course opening in 2010. "We've got roughly 390 days to get the job done, but even with the heavy soils, we'll complete the job on time," Duininck said.
Peter Carew, long-time superintendent for the city's two golf courses, was one of the few golf employees to ride out the storm. He was on hand to assess the damage to Bartholomew after Hurricane Katrina blew through. "The middle of the golf course was under 22 feet of water for over eight weeks," Carew said, adding that he measured the salt line on trees at 22 feet. "The golf clubhouse sits on a knoll, and it was eight feet under water." He added that redfish and other native aquatic species were observed in the vicinity of the clubhouse.
Dave Munkvold, general manager of Duininck Golf, flew to New Orleans shortly after the hurricane to review course damage and assist the city's golf officials in preparing a damage claim package for FEMA. "Without Duininck Golf's help in creating spread sheets and cataloging the destruction, we'd have been out of luck," Carew said. "They really came to our rescue."

Gill, the Wisconsin-based golf architect hired to rebuild the course, said the Bartholomew course was originally developed as the core of a "New Age" residential community. While noting that Bartholomew only built a handful of courses, Gill said his work, influenced by Raynor, is a byproduct of the "Golden Age" of golf design and therefore classic.

"We are sensitive to the look and strength of the golf course," Gill said. "There's good structure to the course, from its orientation and general configuration of the holes to the distribution of par. Bartholomew laid a great foundation for this golf course. The city of New Orleans is looking to preserve that. The tees and greens have been reshaped, but the basic essence of the design has been retained."

According to Gill, "We've known Duininck Golf for a long time, and we've successfully collaborated on several projects. There's no doubt they're a professional company. Duininck Golf is very thorough. They do their homework. They'll also make us look good on this project, because their project supervisors and construction managers will get to know what we want. They know what design elements we believe are important, and they know what we like to see."

In addition to putting holes back to where Bartholomew had intended them to go, Duininck Golf will be building new tees, dredging existing lagoons and adding new ponds. One of the biggest projects will be to raise fairways to increase surface slope or topographical relief on the site. In addition to laying new cart paths, the construction firm will install a new irrigation system and pump station at the course.

On the technical side, Gill said the soil will need to be de-watered so that the construction crews don't sink a backhoe or bulldozer. "Duininck Golf may need to dig ditches to direct water to the low point of the golf course and pump it out during the construction process and then put the water back in ponds, but obviously the company has the technical expertise to do this," he stated.

Another key player in the makeover of the Joe M. Bartholomew Sr. Municipal Golf Course is Gibson, a fifth-generation New Orleans native who serves as the project's professional design consultant. "We have a unique opportunity to take something historic in nature and bring it back to its full glory," said Gibson, who assisted Pete Dye on the design of the nearby Tournament Players Club of Louisiana. "I'm leveraging my PGA Tour experience to help bring the best available talent to New Orleans to fix up its damaged golf courses."

Gibson, who has taken time off from competing on the PGA Tour to help rebuild his beloved hometown, said, "I've been working on this project for over a year. It's a very intricate process, what with the engineering and other technical considerations for a golf course situated below sea level. We're not changing the layout. We're taking what was here and making it better because the people of New Orleans deserve nothing less.

"This is a perfect fit for me," Gibson related. "I'm not an architect, but I'll definitely have some influence in the field. I'll work with Garrett Gill and Duininck Golf on the playability of the holes and the sightlines. We'll have open discussions and will work together as a team to achieve our goal of creating a modern facility that everybody can be proud of.

"It's important that this course be playable for the 18-handicapper," Gibson continued. "I want the course to be enjoyable by golfers at all skill levels. Aesthetically, it will be pleasing to the eye, easy to maintain, and will be offered at an affordable dollar figure.

"Hurricane Katrina was a defining moment for New Orleans," he said. "Let's face it, we were hit by the greatest natural disaster in the nation's history. Out of the devastation, we have seized a very special opportunity at this golf course. When it's completed, the Joe M. Bartholomew Sr. Municipal Golf Course will be a 'hidden gem' for both residents and visitors seeking affordable golf. This course is going to be beautiful and a lot of fun to play."

As before, breezes off Lake Pontchartrain will create the challenge, as will the well-placed water hazards and large, subtly contoured greens.

Gill cited the revival of the Bartholomew as "a very interesting project from a historical perspective. It's also an important way to improve morale among the city's residents. The idea is to bring back this key recreational outlet and make people feel proud again about their community."

At completion, all 18 holes at the venerable course will have been completely redone. "We've got a tight timeline, but we have every expectation that Duininck Golf will get the job done on time," Gill said. "This project is a good fit for Duininck - they've had experience working in coastal Louisiana."

Following a July 4th groundbreaking attended by New Orleans Mayor Ray Nagin and other city dignitaries, Gill expected that grassing would be completed by next summer, with a fall 2010 opening anticipated. "When the course reopens next year, it will essentially be a new course," Gill concluded. One with a storied and stormy past, he might have added.