World Golf Hall of Fame Ceremony Held Monday Night
Six new members were inducted into the World Golf Hall of Fame on Monday night during a ceremony in St. Augustine, Fla. The 2011 Class includes Ernie Els, former President George H.W. Bush, Doug Ford and Japanese star Jumbo Ozaki, along with two posthumous inductees, Frank Chirkinian and Jock Hutchinson.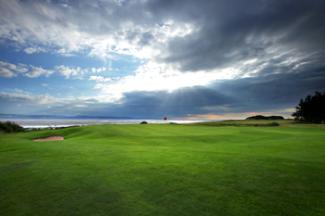 Overlooking the Ocean at Sunset
Els, a native of South Africa, has 18 PGA Tour victories, including the U.S. Open wins in 1994 and '97 and the 2002 British Open. President Bush, 86, served as honorary chairman of the Presidents Cup in 1996 and has been to every Cup since. He's also an honorary member of the PGA, an honorary chair of the USGA Museum and Archives President's council, and has served as the honorary chairman of the First Tee since 1997.
Ford, now 88, racked up 19 PGA Tour titles, including the 1955 PGA Championship and 1957 Masters. He played on four United States Ryder Cup teams and was the PGA Player of the Year when he won the PGA.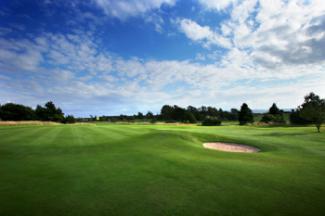 A Bonny Day on the Course
Ozaki, whose real name is Masashi, won 94 times on the Japan Tour, which 40 more than the next closest player. Now 64, Ozaki, whose brother Jumbo played frequently on the PGA and Champions tours in America, led that circuit's money list 12 times; his last victory came in 2002.
Chirkinian, who learned of his induction this year during the Pebble Beach National Pro-Am, passed away three weeks later after a battle with lung cancer at the age of 84. The longtime CBS producer of golf telecasts was a pioneer and the first to use on-course reporters, blimp cameras and microphones throughout the course. He was also the first to list a player's scores in relation to par rather than total number of strokes.
Before he died, Chirkinian taped an acceptance speech that was played at Monday's ceremony. "I must admit that I have been known to be speechless now and again, but that's a rare thing to have happen," Chirkinian said in the video. "But tonight I am speechless."
Chirkinian said he was "humbled" by the honor. "Looking back at a career that spanned 40 years, I'm amazed at how quickly those years have passed, a lot faster than I hoped they would," he said. "I realized golf is more than just a game. It's a way of life."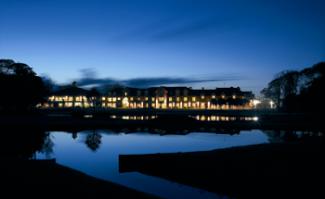 Nightshot of Hotel on England's Golf Coast
Hutchinson, who passed away in 1977 at age 93, was born in St. Andrews, Scotland, and became an American citizen in 1920 at the age of 36. He became the first American citizen and first non-United Kingdom-based winner of the Open Championship in 1921. He also won the 1920 PGA Championship along with 14 PGA Tour titles. He also won two Senior PGA Championships, including the inaugural one in 1937.
The ceremony also included a tribute to Seve Ballesteros, who passed away last Saturday at his home in Spain following a lengthy battle with brain cancer. He was 54 years old. Ballesteros, who was inducted into the Hall of Fame in 1999, enjoyed a brilliant 20-year career that included 50 wins on the European Tour and nine victories on the PGA Tour. He won the British Open three times and the Masters twice.
The following is a full transcript of Monday's ceremony, with NBC Sports' Dan Hicks serving as the emcee. Chirkanian was inducted first, with CBS Sports' Jim Nance on hand to accept the honor on behalf of his longtime friend and co-worker.

JIM NANTZ: Thank you. Good evening, friends. Wow, that video, it's tough to follow that one up. It really has truly been an astounding stretch here since Frank passed away a couple months ago, watching and reading all of the out pouring of love and support for Frank, he would not believe this reaction. Spectacular columns have been written, Golf Channel produced a wonderful documentary, and NBC with an unprecedented act of really generosity in our industry, actually interviewed another network's anchor during one of their live golf broadcasts. I want to apologize, by the way, I only had my CBS blazer on hand for that occasion, but I hope you guys will forgive me It has all been so special, all of this. Frank was a short man, 5'5" tops, but he was truly a giant, and I always looked up to him, and so many others did, as well.

Frank won every award conceivable between golf and television: The PGA of America lifetime achievement award, the lifetime Emmy, the Peabody Award for outstanding broadcast achievement, which rarely goes to sports programming. But this is the big one. This is really the mother of all recognitions for Frank, and for all who knew him, we are so grateful that he lived long enough to be able to realize that he would be enshrined in the World Golf Hall of Fame. I want to say to all of you who spearheaded the effort, God bless you for doing something I've never seen any other Hall of Fame do in the past and that is realize there was an urgency here.

Frank was in grave shape early in the year, and this group put together an emergency election, so Frank got to spend the last month of his life knowing one day this is where he would be forever. He was diagnosed last fall with stage 4 cancer. He knew the odds were long and the treatments were futile. Back in the fall he set a goal, that was to celebrate his next birthday at Pebble Beach on June the 3rd. Then the Hall of Fame came calling, and he had a new goal, and that was to make it to May the 9th. We lost the great man on March the 4th, and there are so many friends and family members who are here tonight for Frank, led by his greatest joy of all, and that would be his son Frank Chirkinian, Jr., right here.

His CBS family has come out in full force, a delegation led by our president Sean McManus. Thank you, Sean, there is a huge turnout here tonight for Frank. From Lance Barrow, his long-time under study and his present day successor, who has taken the torch from Frank and run with it brilliantly, giving CBS and the Masters who incredible production leaders for a total of 54 years, just two men. I look out here, and I see my colleagues Peter Kostis and Gary McCord, both of whom, like yours truly, owe much of their careers and their lives and things and decisions they've done thanks to Frank. And I can't help but stand here and think of some of his old pals like Ken Venturi, who someday I truly hope someday soon will receive a Hall of Fame recognition of his own that he deserves for his many contributions to the support. I'm thinking of Pat Summerall, I'm thinking of Ben Wright, I'm thinking of Jack Whitaker and many others. I'm thinking of the hundreds of men and women in production and the technical team members, many of whom are here tonight, who would do anything in a show to try to make Frank very, very proud. And I think of his long-time associate producer Chuck Will.

You all have heard the stories about Frank, the little man with the big bark, the rantings and ravings of the ayatollah as he was called. But I've got to tell you, Frank would do anything to motivate, to convince, to cajole, to get anything out of his group, and his loyal army did anything to give it right back to him. Many of the stories, again, have been a little bit exaggerated, but one thing that you could say has never been embellished is his record and his dedication to golf and the difference he made for that sport. They're all part of his legacy.

Just a few: He simplified the scoring system in golf to plus minus. It's hard to believe, but before Frank got involved in it, you had to try to extrapolate some sort of aggregate scoring, and it was impossible to really figure out a leaderboard before Frank back in 1960 said there's got to be a simpler way to make it television friendly. It's hard to imagine, you would sit there and be calculating numbers, oh, he's 276 shots, he's on the 6th hole, he's hit it 258 times. Microphones on the tees, cameras in the blimp, broadcasting the Masters in color for the very first time. He was an innovator who helped popularize this great sport of ours to millions.

It's not hyperbole when one says if it wasn't for Frank and his ability to take a sport that before him no one ever knew how to televise. If it wasn't for Frank, who knows where golf would be today. Who knows how many people got hooked into the game because of the way Frank presented it to us. He made it interesting, he made it dramatic. Before Frank passed away, Jack Peter, who does so much for this Hall of Fame, great effort, he led a delegation from the Hall of Fame down south of here to Palm Beach to see Frank to record just in case, his acceptance speech. Once the taping was over in late February, as though there was nothing else left for him to do, his condition rapidly declined, and Frank was gone within days of that taping. I now present to you that tape, Frank Chirkinian, a man who always in his mind would dream that he was at Pebble Beach, a man who made poetry at Augusta, and a man who will always be a part of the World Golf Hall of Fame.

FRANK CHIRKINIAN (via video): Hello, everyone. Greetings to you all, and I must admit that I have been known to be speechless now and again, but that's a rare thing to have happen. But tonight I am speechless. I'd like to say that I'm humbled by this great honor, and without the support of the talented men and women at CBS Sports that I've had the privilege to work with through these years, this honor might not have been made possible. Thank you, guys.

You're all in my thoughts at this hour, as you share this moment with me. I would also like to thank the World Golf Hall of Fame board of directors for selecting me. I'm proud to share this honor with my fellow inductees Ernie Els, Doug Ford, Jock Hutchison, Jumbo Ozaki, and President George H.W. Bush. I congratulate you all on your induction, and to this great, great, great Hall of Fame.

Looking back, I had a career that spanned 40 years. I'm amazed at how quickly those years have passed. A lot faster than I had hoped they would, because over 40 years plus, I realize that golf was more than just a game; it's a way of life, and I'm proud, extremely proud, to be inducted into the World Golf Hall of Fame and to be a part of the integrity of a sport we all love and cherish. I thank you all again. Goodnight.

JUMBO OZAKI: Thank you all for coming today. Since I still consider myself as an active regular Tour member, at least I thought such accolades should be for a much more accomplished player than myself, and I was afraid this honor may add more pressure when I compete. But reaction to the announcement was so positive, everybody congratulated me. I am humbled, but I am ready. It is such an honor to be inducted into the Hall of Fame. Thank you for coming.

(Letter read by Dan Hicks:) "Congratulations to the Hall of Fame on the efforts to stage the induction ceremony this evening. Please accept my deepest apologies for not being able to attend tonight with you. The inductees, members and audience there. I have been suffering from a severe back injury over the years and am discouraged by my doctor to travel long distances. In addition, the current situation in Japan made me feel that I should be home at this time. My younger brother Joe will be with you tonight on my behalf.

"He goes on to say, it has been a great pleasure and honor for me to be inducted into the World Golf Hall of Fame and I am very graceful for being a part of this group of great golfers. I am still enjoying my career as a golfer playing against younger competitors, and my motivation is always to win golf tournaments whenever I play. "Thanks again for welcoming me to the World Golf Hall of Fame. Please also let me take this opportunity to express my sincere appreciation for all of your kind support and prayers following the devastation that hit Japan. I am looking forward to seeing all of you in the not-too-distant future. Sincerely, Jumbo."

JOE OZAKI: Good evening, ladies and gentlemen. I am Joe Ozaki, the younger brother of Jumbo Ozaki. On behalf of my brother, Jumbo Ozaki, I want to say thank you very much for this wonderful occasion. I'm sorry he could not make the trip this time, but he is very honored and pleased that he has joined the group of the greatest golfers. My congratulations also go to the other inductees. Thank you for your dedication and passion in this wonderful game. Once again, thank you so much, and I hope everyone has a great time this evening. Thank you very much.

DAN HICKS: There was something about Seve that stole everybody's hearts, the way he played the game. Some say it was that swashbuckling style of his. For some it was the way he made the most impossible shots seem possible when he actually pulled them off in the heat of tournament play. His leadership, that great smile that you saw just spread across his face in times of victory, but most of all, he'll be remembered for his charisma and that incredible passion for the game. Seve, tonight we feel the sadness but forever will remember the joy. (Video played.)

BOB GOALBY: Ladies and gentlemen, it really is a pleasure for me to be here, and of course I'd like to congratulate all of the current inductees to the World Golf Hall of Fame. It's quite a pleasure. I've played tournament golf here and been through the museum. It's really something special. I've known Doug Ford for over 55 years. He's been a great friend, a great competitor, and he's a tough cookie, I can tell you that, because I go way back with him. I've seen him at a good side, I've seen him at a bad side, but I know one thing, he's a good guy down in the heart. He's a good guy.

He grew up in New York in Westchester County. There's 155 golf courses in Westchester County, New York. He was a caddie, worked driving ranges, he hustled a buck whichever way he could, and he wanted to play golf, and he played on Mondays, sneaked over at the country clubs and played at night. And he was in the service for three years during World War II. When he got out he married his wife Marilyn, a great gal who passed away in 1988. She was with him for 42 years. And Doug, as I said, he's a great family man and a good guy to his family all the time. His two sons are here tonight, also his daughter, his daughter Pam is a lawyer, his two sons are golf professionals, and one of his grandsons is a golf professional up on Long Island in New York.

He's been a great competitor. As you saw, he won the Masters, the PGA, two Canadian Opens, he won two Champions Tour tournaments, and he was one of the toughest competitors I've ever played with. Sam Snead and Ben Hogan, they were proud of Doug. When I played with Hogan and Ford one time down at Colonial, he watched Ford play for four or five holes, he had played a lot of golf with him in the past, but he said, Bob, I really like this guy Doug, he can really play golf. He knows how to play. He plays his game. He never tries to do something he can't do. He knows how to lay up, he knows when to go, and he plays fast. He does something that I couldn't do; I'd love to play fast. I was slow, I was a slow faker, I couldn't make a decision quickly. This doggone fool, he just grabs a club and goes. He said, I love the way he plays golf, and he's great fun.

And Sam Snead, we played hundreds of rounds with Sam, Doug and I. We gambled quite a bit, loved to compete, and one day we were playing Gene Littler and Sam Snead, Doug and I were partners at the Masters. On Monday Snead hit a beautiful drive done No. 2 past the bunker, hit an iron on the green and tapped it in for an eagle. We lost that day. The next day we played on Tuesday, and on the first green, Doug said to me, "Bob, don't say anything on the second tee, just watch what I do." So he took a 3-wood, he stuck it under his arm like this here so Snead could see the 3 on the bottom of the club. He said, what's he doing? Snead just made 3 the day before. And being Snead, if you knew him, he was a hawk. He hawked everybody's bag. He was the greatest player in the world, he'd hawk an 85 shooter's bag.

Anyway, he saw this 3-wood, and he said, what are you boys going to do, hit 3-wood here? Doug said, yeah - this was 1968 - they moved that bunker up a little bit and it's going to catch your ball if you hit a driver. He said, you've got to stay back a bit. So Snead took a 3-wood, hooked it in the woods and made a 7. Now, you talk about gamesmanship. You know, you've got to have a little of that in this game. Doug was pretty good at that. I'll say this, also: Snead loved to play with Doug. He called him Otis one day, and I said, what are you calling Doug Otis for? He said he's like the Otis elevator, he's up and down every green.

You know, Doug wasn't only a great player and a great competitor, he also was involved when we got our TV rights in 1963 and '64. No one was doing it, but Hogan pushed us. He met with us one day, and he said, boys, you have to do something about those TV rights. When Ben used to sign an application he'd cross out television radio rights. He'd cross it out, and in those days they weren't going to tell Hogan he couldn't play. The commissioner today would say, Ben, you're out. But he crossed that out, and he told us we had to do something to get those television rights, and Doug was instrumental in that. I was on the committee with Jay Behr and Arnold Palmer, Dave Moore and Johnny Puck, we were all involved on that, and Doug was a tower of strength when we did that.

He also was a tower of strength when we split from the PGA of America. The group of 28,000 club pros used to run the Tour, and the president of the PGA and the vice president and the secretary, they would -- the secretary/treasurer, they made a lot of decisions along with the four players, and of course they had club jobs, they didn't have time. And when we broke away in '68 and formed the PGA Tour, an umbrella or an arm of the umbrella of the PGA of America, we really succeeded, along with Deane Beman, pushing the great visions, and now we've got the great Tim Finchem doing the same thing. We've been very, very lucky to have those two men do that. And Doug was a tower of strength when we broke away from the PGA of America, and we owe Doug a thanks for that.

The players playing today, you're playing for three times as much money as you would have been playing if we'd still be under the umbrella of the PGA. Doug won 19 times as you saw there, and two Canadians and two senior tournaments. He won one at the Newport Golf Club at Newport, Rhode Island, and he won the Houston Seniors. Anyway, he also one day he was there, some young pro, and I heard this, young pro said to him, said, "Doug, how many tournaments you win? He said, "19." "Yeah, but when you played, you didn't have to beat anybody." And Doug scratched his head, didn't know what to say to this guy, I'm surprised he didn't fire back at him. He said, "I guess maybe you're right. I played against Hogan and Snead and Demaret and Middlecoff and Mangrum and Burke and Palmer and Casper and Littler and Goalby and a few others, and he said, you know, come to think of it, I was trying to beat them in their prime and you can't beat them today." That young guy didn't say a damn word. He just looked down and didn't say a word. True story.

You know, I'm happy to call Doug Ford my friend. We've been friends a long time. A lot of players wanted to travel with Doug. Everybody that traveled with him got to be better, Finsterwald, Palmer, Art Wall, Bob Goalby, Jackie Burke even improved after he traveled with Doug a lot, and Frank Stranahan, one of the great amateurs and pros in the country, he begged Doug to let him room with him, but Doug never would. He wanted to room with Doug to see what kind of secrets he had. Anyway, I'm happy that the committee put Doug Ford in while he's still alive. I'm really happy about that. And I also want to present my good friend Doug Ford, Hall of Fame member, Mr. Ford.

DOUG FORD: Ladies and gentlemen and golfers, that's a hard act to follow. Goalby is one of the great guys of golf. He not only was a great friend, he was a great friend to a lot of players. You know, when I started, there was 15 money places. 150 guys each week for 15 money places, and the first year that I played, Hogan was the chairman of the board. Four elected players ran the Tour. He had a proposal to increase the money places from 10 to 15. Now, I'm a rookie, 1950, and I'm saying, boy, that's one tough cookie.

But they voted against him, and they made 15 money places. And Hogan said, "What you're going to do is create a bunch of players that will stay out here and be exempt and will never win," and the more I look at the list now, he was as true as could be. These guys can stay out there forever and never win, as long as they make the money cut. But anyhow, I was very fortunate, and I was -- you know, I played a lot before and after the war, but my mother didn't want me to turn pro. A pro -- my dad was a pro, I had three uncles that were pros, and in the '30s and '40s and even up to '50s, it wasn't a very lucrative profession. She hated that -- she said, "You're not going to turn pro."

Finally I had been out of the service about four years, and I was itching to go out and play with these guys. So I went out and played one year as an -- one winter for three months as an amateur to see if I could compete, and they all thought I was a rich kid from New York, and all the hustlers out there, the Mangrums and everybody, all tried to get a piece of you. And I won more money. And when I got home, I said, "I've got to turn pro, Mom." And I did in '49 at Medinah, and I had to wait -- at that time when you turned pro, you had to wait six months before you could play but you couldn't accept money. And the reason for that was that when these -- when the Tours would come in, the Tour stop, a lot of the great amateurs of the town or area would turn pro to play. They couldn't beat these guys. I'm going to tell you, these fellows could play.

Anyhow, that was the rule, five months no money or six months no money. So I didn't tee off for the money until 1950 at LA, Riviera. That was my first tournament. I won $240 at Phoenix. I had to shoot 64 the last round. So that shows you the kind of money. In fact, I was telling somebody the other day, I won -- best year I ever had I won $40,000. I think I won five tournaments that year. But it was a great experience, and I enjoyed it. You know, I wanted to be a baseball player when I was a kid, and I had a chance to go with the Yankees down at -- I don't know what class A in South Carolina, $30 and keep, and my dad said to me, "How long will you last playing baseball?" I said, "Maybe 10 years." He said, "Why don't you stay with the golf; you'll last forever." That's right.

Anyhow, it's a great honor. I'm amazed at this place. I played a couple of times in the senior tournaments here, but I never got into this part of the growth of the place. They're doing a great job, and it's a great honor to be honored by this group. Thank you very much.

JOHN HOPKINS: As we mourn the death of one professional golfer from Europe, I am here to tell you about another. Jack Fowler Hutchison, Jr., the man we are honoring tonight for his skill as a professional golfer nearly 100 years ago was born in St. Andrews on June 6, 1884. He didn't have to look far for golfing lore in the famous Scottish town. St. Andrews was then, as it is now, the spiritual home of the game. At that time Old Tom Morris was the greenkeeper to the Royal & Ancient. Young Tom, Old Tom's son, had been dead only nine years. The old gray tune was near its pomp, though it didn't them have the cache it has now of being the university at which the future King of England met the future Queen of England.

Yet little more than 16 years later, Jock set out for the new world like so many Scottish golfers before him and quite a few since. As Dick Wittington walked to London to seek his fame and fortune, Jock Hutchison set sail for the United States to do likewise. Let me try and explain why. Victorian Britain, a country dominated by class, was on the wane. Women did not have the right to vote. Indeed, it was only nine years earlier that they had been told they could not be forced to live with a man if they did not want to.

The great exhibition that boasted of Britain's prowess to the rest of the world had been held 50 years earlier. It was 13 years past queen Victoria's Golden Jubilee, and a little over 12 months before she would die in office having reined for 63 years. By contrast, the U.S. was a vibrant, young country that now had a population in excess of 75 million. In 1902 the first Rose Bowl would be staged in the U.S.; the next year the Ford Motor Company would be founded, the same year that the World Series was held for the first time. This country was to be Jock's home for the rest of his life. Having settled in the Pittsburgh area, Jock started making a name for himself as a golfer, good enough to finish second in both the PGA Championship at Suwanee and the U.S. Open at Inverness in 1916.

He didn't possess the silky smooth swing of someone we're going to hear about later, namely Ernie Els. He had a swing that Bernard Darwin, my predecessor on the Times, said resembled a man swinging by numbers. It was all very rhythmically done, but there was a discussion of a three-piece swing with the three pieces perfectly and smoothly dovetailed. But what was he like, this Scots-born man who would soon become an American citizen and was by now married to Marie, with whom he would have three children? When I think of Marie, I think of the remark by Jim Carrey, the actor: "Behind every great man there is a woman who is rolling her eyes."

I don't know about this, but I suspect that every woman here tonight would agree with that. Herbert Warren Wind, who is to golf writing what T. Waverley Root was to the New York Herald Tribune, gives us a distinctive flavor of Jock, when writing in his monumental book, "The Story of American Golf." In a friendly game, Herb wrote, "Jock was talkative, high spirited and a contagious chuckler. In competition, he was dullness itself and as nervous as a mosquito. He walked around restlessly between shots. He sweated lavishly and took to waving his arms in the air to dry them. He literally twiddled his thumbs." That was the end of Herb's quote.

In 1920, Jock, having only got into the PGA as an alternate, went on to win at the attractively named Flossmoor Country Club in Chicago. He nearly won that year's Open at Inverness, too, a thrilling championship that had at first seemed to be the property of Harry Vardon, who led after three rounds. But Vardon was 50 at this time, and a strong wind and his poor putting found him out. Tired and battered by a near gale force wind that blew off Lake Erie, the great man played his last seven holes in 7-over par. Jock needed a birdie and a par on his last two holes to tie with Ted Ray but could not do so, so Ray, who had come home in 40, won the U.S. Open at the age of 43.

The next year, the Open was at St. Andrews, and Jock saw his chance of combining business with pleasure. He could return to his birthplace and enter the game's oldest championship. He arrived in St. Andrews in the winter, demonstrating a determination to be fully prepared that was to be matched later by Ben Hogan at Carnoustie, amongst others. In his opening 72, Jock nearly holed in one on successive holes. He aced the 8th and only missed repeating this feat on the 9th when his ball caught the corner of the cup and twisted away. His second round was a 75; his third a 79. On the firm fairways of the old course you could see the benefit Jock got from his scored irons. Again and again his ball would leap off the club face, only to grip the putting surface as the backspin these grooves helped to impact took effect, the ball often ghosting up close to the hole.

Jock teed off for the last round at the same time as his father, caddying for another competitor, came down the 18th. Playing his last nine holes in 34, Jock tied Roger Wethered, the English amateur. The 36-hole playoff the next day was one-sided. The Scottish-born pro, making light of Wethered, the brother of the famous Joyce. Jock won by nine strokes to become the first American to win the Open. He was approaching 40 now, and though Vardon nearly won the U.S. Open when he was 50 and Ted Ray did win it when he was 43, Jock was not to add a third major championship to his hall. The deeply scored irons were soon made illegal, and Jock's last really, really good year was 1923, when he finished third in the U.S. Open, the first won by Bobby Jones, incidentally.

In 1937 Jock won the inaugural U.S. PGA Seniors Championship when it was held at Augusta National. He tied for first on another occasion and never finished worse than third in eight years. In 1951, despite being 67, he was runner-up. Clearly that swing of his forged on the east nook of Fife and honed in the U.S. stood him in good stead. Jock and Fred McLeod, who had won the second PGA Senior Championship, went on to serve as the first honorary starters at the Masters. If you got up early on the first morning, you could see a real treat, two old geezers, a much-loved pair, teeing off at the start of the first round.

So there, ladies and gentlemen, you have Jock Hutchison, a twiddler of thumbs, a flapper of arms, a man as nervous as a kitten in competitive play, who still won 14 professional events. Though he was born and spent the early years of his life in Scotland, he received the bulk of his education on this side of the Atlantic, and in his long and distinguished career, he brought little distinction to the country of his adoption. Jock died in Evanston, Illinois, on the 27th of September, 1977, at the good old age of 93. He was a grand old man in a grand old game.

COMMISSIONER TIM FINCHEM: Good evening, everyone. This is indeed an exciting evening. I'm actually here on behalf of the World Golf Foundation board of directors. George O'Grady, my compatriot from the European Tour, is this year's chairman of the board. George could not be here because he stayed in Europe to attend the Wednesday morning funeral of Seve Ballesteros. But I spoke to him on Monday, and he wanted me to say a few words, and I would like to start by thanking the members of the Hall who have joined us tonight to make this very special; secondly, I want to thank everybody here in the room who has worked over the years to bring this institution to life and make it more compelling; thirdly, I'd like to commend and congratulate tonight's inductees so far this evening, Jumbo Ozaki; Jock Hutchison; Doug Ford, who had so much to do with the establishment of our organization, the PGA Tour; and Frank Chirkinian, who had so much to do with making our sport the marketing success and robust sport in the world of television that it is today.

In addition, I'd like to take just a minute and comment on the last two inductees, and I'll speak first about our last inductee, Ernie Els. Ernie has become truly in the mold of Gary Player, a truly global ambassador for the game of golf, and as I speak about these two gentlemen I'd like to speak just for a second about their influence, not so much their accomplishments, which you'll hear during the evening. Ernie's influence starts with the fact that he's the epitome of a true professional and always has been. He's carried himself so beautifully on the stage all over the world. He's traveled to every corner of the globe to promote and grow the game of golf. And his impact of the game has been fantastic on a global basis.

In addition to that, along the way, over the last 18 years, he's had a tremendous impact here on the PGA Tour as a member, and Ernie, I think I speak for all of our tournament sponsors and players, that we owe you a great debt of gratitude. But he and his partner Liezl and what they're doing to help other people, and I'll just mention one example, the Els for Autism effort, which this year will kick off the largest amateur charity event in the United States to raise money to deal with the problem of autism and education research and outreach is very, very special, and we commend both of you for all your efforts. And then President H. W. Bush. It's always nice to have the nicest person you ever met part of your sport. President Bush has been a fan and a did he have owe tee of the game since he was a kid. I was blessed with the opportunity to take Sam Snead into the Oval Office in 1989 when president bush was president, and he commenced to ask Sam to give him a little wedge lesson out behind the Oval Office, which Sam obliged him. Sam said the president needed a little work.

The president has attended so many Ryder Cups to urge on the American team. He chaired The Presidents Cup in 1996. He's attended every single Presidents Cup since, including Australia and South Africa and Canada. But in 1997 when the organizations that make up the World Golf Foundation came together to start the First Tee program, we went to President Bush and asked him if he would chair that program. And since that time until two months ago when he gave up that spot for his son, 43, 4.7 million young people in the United States have been touched by the First Tee program. But for President Bush, that would not have happened. He attended openings of facilities. He wrote letters to people that gave money. He traveled, he spoke, he got on the telephone. He wasn't a chairman in name only; he worked at it. But because of his lending his prestige and image and commitment and enthusiasm to what the First Tee is, it's the success it is today. And if for no other reason tonight, Mr. President, we want to thank you for that and thank you for what you have meant to the game of golf, and with that it's my pleasure to introduce to you a brief video on president George Herbert Walker Bush.

JIM NANTZ: Thank you so much, and Commissioner Finchem said it so well, the nicest man of all time, a man that I really believe if you lined up what golf really means, you cut the game to its core, and then you look at George Bush and what he stood for in his relations with everyone around the world. The sport and George Bush always were running parallel paths. I'm not going to slow play you up here because President Bush would play really quickly. He loves this game of golf so much, and I'm just so excited for him that he gets this recognition. You look at a guy and say, he's President of the United States. What he do for golf again? All of us in this room have to care about where the game is going, the future of the game, how we spread the goodness of this game. George Bush at a very important time, when people were putting together this First Tee, he signed up for it, not in an honorary role even, although I think that may have been the title; it was an active role. You took his credibility and his passion, and you put it in the First Tee, my goodness, could you have a better person standing behind this game than George Bush?

And then all these times he's been out there to support not only the American teams but be there as an act of sportsmanship for the international teams and The Presidents Cup and the Ryder Cup competitions. He loves this game. He loves the fact that he's going to be in the World Golf Hall of Fame. I've been lucky enough through the years to play many, many times with the President. Back in 2005 this remarkable friendship was being formed with former President Clinton. The two have really gotten to know one another when they teamed up in their efforts to try to raise money for the victims of the tsunami in southeast Asia. Together they raised over a billion and a half dollars. And again, this unusual friendship was spawned. Two political rivals, suddenly they like to hang out together.

So they decided in the summer of 2005 that they wanted to get together on a social visit, and fortunately for me, I got asked to be the ultimate fly on the wall. I was asked to be their, quote-unquote, intermediary. You talk about a great assignment. The first day that we played golf, first time they'd ever been on a golf course together, was June the 28th, 2005. Playing the 5th hole of Cape Arundel, and President Bush on this short par-4 pulled his tee shot a little bit left. We sent out the full search committee. We had both secret service details down there looking for it. We found the ball. Surprisingly, it was a pretty good lie. He had a 120-yard direct shot to the role, a little risky, you know, you've got to clear a little hazard there; Deane and Judy Beman know it so well, they play there all the time, too.

And his first instinct was go ahead and go for the green. But after careful inspection, President Clinton said, "What are you going to do here, George?" "I think I'm going to go for it." 120 yards was probably a 5-iron or 6-iron for him at the time. President Clinton said, "No, you can't do that. You've got to pitch it out up here in the fairway, got to hit it up the rise in the fairway. Here, I'll show you." Next thing President Clinton takes off up the rise, he's standing in the fairway, he's a human target flag, he's standing there, "hey, George, right here, hit it right here, hit it to me."

He's looking up at him, and this is so typical, he wants to make everyone in his presence happy. That's his first goal is make sure you're happy and having a good time before he's going to concern himself with what he's doing. So anyway, I know he still wanted to go for the green. I said, "Mr. President, let me ask you a question: When was the first time you played Cape Arundel? How old were you?" "Probably 10 years old." "What do you figure in the last 70 plus years, 25 on average, 30, 40 rounds a year maybe at Cape Arundel if you had to average it out?" He said, "That would probably be pretty close."

"So you've played this hole somewhere around 2,500 times in your life. President Clinton has never been here before, right?" He says, "That's right." I said, "Well, go for the green." He said, "No, you know, look at the effort he's making here to make sure -- I'm just going to pitch it out and play it sideways." And I thought, boy, that really captured the spirit of George Bush. He's going to make sure that President Clinton is happy, pitch it out in the fairway, make 5 at best, maybe 6, instead of going ahead for the high risk shot and a good chance to make 4.

Anyway, he hit the shot, aimed it directly at the still-waving President Clinton, hit it right up there in the fairway, knocked an iron shot on the green 20 feet away. As fate would have it, the ball went in the hole for a 4. President Clinton looked at him and said, "I told you, George. I told you."

He loved a friendly competition. He loved to make other people happy. He loved to be able to go out and try to make a par, a hard-earned par, do it even better than do it individually, to do it in concert with someone else. It so typifies the life of George Bush, a man who believed in sharing, a man who, again, espouses the great virtues of this game, a man who absolutely is the definition of goodness. I had the chance a few weeks ago, the President has been traveling today, and he just reached his home in Kennebunkport right now, and we had a chance to talk about his lifelong passion with golf. I think you're going to enjoy it. Here it is:

Q. Mr. President, who taught you to play golf?

PRESIDENT H.W. BUSH: I guess I played with my father the most when I was a little guy, who was a very good golfer, low handicap, scratch, but never -- there's a genetic shortfall and it never took, except I loved the game.

Q. What was the strength of your game as a player? PRESIDENT H.W. BUSH: As a player? The competition. I just loved to compete, and I played fairly fast, so that set an example for some of those guys that plumb bob everything. So those two things were my attributes.

Q. People don't realize, you actually have championship trophy, Cape Arundel?

PRESIDENT H.W. BUSH: Yes, it was. I dusted a guy named Chad Brown. I closed him out at about 14, I think. It was really fun. That was the Cape Arundel Club Championship. My name is embellished there. It's on the board. You can't take it away from me.

Q. What is it you love about golf?

PRESIDENT H.W. BUSH: Well, integrity. When I think of golf, I think of people playing with integrity and honor. We come from a tradition of golfers. My grandfather, Mr. Walker, donated the Walker Cup years ago, and then my dad, he was head of the USGA then. My father was president of the USGA. And through that tradition, line of tradition, we learned respect for the game. But it didn't detract from the fun, I'll tell you.

Q. When you left office, you got immersed in the sport, whether it was The Presidents Cup, attending all the Ryder Cups, the First Tee. Tell me about first the international competition and showing up virtually ever year for either The Presidents Cup or the Ryder Cup. What's that meant to you?

PRESIDENT H.W. BUSH: Well, I loved it, and I loved seeing them. These were great competitions and great for the game.

Q. The Presidents Cup, to watch that grow, you've been there for virtually all the competitions.

PRESIDENT H.W. BUSH: That's right.

Q. What have you thought of the Presidents Cup?

PRESIDENT H.W. BUSH: Well, I can remember when it got started and nobody was quite certain where it would go, but it's become quite an event, and I think it's wonderful.

Q. How meaningful has it been for you to see the growth of the First Tee, and you gave it great credibility as the honorary chairman, and that wasn't just an honorary position; you worked hand in hand.

PRESIDENT H.W. BUSH: I tried to work hand in hand. I remember the first meeting was up in New York of all places, and First Tee is not just about playing good golf, it's about character and all that for these kids to get in the game and teaching them rules, play by the rules, honor the game, all those attributes are hooked into First Tee.

Q. When you got the phone call that you had been elected into the World Golf Hall of Fame, what was your reaction?

PRESIDENT H.W. BUSH: It was overwhelming because it's a wonderful institution. Tim Finchem made the phone call, and I was very grateful to him, and I thought, well, this is a wonderful thing, and I hope that it helps in some way showing that a former president is that interested. But a lot of nice things happen to you when you've been President of the United States, but this one was very special for me. I was over-awed.

JIM NANTZ: Thank you, Tim. Thank you to everyone from the World Golf Hall of Fame. It's nice to have the nicest man ever to be a part of the World Golf Hall of Fame. The President just wanted me to tell everyone how much this means to him one more time and to express his appreciation, and he wanted to say God bless you all and God bless the World Golf Hall of Fame. Thank you so much.

JOHANN RUPERT: On behalf of South African golf, I'd like to congratulate all the inductees tonight, especially President Bush. I so looked forward to seeing him here. We had a wonderful time when he came down to the Presidents Cup, and slow play was not in his vocabulary. He got Mrs. Bush out on the second nine, put her in a golf cart and said, please, please, could you speed up, because Herb is too slow. And Herb barely got his backside into the cart and Mrs. Bush would hit the gas.

It was wonderful that about 15 security service people there, three of whom got arrested by my security because they wouldn't identify themselves. They thought that to dress like the Banana Republic, came to Leopard Creek, got a phone call, we got them out. Security everywhere. Then they got on to Fancourt, where somebody had told them go to, I don't know where, but they looked like they came out of a Hawai'i Five-0 or something. And then Mr. Kohler and President Bush got on to a golf cart amongst 30,000 spectators. Wonderful to have President Bush and Mrs. Bush, and thank you for all the kindness towards us as your family.

Now to Ernie Els. Ernie that you've all heard about, and then there's Theodore, who comes out after hours. Liezl and I discussed it, and if we had to discuss Theodore, the evening would be too short. So let's discuss and focus on Ernie. The World Golf Hall of Fame is the perfect place for Ernie Els. More than any golfer of his generation, Ernie has been a world player, and he's a Hall of Famer in every way. He's always had a sense of history. As a teenager in South Africa he sought out Bobby Locke. In discussions of the '50s, he isn't mentioned nearly enough with Messrs. Hogan, Nelson and Snead. At Ernie's first American major, the '92 PGA Championship, he was paired with a 62-year-old Mr. Arnold Palmer. Ernie said I'll never forget the handshake on the first tee. As they walked off the course, the great man invited Ernie to play at his tournament at Bay Hill. This was a huge relief to all of us because we were scrounging around trying to get invites for Ernie on the European Tour, et cetera.

In those days South Africans couldn't get invites, and we sponsored and swapped with the Dutch, et cetera. So it was wonderful, Mr. Palmer inviting him. It's the first time I ever did that, Mr. Palmer said, this kid had real confidence in himself, and as someone once said, he didn't have to talk about it. He was one of those, I'll-show-you types. I guess I kind of like that. That was Mr. Palmer. Of course Ernie has gone on to win Mr. Palmer's tournament twice. In 1994 when Ernie won the first of his record seven World Match Play Championships at Wentworth, the most memorable match was the semifinal against the late great Severiano Ballesteros. Between them in a single day, over 35 holes, they had 12 2s. Twice they chipped in on top of each other. I think one was for an eagle, both eagling it. In the locker room afterwards, Seve sat down next to Ernie's dad, Neels. Seven 2s, and I still lose.

Seve said, I tried very hard today, I played very well today, but your son is very special. Neels' eyes I remember filled with tears. A guardian Angel named Ernie Vermaak, Hettie's father, took Neels under his wing and eventually to the driving range. Ernie Vermaak instilled discipline and etiquette into Ernie. It's a wonderful thing that I'm proud as chairman of the Tour we do have some discipline and etiquette. We can't blame it, it's the mother's grandfathers who teach the players that. And Uncle Ernie, or Ernie as I called him, had that. Neels on the other hand taught Ernie the basics of the swing, especially the impact zone, the six inches before and the six inches after.

And despite his very strenuous job, Neels was always there. Hettie on the other hand is the calm and quiet family anchor, and I would say Ernie Els is like Hettie and Theodore is a little bit like Neels. Besides Neels and Hettie, Ernie has had another couple of huge advantages. He found a terrific life partner in Liezl, who knows the game and more importantly knows him. They have two wonderful children, the 11 year old Samantha and 8 year old Ben. She's a lovely girl, and he's a beautiful boy.

As you probably know, Ben is autistic. That changed Ernie. It gave him a cause and a new perspective on life. Watching them laughing together as Ben is riding on Ernie's shoulders, you cannot help but smile. The Big Easy is a natural nickname, I guess, but for those of us who know him well is totally misleading. The people closest to Ernie know how much he cares, how hard he tries, and how easy it isn't. At 41, he still has a lot of work ahead. The golf tournaments, major tournaments yet to be won. Next month the U.S. Open returns to Congressional in Washington, where Ernie became the first international player in 1987 to win a second Open.

Then in July, the Open Championship rolls back to Royal St. Georges where Ernie set one of his quietest records. He was the first player in all of Open Championship history since 1860 to record four rounds in the 60s. The second man to do it unfortunately was Greg Norman, and he did it about 45 minutes later. But that's okay. Ernie's time came at the real test of golf, Muirfield, which tests the very, very best. Ernie is far too young to be an elder statesman, but he is one in this sense. He has already given so much back to the game of golf. At this moment, half of the major championships are held by young South Africans whom he inspired and helped, Louis Oosthuizen and Charl Schwartzel. Their victories thrilled him.

And I have to say, we gave you Mr. Locke, Mr. Player, Ernie Els. You know, we had Trevor, Retief Goosen. I lessen to my friends at CBS, Goosen. Then Oosthuizen, and then I warned you guys to pronounce Schwartzel. Now, if Ernie gets his way, the next kid is going to be Xhosa and then you're going to have real issues when you have X's and Z's in the last name. We'll give you early warning because Ernie and I working with the foundation, hopefully we'll send you a totally unpronounceable name. Now, Ernie is a sportsman in the old-fashioned sense. Kipling could have written this for Ernie. If you really look, he is met with triumph and disaster and treated those with just the same. He walks with kings and has not lost the common touch. He shares a quality with all the great athletes I've known. From the day I've met him until now he's never changed. Ernie has already won the title all the great men in this hall coveted most, the title of gentleman. He has played a beautiful game, he has lived a beautiful life. Ernie has many, many more championships to win.What is a three-letter word for elegance? I present to you Ernie Els.

GARY PLAYER (via videotape): Good evening, ladies and gentlemen. As a global ambassador for the World Golf Hall of Fame, it is such a thrill to be able to introduce my friend Ernie Els. Ernie, you've been a great champion, you've been a good friend to my family and myself, but you've also been a good friend to the world. Congratulations on being inducted into the Hall of Fame. If anybody deserves it, it's you. You've been a great gentleman, you've been a champion, and the nice thing about it, everybody loves you. God bless, and look forward to seeing you soon.

ERNIE ELS: Thank you, ladies and gentlemen. What can I say? It's been a long journey, you know, coming from South Africa. It's only a couple of miles south if you haven't been there. It's so great to see my parents here. Obviously that's where all this started, really with my grandfather as Johann mentioned earlier on my mom's side. I took his name, so I think I'm Ernie the third or fourth, and he really instilled, as Johann said, instilled the discipline into myself and my brother. I've got an older brother who also plays the game.

My dad, he had a hidden talent which he never knew about. I guess he worked so hard on trucks and stuff, and his father passed away at a very early age, so he had a big family to look after. He's the older brother of seven children, so he was forced to really go out and work. So I guess he couldn't quite get to the golf course and play until he met my mom, and obviously my mom's dad got him to the golf course, and within a year he was a 1 handicap, so that tells you about the talent that runs in the DNA there. In any case, I've got an older brother as I mentioned, an older sister, as well. I'm the youngest one, got spoiled very well. That's why I'm here, I think. You know, my brother is a good player. Unfortunately for him he had a disability in his left eye. He's got no vision in his left eye. Although he loves the game, plays the game very well, it was really frustrating for him because to play with one eye has got to be very, very difficult.

I've got to give a lot of credit to my brother. He's older than me. He wrestled me to death. But he instilled a big, competitive drive in me. Because he was a bit older, I was trying to beat my older brother and I couldn't quite do that too many times. And then also my sister, who nobody really mentions a lot. She had to sacrifice a lot, too. Myself and my brother really being sportsmen with my dad, my sister took a bit of a backseat. She didn't play golf, and she actually has a great family now where my nephew I believe will be in the World Golf Hall of Fame one day. He's a great young player. So there's a bit more under the family tree there.

You know, my wife Liezl, you've been around my professional career, thank goodness. You never saw me play golf as an amateur, thank goodness, because after school I went to the Air Force for two years back in South Africa. We had to do two years of military service, and it's a good thing you never knew me then. As Johann says, that's where Theodore and all these other characters came from. But I'm glad to say that we survived those days, and I'm here to tell my story, or Johann told my story. I met my wife in 1993, and Liezl came back from the States. She's a horse woman, loves her horses, and she worked on horse farms all over the country, and by chance we met in 1993, and we're both Afrikaans-speaking people, but we both spoke English to each other for some reason that evening. She with a slight American accent I must add. Only spending a couple months over here, you came back with an American accent.

We hooked up, and we haven't left each other since. You know, obviously she's been a rock for me through my career. Two beautiful children here with Ben here and Samantha. Samantha is becoming quite a sports lady herself now. She's got a pretty good swing, but I don't think she's got the patience for it yet. And my beautiful son Ben, who I believe will play the game one day. He loves watching me hit golf balls. You know, he'll sit there for hours and just watch the golf ball take off in the blue sky. I'm really blessed with you guys. My mom, the taxi driver for so many years back in the day, junior golf. Thank you very much, Mom. You don't get enough credit, I think. You've been really a rock, as well. So thank you very much.

You know, Johann mentioned South Africa a little bit. We grew up in South Africa in a weird time. You know, when I started playing the game with my brother, golf wasn't quite an Afrikaans sport. We were known as rugby players. You didn't quite play golf. So when I was in high school, I went to -- I came here to the U.S., played in junior golf tournaments, winning some tournaments. I used to go back to school and the guys would laugh at me, like what are you wasting your time for being golf, come to the rugby field.

In Afrikaans, now when you look at some of the players coming through, just looking at Louis Oosthuizen and Charl Schwartzel, Retief, my good friend, who's also Afrikaans, that really says a lot for us as Afrikaaners in South Africa. To see the South Africa we see today, 20 years ago when President Mandela came to basically mainland South Africa because he was on Robben Island for so long, and to see the transformation take place in our country in this generation, this last 20 years, is truly remarkable. So much credit has to be given to F.W. de Klerk, our president, in giving the reins to president Mandela and really the two of them with sport in our country, and I'm saying rugby was a great tool of bringing the people together. Rugby is a very big sport in our country, cricket, soccer, football, and the rest of the world, and then obviously golf. And I think with our sport and our leadership in South Africa, it really brought the country together.

In 20 years since President Mandela came off Robben Island, to do what he's done, and then obviously our sportsmen, I think it's a great accomplishment for our country, so I'm very proud of that. Johann gave me a really good entrance into some of his tournaments in the '90s. He's sponsored so many golf tournaments, and I got to play in them, got my European Tour card, always had a dream to come and play here in the U.S., which I eventually did. And again, I got a break in winning the U.S. Open in 1994 at Oakmont the same week as Arnold Palmer retired from the U.S. Open golf.

That tournament could have gone any way. It could have gone to Colin Montgomerie, could have gone to Curtis Strange who was in there, could have gone to Loren Roberts, and for some reason I was in the right place at the right time basically. I made so many putts that day, and that really set me up to where I am today. If I didn't get that one, and they gave me a ten-year exemption as a 24 year old and gave me a lifetime exemption on the European Tour and obviously in South Africa. That really set me up. And it just shows you the fine line it takes between it going either way.

So many times you don't speak of guys who finish second, but so many of my majors were only by fine lines. I'm saying many, but the three I won. But like some of my inductees, they're real legends. I'm really honored. Thank you very much to the World Golf Hall of Fame, Jack Peter, your team, the panel that selected us for this year's induction. I really appreciate it from my heart, and as a South African, in front of an American audience here, we really appreciate it from our family and friends. Thank you very much.

The transcript for the above interview is courtesy of ASAP Sports.