World's Best Golfers Converge on South Florida's PGA National
By: David Wood
With the dreaded "Polar Vortex" once again wreaking frigid havoc this week in the Midwest and Northeast, the weather in Palm Beach Gardens for the first stop of the PGA Tour's "Florida Swing" is short-sleeve glorious.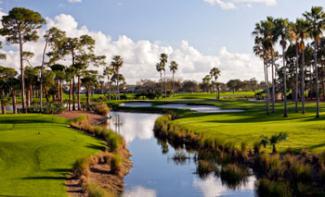 The 3rd Green on the Champion Course at PGA National
With daily temperatures scheduled to hover around 80 degrees under predominantly sunny skies, the elite of the golf world will vie on PGA National Resort & Spa's Champion Course for the 2014 Honda Classic title.

Using "elite" isn't hyperbole, as the field features seven of the top eight players in the World Golf Rankings. Tiger Woods, Rory McIlroy, Phil Mickelson, Adam Scott and Henrik Stenson are among the luminaries set to tee it up. Few tournaments outside the majors have such a star-studded lineup.

For many players, this week is a "home game" as the Palm Beach area is the primary residence of Woods, McIlroy, Ernie Els, Luke Donald, Keegan Bradley, Dustin Johnson and a host of others. Three hail from just across the street - Old Palm Golf Club - in Lee Westwood, Charl Schwartzel and Louis Oosthuizen.
Given the lovely South Florida weather, the hip and happening Palm Beach social scene, easy access to Atlantic beaches, and trendy restaurants and watering holes, it's not hard to see why some of the game's biggest names hang their golf visors in these parts.

Another reason for the success of the Honda in recent years is the contestants' fondness for the Jack Nicklaus-designed Champion Course - the toughest layout on the 2013 PGA Tour schedule (non-major venues) with an average per-round score of 1.318-over par. Great golfers love challenging courses, and Nicklaus recently enhanced the test with 62 new bunkers.
With four additional 18s, including the new Fazio Course, one would think PGA National could rest solely on its golf laurels. But the property's recent $100 million revitalization co-headlines this week. New enhancements include floor-to-ceiling makeovers of its 379 guest rooms; a permanent, lakeside wedding venue; and a total overhaul of its 19th hole bar and grill, now called "Bar 91," complete with an outdoor fire pit.

Another spot for people-watching is the lively iBAR in the resort hotel lobby. Fans, locals and resort guests all mingle into the night with many Tour players, who stay right "on-campus" during the tournament. It's about as "inside the ropes" as golf fans can get.

Joel Paige, PGA National's vice president and managing director, perhaps says it best, "This is our eighth year hosting the Honda Classic and we're thrilled it has become so incredibly popular with the players and fans."
For more information about PGA National Resort & Spa, visit www.pgaresort.com or call 561/627-2000.