World's Largest Putting Course Debuts at China's Mission Hills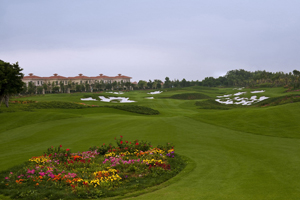 Putting Course at Mission Hills
Photo by: Tom Breazeale
It's not surprising that the world's largest putting course is situated at the world's largest golf club. Mission Hills Golf Club in China has debuted its 17-acre putting layout right next to the 18-hole, par-3 Zhang Lian Wei Course, one of 12 courses at the mammoth resort 30 minutes north of Hong Kong.
The new putter-only track was crafted by Schmidt-Curley Design, a firm based in Scottsdale, Ariz. Unlike most putting courses that are oversized putting greens or resemble putt-putt facilities, the Mission Hills course traverses rolling ground, snaking past bunkers, mounds and thickets of landscaping. The putting surface is a continuous six-acre ribbon of paspalum turf. There is no prescribed routing, so players are free to go wherever they like.
The mini-layout features rugged bunkering and dramatic humps and hollows. Framed by flowers, groundcover and native grasses, it evokes the feel of a quarter-scale golf course.
"There is nothing on the planet that comes close to the course's size, appearance or playing alternatives," says Brian Curley, the man who created it. "The possibilities are limitless. It can play as a putting course requiring negotiation of hazards and putts of 100 feet or more. Or, players can sharpen their chipping and pitching, incorporating lofted ball flights over the myriad bunkers and swales turning the facility into more of a short-game course. Regular use of the course will cultivate shot-making creativity that's sure to shave off handicap strokes."
"Schmidt-Curley did a fantastic job with the putting course," says Tenniel Chu, executive director of Mission Hills. "It is another in a long line of valued projects the firm's undertaken at our club. The Mission Hills we know today wouldn't have been possible without Schmidt-Curley's expert architectural contributions to all 12 of our golf courses."
"Creativity is our hallmark, and we're always excited when clients ask us to tackle outside-the-box projects," says Curley. "It allows us to showcase the ingenuity and imagination that have made our firm successful for so many years."
For more information about Schmidt-Curley, visit www.schmidt-curley.com or call 480/483-1994. For more about Mission Hills Golf Club, visit www.missionhillsgroup.com, email info@missionhillsgroup.com, or call (852) 2122 1616 (Hong Kong), (86 755) 2802 0888 (Shenzhen) or (86 769) 8728 8888 (Dongguan).