Writer Takes on another Batch of Top 100 Courses
By: Simon Spratley
Editor's Note: The author of this piece is on a noble quest to play the top-100 golf courses in the world. He's not looking at just the top 100, but three different lists: public and overall (both public and private) in the U.S., and those ranked highly from around the world. With this installment, Simon discusses a memorable trip he took in fall 2009 to New York and rounds at six of that state's most fabled - and hard-to-get-on - private courses.
How do you explain to an airport shuttle driver and lifetime Long Island resident why you arrived in late October with a golf-travel bag, oversized duffel bag and a case for my laptop?
"No seriously, why did you fly here from Seattle," she repeats without the slightest hint of sarcasm and obvious confusion. After a feeble attempt to convince her that her backyard is home to nearly 10% of the top-100 golf courses in the United States, we quickly moved on to a more comfortable topic . . . the Yankees, Derek Jeter and rising price of real estate.

Arriving late afternoon on a beautiful autumn day, we check into our room, run the requisite email, voice mail and Fantasy Football score updates before heading into town. We hope to find some soul who can appreciate our full day - which began at 2:30 a.m. to reach the opposite side of the country - to play what promises to be a trip to match my recent journey to the "Home of Golf" in Scotland.

We arrived at the bar just in time to watch the local baseball gods lose in the bottom of the 11th to the Angels. Realizing that our West Coast accent may not be compatible in the funereal tavern, we drink our beers in relative silence and return to our room to play I-Phone Scrabble and have a nightcap.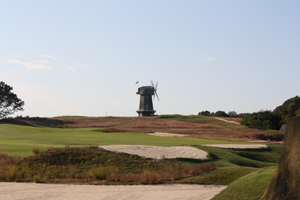 National Golf Links of America
National Golf Links of America

With an 11:00 a.m. tee time at the National Golf Links of America, I awake at 6:00 a.m. with a "Mom, are we there yet?" sense of awe. A sunrise of orange, sherbet, yellow and purple hues draws the curtain on what can only be a great day.

One of the most compelling moments of my many Top-100 trips is the drive into some of these properties. More often than not the last mile or so is completely barren, benign or nondescript. By design or not, it happens to be one of my favorite times. The sudden appearance of a tiny unmarked gate that only a member recognizes is pure magic. Pine Valley, Old Sunningdale and Long Cove are a few that come to mind with this anticipatory element, and now, National Golf Links of America. At the end of an ordinary Long Island back road about two miles off the Long Island Expressway lies McDonald Gate and the internationally recognized - yet photographed by few - Windmill.

After checking in and being greeted warmly by the pro shop staff, we are offered a rather rude and terse "You're on the tee" notification by the caddie master. Shortly thereafter, I overhear him saying to the pro, "Two-ball huh, that's not good." Caleb and I look at each other wondering what's not good about a two-ball at 11 a.m. and shrug our shoulders.

After attempting to resolve the two-ball riddle on a Tuesday, I decide against better judgment and shop for a shirt. I follow that up with an even bolder announcement that we would like to hit a few balls. This decision proves momentarily unwise, and karma would get the both of us: me, for my bravado and, him, for the attitude. The pro behind the desk then proceeds to remind us that he is "part of the experience" and the club president loves him. I on the other hand, wonder what happens when the new president is elected.

The first tee at National Golf Links is not unlike many other historic golf properties. The way in which members and employees use the space around the clubhouse is vastly different than decades before. In this case, the fairway splits a walkway on the players' left leading from the clubhouse to the pro shop, and a maintenance path on the side. Although there is plenty of room to place a shot out of harm's way, there are plenty of distractions. As I prepare to hit a hybrid on the relatively short par-4, two arriving golfers appear along the path to the left unconcerned about my nerves on this opening shot. On the right a pickup truck rumbles with equal abandon up the maintenance path unmindful of my now-fragile psyche.

What proceeds is the weakest of possible push slices that heads with radar-like precision into the driver's side windscreen of the oncoming truck. The impact is so loud I'm sure it could be heard from the nearby Shinnecock clubhouse. Exasperatedly, I turn to our caddie, whose mortified face is only matched by the strain in his voice as he tells me, "You just hit the caddie master."

"Should I go and see if he's ok," I summon the courage to ask. "That's a good idea," the looper offers.

By a good stroke of fortune I discover there was no damage to the caddie master's vehicle. In fact, he had seemingly discovered a sense of humor and wished me a good round. Later, while playing the same hole, and adding insult to injury, my playing partner reminds me the windshield could only have survived as a consequence of my sidespin glancing blow, which must have slid off the glass.

That's how Day 1 on Long Island begins.

Designed by the great C.B. MacDonald, National Golf Links is a vast and sprawling masterpiece. In true links style the first nine holes run straight out and return straight back in a loop. A small wooden building marks the turnaround on the 10th tee. A drink and snack station, without hot water and electricity, reminds you of the course's birth over a century ago.

The course is a fair test, offering reasonable and multiple lines off most tees. The tee boxes, fairways and approaches are immaculate, while the greens contain dramatic undulations, menacing pin placements and lightning-fast speeds for late October.

Although a links, the course gives an occasional parkland feel and is consistently defined by orange fescue on adjacent sides. The bunkers are deep, multiple and majestic. We all draw odd and often strange design similarities and or comparisons whenever we play a new venue. Somewhere along the way I think of Kingsbarns, Pumpkin Ridge, Bandon Dunes, Whistling Straits and Wentworth, all modern courses whose designers have borrowed an element or two from this hallowed place.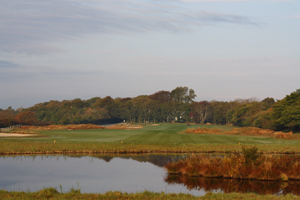 Maidstone
Maidstone Golf Club

Maidstone is another links masterpiece in the very posh East Hamptons. The course is extremely difficult to get on and, once we arrive there, it's demonstrated why as our caddie pointes to a large estate off the first tee. Mr. Johnson apparently owns the New York Jets and has been trying to join the club to no avail for over a decade. Maidstone stays in the family and offers memberships grudgingly.

Although the fairways were recently aerated, I find the greens and tee boxes in excellent condition. The clubhouse is comfortable but not opulent. The pro shop was locked up like a drum when we arrived for our 8 a.m. tee time. With only three cars in the parking lot on a clear and crisp October morning, we could not have been more excited about being the first group off and "owning" this course, if only for a few hours.

The outward nine meanders past a series of large inland ponds and lakes. Multiple wooden bridges carry us from greens to tees as a variety of coastal wildlife meets us every step of the way. Although the front nine is lined by massive homes, our attention was never drawn away from the magnificence of the golf course.

The Atlantic Ocean appears on the back nine and our caddie mentions that it's about to get good. Caleb and I look at each as if to say, "The front nine was pretty darn good."

An antiquated wooden hut provides relief next to the 10th tee. To our surprise it's staffed by a very charming man who's doing an oil painting on an easel. He greets us warmly with a "Ready for a drink?" Well of course we were at 9:45 a.m. on a Wednesday morning. He attempts to talk me into the "Maidstone," but I opt for a tall rum and diet. Caleb has the club's namesake cocktail and quickly realizes it is probably designed for the poolside, grass-tennis-court set. Though the drink is full of sugar, syrup and multiple alcohols, he consumes it with great satisfaction. We are having a great day and, to our surprise - and what proved to be a consistent practice - the club's general manager arrives in a cart, exchanges pleasantries, thanks us for coming and wishes us well.

Maidstone's inward half is a stern test of seaside links golf. It's a little bit of Bandon and a lot of Royal Aberdeen, though perhaps less demanding than these classics but a visual treat and a good test nonetheless.

I loved Maidstone and will forever be reminded of the honor bestowed upon us. To date, my favorite coastal layout and perhaps favorite golf course in the world is at Sea Island Georgia. But Maidstone trumps it, albeit by a small margin. I played well but not great and could have cared less. Maidstone is a little-known gem.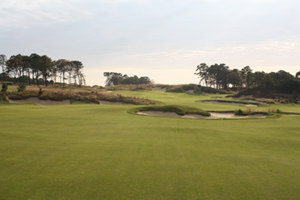 Sebonack
Sebonack

We played Sebonack the same afternoon. National Golf Links, Shinnecock and Sebonack all share the same parcel of land. At some point one course touches the other via a neighboring tee box, green or a glance at the clubhouse. At National our caddie informs us that Sebonack was constructed by a single owner who was denied a membership at National. In doing so he constructed a monstrous clubhouse that dwarfs National's grounds. It's both unfortunate and unnecessary, feeling as contrived as the act was intended.

A Nicklaus-Doak design, Sebonack feels like a collaborative effort every step of the way. Its $1 million membership is capped at 175. The pro shop and outside service staff are polished and exceptional. In my view, the facility is inconsistent with the area's other classics, where the balance of the courses is friendly and efficient but not overdone. Sebonack is a bit like arriving at a high-end resort in the desert. It never quite felt right to me, but it's tough to complain about service and I realize that.

Looking back to front, Sebonack feels disjointed and partitioned. I could sense when a Nicklaus hole transitioned to a Doak hole. It seems as if they worked on different holes rather than cooperating hole by hole. Unlike Harbour Town, where Nicklaus worked in harmony with Pete Dye, Sebonack felt incongruous throughout the round. The course continues to transition through various design tweaks, with a handful of greens being rebuilt for better play and/or sight lines.

The green complexes are entirely too demanding, reminiscent of the new (and controversial) greens on the Castle Course at St. Andrews. Mounds, hills, slopes and undulation put accuracy into the greens at an ultra-premium. On more than one occasion I hit a short iron into the middle of the green only to watch it slide, roll and travel over and through several contours and ultimately off. On one particular occasion I hit a gap wedge 3 feet short to a back-middle pin, only to learn it ended up - 45 seconds later - in a front-left bunker. Although I did not ask about the course record, my guess is it will be quite high for a long time.

The week prior to our visit, Ernie Els hosted a small corporate fundraiser for autism. Our caddie worked the South African's group and described in great detail the 86 Vijay Singh shot from the tips.

The closing three holes are the best, as these offer great vistas off the tees and seemed to flow naturally over the land. These were in stark contrast to the rest of the course, which felt cobbled together. Caleb enjoyed it, though Sebonack turned out to be my least favorite track during our visit to the East Coast. It is a course that could have been built anywhere, with the same results. An overly demanding second-shot golf course that did not reward that very shot, even if it was well-executed.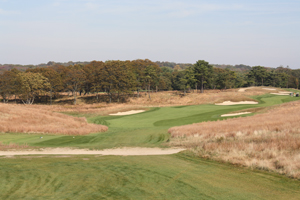 Shinnecock
Shinnecock

Of the six courses we were scheduled to play, my highest expectations were for Shinnecock, not simply for its U.S. Open pedigree but for its reputation among golf writers, professionals and Top-100 enthusiasts.

The gate leading into the club is a mere half-mile off a well-traveled road; we had no trouble whatsoever getting onto the grounds. The clubhouse is tasteful yet understated. You realize right away this is a pure golf club where nothing else matters. Capped at 200 members, the only way to join is through your bloodlines.

We were again greeted warmly in the understated pro shop, wished well and introduced to our caddie. Ron turned out to be not only a world-class caddie but an extraordinary gentleman who added to our day in many ways. On the first tee he proudly announced, "Gentleman welcome to the best golf course in the United States and I've played most of them."

In my view he could not have been more correct. Shinnecock gave me goose bumps that I have felt maybe three times in my life: at Tintern Abbey in Wales, Old Sunningdale and on the first tee at the Old Course.

We were again afforded an incredible place in line where there are no groups behind us most of the day. We took every opportunity to enjoy the walk, the views and Ron's stories. After asking Ron a dozen times to call me by my first name I eventually gave that up as fruitless. He told us what to look for in the clubhouse after the round, including some U.S. Open anecdotes not told on the air by Johnny Miller (a member), and who wants to join but never will. He also boasted about a recent experience where four female members asked four caddies to play on a Monday afternoon. To his great surprise after the round, they were invited into the clubhouse for cocktails. To the best of his knowledge they are the only four caddies in Shinnecock history to share drinks with members inside the clubhouse. Moreover, the gesture - unbeknownst to him - was six months in the making after the members received approval from Shinnecock's board of directors. Based on the emotion in his voice, I believe that was one of the most meaningful moments in Ron's life.

Perhaps my biggest surprise was the fairness of the course. I played from my usual 6,500 tees, while Caleb stepped back to 6,900. All day - from tee to green - we were rewarded with good shots and penalized by poor ones. There wasn't a single occasion where the reverse was true.

Shinnecock is set off from the water - unlike its neighbor National Golf Links. Yet it doesn't suffer for a lack of water views. I simply do not have the ability to articulate the conditions of the course, the quality of the design and the fun of the experience. It was the most magical time in my golf life by a wide margin.

I could write for days about Shinnecock, but perhaps a letter from Tom Lehman displayed in the clubhouse best describes the course.

"If I could play only one golf course in the world it would hands-down be Shinnecock. This is the finest golf property I have ever walked and I feel blessed to have played it."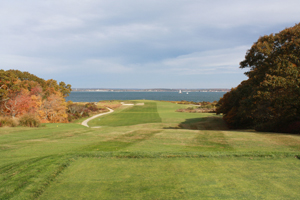 Fishers Island
Fishers Island

Getting to Fishers Island may be as neat an experience as playing the course. At the far end of Long Island and miles off the beaten path lies Fishers Island Golf Club. Getting there requires advance planning and razor-sharp scheduling as there are only three daily ferries to the island and they all happen to leave from Connecticut. The only way to get to Connecticut from Long Island is a two-hour ferry ride the day before you play as the Fisher ferry from Connecticut leaves at 7 a.m. sharp.

So to play Fishers, first you have to get approval to play it - no easy task as it currently resides as the No. 9 course in the country, ferry to Connecticut the day before and get up at the crack of dawn. The New London Connecticut sail offered an entertaining mix of school children, local tradesmen and fishermen. Sharing the 60-minute journey with such local flavor is a treat unto itself.

The 30-minute drive after the ferry landed takes place on a two-lane country lane that felt like a narrow back road in Scotland. With its tight turns, you have to pull over to let oncoming traffic pass. After about 20 minutes we passed an oddly-placed and small driving range in the absolute middle of nowhere. Some 10 minutes later at the tip of the island, we find a parking lot with no sign. I guess we're here, we said to ourselves. There was only one car in the parking lot. Prior to our arrival I was informed by the most accommodating general manager that things would be slow at the club when we were here. "I'll be off the island that time of year and the food and beverage program is long shut down so bring a sandwich along with you," he wrote.

We entered the tiny and sparsely stocked pro shop and once again were greeted warmly, a stark contrast to the 25-mile-per-hour winds, light rain and cool morning temperature outside, none of which boded well for my now ballooning 13 handicap. We ask where we could hit a few balls and were told to get back in our car and drive 10 minutes back down the road. Needless to say, we went to the first tee cold, swaddled in raingear and wool hats. Who knew this would be the best scoring round in my life, beating the pro straight up?

Fishers is similar to Maidstone: right on the sea with a series of inland lakes and ponds. Like Maidstone, the homes on the course are sparse, appropriately apart from golf and, in many cases complimentary, to the layout's design. This is a shot-makers' course involving a premium of accuracy off the tee and into the greens, which are receptive, fair and generally flat. The sea and water hazards are in play or visible on every hole. The Seth Raynor design is set so far off the beaten path I suspect the club does less than 10,000 rounds a year, and even that number might be a stretch. I also surmise that the homes on the course are inhabited just a few weeks of the year.

Fishers Island is a combination of inland coastal and links golf. We both loved it and talked on the returning ferry about how many people we know who would take the time to get here and enjoy such an incredibly unique experience.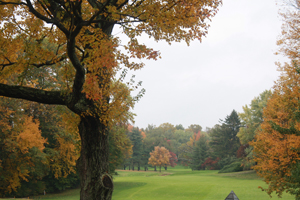 Quaker Ridge
Quaker Ridge

Quaker Ridge was our final stop and proved to be the stylistic antithesis of the previous five courses. The true parkland course acts as Winged Foot's neighbor in Westchester County, situated some 20 miles north of New York City and set among some of the Big Apple's most affluent homeowners. It happened to be our only day of really bad weather, raining with regularity from the beginning of our round to the end.

For those who may have played Eugene Country Club in Oregon or Aronomink in Pennsylvania, Quaker Ridge is very similar yet perhaps a fairer test. It features generous landing areas as well as beautiful and mature tree-lined fairways. Playing the third week of October was an optimal time for leaf color and, from that perspective, it made for a terrific walk despite the weather.

Though fair from the tee, Quaker Ridge feels much longer. Again, I played from about 6,500 yards and hit the ball decently off the tee. Even when I thought I hit the ball solidly, it still seemed I had to shape a long iron around a corner or over a tree. I simply cannot imagine the majority of the members playing from the back tees on a regular basis and enjoying it.

I asked our caddie if the club ever considered hosting some sort of big event as the course is well-equipped to welcome today's long hitters. "Not interested" he said simply. "The members don't want anyone to know who we are."
In Sum

Golfing in New York proved to be an off-the-charts experience for me. Six rounds in seven days capped by a night at the famous Carnegie Deli in the city. Pound for pound, this is one of my best Top-100 trips to date. In the future I hope to take the same flight to the East Coast to play Winged Foot, Bethpage Black and Friars Head. In the meantime, I'm turning my attention to the Monterey Peninsula next March.

Simon Spratley is a Canadian and British citizen now living in Seattle with his American wife. The two moved to the Puget Sound area in 2005. Simon began his golf career at Essex Golf & Country Club in LaSalle, Ontario, in 2001. It was at Essex where his appreciation for golf course design and travel began. Essex is a 108-year-old Donald Ross design that has hosted events from the PGA, LPGA and Champions tours and various Canadian Opens. Before he started at Essex, Simon decided to pursue playing the top 100 golf courses in the United States and around the world; he's currently mapping three separate Golf Digest top-100 pegboards in his office. Of the courses outside the U.S., he's played 24 to date; of America's Greatest, he has played 33, including Pine Valley; and of America's Greatest Public Courses, he's finished 25. Simon is currently the general manager of Sand Point Country Club in northeast Seattle. He also enjoys long-distance running and helping raise his three-year-old daughter and "princess," Paige.