Writer Ventures Down Under for the World Masters Games
By: Allen Schauffler
I recently returned from Australia where I played in the World Masters Games golf tournament. The World Masters Games (hereafter referred to as "WMG" so I don't have to keep writing "World Masters Games" over and over) featured nearly 30,000 athletes in 28 sports at venues spread all over Sydney and its suburbs - or its "surrounds" as the Aussies call them.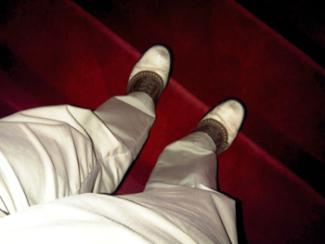 Allen in his Golf Shoes at The Mikado
Look, I should warn you early on there isn't much beginning-middle-and-end to this story so just buckle up and read on. It's a little like my game: anything can happen.

They play everything at the WMG. They sail and swim and run and wrestle and play Netball. Many of these athletes are really good at what they do. Many of them were world-class performers in their younger days. Many of them are in tremendous shape. None of these descriptions fit me.

Fortunately, you don't have to be good to play golf in the WMG, just old. For that I qualify. Also, you have to be willing to pay the entry and special golf tournament fees. In my case, the price included roundtrip airfare to OZ for two and a week in a holiday apartment in Manly Beach. You have to be willing to commit big vacation time to a 12,000-mile each-way trip to play golf with strangers in a very strange land. You also have to convince your spouse and boss that this is the best use of your time. Of course you must like golf enough to use it an excuse to go to Sydney for a week. Now this is me. Have clubs, will travel.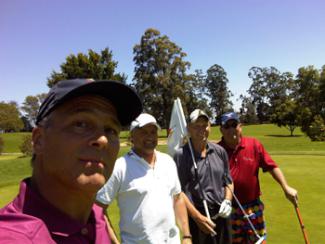 The Author, Stewart from Ballarat, Erik from Edmonton & Ippy from Dubbo
The spouse part was easier than the boss part, by the way. The girl's no dummy; a week in Manly Beach is a week in Manly Beach.

So I went and played and had a great time. I played three rounds in three straight days in three different foursomes on three different courses: Mona Vale, Pennant Hills and The Coast. They all killed me. I played in sideways rain and hail and howling winds and wonderful sunshine. I had no birdies. I had many bogeys.

I played 18 holes with Ippy from Dubbo. I played from the back edge of the back tees. I busily converted meters to yards. I played with the slowest golfer in the history of Brisbane golf and the slowest golfer in the history of Toronto golf, both in the same foursome that made for a very long day. I watched a waddling coot (that's a bird) have an impact on a hole and a round that eventually led to a silver medal-winning performance by my new friend, Tony Reynolds.

The "quality" of my play brought shame on my country, my gender, my race, my cat, my family . . . hell, even YOUR family. I was that bad. I stunk. I flailed. I laughed. I had beers with the boys. I took a cab to a place called "The Tramshed" at 5:00 in the morning to catch a ride to the course. The Prince of Denmark and I both watched a special WMG performance of "The Mikado" at the Sydney Opera House. Only one of us was wearing golf shoes. I parred the 18th at Pennant Hills. Go there, do that, get back to me. Did I mention double- and triple-bogeys? I had plenty. I played a Stableford format for the first time. It didn't help.
Chris Bailey gets the blame and the credit for all of this. He's an Aussie friend from Penola (Google that, especially if you're a wine lover) who played in the WMG four years ago in Edmonton, Canada. He had a great time. He's not like me. He can play. And he's very persuasive. A couple of glasses of Coonawarra Shiraz might have helped.

Now, back to that coot. That's a bird. It's the 14th hole at Mona Vale GC, a short par-3 rated the easiest hole on the course. Tony, a cheerful local toting a well-earned 27 handicap, is way left of the green off the tee. He deftly plays a screaming skull-wedge line drive over the green. His ball is headed for a creek and a big score. But the coot's in the way. One coot, one lonely coot in the right place at the right time. The ball hits the coot square in the ass and drops dead in the grass a few feet short of the creek.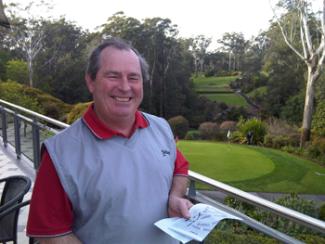 Tony Reynolds, the Coot Stalker
Then the coot shakes it off and moves on. Tony shakes it off and calmly gets up and down for a coot-aided bogey. That's worth a point in the Stableford format. And his score that day puts him into the Champions Final. By a point! In the final round he plays out of his mind and takes second place, the Silver Medal, at the WMG!

"How did you do it," I ask, elated but frankly stunned when he phones me with the news.

"I missed a 5-footer at 18," Tony says. Otherwise he might have won the damn thing. So he has a turn on the podium and some coot up north at Mona Vale has a sore butt and a story to tell if only it could talk.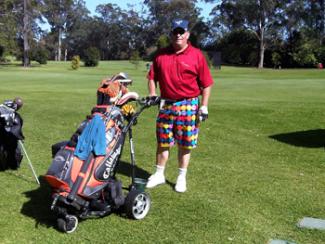 Ippy from Dubbo
Tony was awesome. We met and played together the first day of the tournament. I had put my clubs on my back and used my handy WMF badge to take a bus from Manly Beach to somewhere sort of near the golf course. During the round Tony offered to give me a ride to the next day's course, Pennant Hills, which was located just west of the corner of "You're Effing Crazy" and "Ain't No Public Transit out This Way, Mate." So Tony put my clubs in his trunk and was my tour guide and driver for the next two days. We had a great time and will meet and play again.
The first night though, I am under some serious time pressure. Cyndy and I have tickets (along with the Prince of Denmark) to see the special WMG presentation of "The Mikado" at the Sydney Opera House. It's a favorite. I played Koko in eighth grade and am dying to see someone try to top my act. But Mona Vale GC is not near the Sydney Opera House, it is way north. And we are playing the afternoon round starting at 1:00.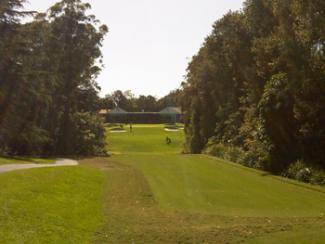 The 18th Hole at Pennant Hills
Brisk play and the WMG are not synonymous, I realize early on. It will be a squeaker. After the round I hurriedly call a cab, drop my trolley (that's a pull cart) at the pro shop, put my clubs behind Tony's car where hopefully he will find them, change out of golf gear into the special opera wear, a wrinkled but reasonably clean sweater I carried in my golf bag all day, run back into the pub to buy the fellas a round of chilled VB's, take a sip, say goodbye and run back outside to jump into the cab.
Sixty bucks and about 45 minutes later I get out at the Opera House, on time, well-dressed, pleased as hell with myself that I have been able to pull this off. My wife waves from a balcony above. I smile adoringly and drift up the stairs in slow motion. All is good. "You're wearing your golf shoes," she says with a hint of a smile. She's right of course. I forgot that. So it's soft-spike saddle-shoes for me as we sip champagne and watch Gilbert and Sullivan with the Prince of Denmark at the Opera House. What a night. What a week.

Oh, Ippy from Dubbo. If you're in Dubbo - if you can find Dubbo, go to the golf course and ask for Ippy. Just Ippy. If he's not there someone will call him. He'll take care of you. Mind you I have not tried this. But I have absolutely no doubt that it will work. Anybody who can wear shorts like that on a golf course has to be as good as his word.

The next quadrennial WMG is scheduled for Torino, Italy, in 2013. I'm driving this time, Tony (the defending silver medalist, coot or no coot) and his wife are riding, while Cyndy is now scouting restaurants and wine bars.
Allen Schauffler is the weekend news anchor and Legal/Consumer reporter for KING TV, Seattle's NBC affiliate and its top news station. He is hopelessly addicted to golf, although years of playing the game have not improved his scores much. On any given day he is just as likely to shoot 84 as 104, but will usually stumble into the clubhouse happy and stupid with a score in the mid-90s.

Allen has covered five Olympics, including the Summer Games at Sydney, Athens and Beijing, and the Winter Games at Salt Lake City and Turino. He will be covering the 2010 Vancouver Winter Games as well.

Schauffler is a proud charter member of the Northwest Golf Media Association, even though he anchors two news shows and really doesn't write about golf all that much. He also has a soft spot for the funky nine-holers, the lost-puppy courses and out-of-the-way tracks that would be scorned by the country club set. He attributes this odd attraction to growing up in Oregon and playing courses like Orenco Woods, the long defunct Neahkahnie, Hawk Creek and that weird hillside par-3 up near the Portland Zoo that was plowed under 40 years ago.

Now if you happen to be a member of the aforementioned country club set, Allen is no fool and will almost never turn down your invitation to play at a top-flight course; he just relishes teeing it up in the middle of nowhere.