Yahnundasis Golf Club - A Little bit of Merion & National, a Lot of Character & Charm
By: Jay Flemma
by Jay Flemma

Spring rarely treats I-90 well, not from Boston to Buffalo. If it comes at all it comes late, in fits and spurts, sometimes soothing and reinvigorating, sometimes savage and wild, with unpredictable, vengeful snows, as if reluctant winter were trying to crawl back out of its yearly grave. Spring here is too short and too uncertain to be relied upon, but it does - eventually - give way to summer, and summers here are wondrous . . . golden days and forest-fragrant nights.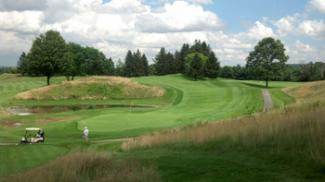 Looking Back Down the Third Fairway
Spring rarely treats I-90 well, not from Boston to Buffalo. If it comes at all it comes late, in fits and spurts, sometimes soothing and reinvigorating, sometimes savage and wild, with unpredictable, vengeful snows, as if reluctant winter were trying to crawl back out of its yearly grave. Spring here is too short and too uncertain to be relied upon, but it does - eventually - give way to summer, and summers here are wondrous . . . golden days and forest-fragrant nights.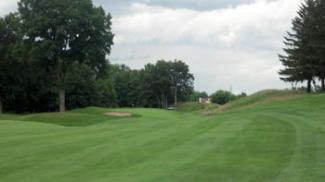 The Chicane of the Fourth Fairway
There is a wholesome timelessness to the region, especially the Adirondack Mountains. Guitarist Max Verna once sang, "Adirondack Mountains are the only home that I never wanted to leave behind," and one long summer weekend here explains why, like Verna, you can't help but feel the pull of the Adirondacks - blue skies, pristine lakes, rugged, rocky tors, and Good People (yes, capital "G," capital "P") - "God's Country" indeed.

Midway across the northern half of New York State, in the shadow of the Adirondack foothills, lies the quiet, quaint Mohawk Valley, important in American history for our victories in the Revolutionary War, but also significant to golfers for the work of several quintessential Golden Age golf course designers. One of those is Walter Travis, "The Grand Old Man" most famous for winning the 1904 British Amateur with a center-lined putter (made just down the road in Schenectady), but also rightly famous for his excellent golf design work at venerable Garden City Golf Club and Vermont's Ekwanok Club.

Travis made several trips to upstate New York to work on various golf courses. While here, he designed one particular course of architectural significance in the Mohawk Valley, the Yahnundasis Golf Club (pronounced "YAH" like the Germans say "Ja," "nun" like the Catholic sisters, "DAH" like in "Dot," and "sis" like your sister.) It means "around the hill," and to walk down its fairways is to step back in time 100 years.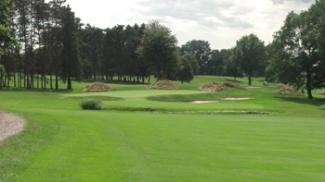 The Well-Defended Par-5 Sixth Green
It's like a nature walk with your golf clubs, explained rightfully proud member and former green committee chairman John Livingston, referring to his beloved golf home, and he's right. Yet better still for Central New York golfers, Yahnundasis is also a walk through golf design history. The severely rolling folds of terrain and colorful fescues recall the dryad loveliness and restorative charm one feels at fabled Merion. Yet the beauty is tempered, galvanized by the stern architectural design principles of Travis - who was of the same architectural school as National Golf Links of America's designer C.B. Macdonald, and many holes feature Travis's penchant for stern challenge as well as Macdonald's cunning strategic concepts.

Indeed, it's this synergy that makes Yahnundasis stand out. On one hand, the idyllic splendor of the canted fairways, curvaceous greens and wondrously varicolored textures and shades of the native grasses recall the flavor of Golden Age golf course settings with an enchanting candidness and sincerity. Fairways tumble across ridges and knobs strongly reminiscent of the great heathland courses of England.

But Travis also designed the golf holes straight into the teeth of the most severe features of the terrain - large, long folds in the land that cut across the golf holes perpendicularly, using them as natural defenses, making fairways play across them, or perching greens on their edges. A modern designer might have bulldozed all those beautiful undulations - the soul of the game - in the misguided search for "fairness" or "playability." But it's those rumbling fairways and rolling terrain that give Yahnundasis its inimitable character as well as a strong natural defense to scoring.

Frequently, greens are charmingly set in dells or on knolls, or tucked in verdant glens and glades - all well protected. Many greens are offset, with their axis frequently pointing obliquely to the angle of the fairway, testing distance control as well as accuracy. Additionally, several of the approaches are markedly uphill, while at other times the entrances are almost V-shaped, recalling the diamond-shaped greens of Langford and Moreau, most notably at their Midwest masterpiece Lawsonia. Like Travis (and Devereux Emmet), Langford and Moreau were also contemporaries of the Macdonald architectural bloodline and shared his architectural strategies.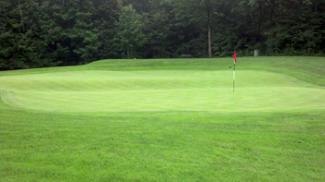 The Biarritz Green at No. 11
The opening holes are particularly strong. A slight draw off the first tee will set the golfer up for a slightly uphill approach to a green pinched in front by bunkers, requiring exacting precision to access a pin flushed to either side. The long par-4 fourth is exceptional, its fairway rumbling like a ski run through the bumpiest terrain on the golf course, ending at a severely left-to-right canted green.

That's another one of the great attributes of Yahnundasis, by the way: there are plenty of uneven lies, so you have to know how to work the ball both ways. The back nine is similarly rugged, especially the opening and closing par-5s at 10 and 18, and it also features holes recognizable from Macdonald.

John Livingston believes the par-3 11th may be the best hole on the course, and he's absolutely right. A textbook example of the famous Biarritz hole Macdonald, Raynor, and Banks made famous at places like Yale, Forsgate, and Fishers Island, the 11th has everything: up to 250 yards of length (a true Biarritz calls for least a long fairway wood, maybe even a driver), the bracketing narrow bunkers to either side of the green extending back toward the tee, and - most importantly - the deep swale, in Yahnundasis' case contained within the green itself, creating effectively three little greens in one, just like the aforementioned Yale, Forsgate and Fishers Island. Unquestionably, one of the biggest reasons architecture experts come to study Yahnundasis is to see the Biarritz.

The other museum piece is the gorgeous punchbowl green at 14. Another long par-4, the hole plays uphill all the way and across the great fold in the terrain that creases several back nine fairways, and over a dramatic false front. The green is a perfect natural amphitheater, and the hole is always one of the most popular places for fans to congregate and watch golf. The club took great pains to remove a stand of trees that blocked the green's air circulation and sunlight, and the work paid grand dividends. Not only did they open up long views across the property and improve the conditioning of the turf, the green has been expanded to its proper size, its edges reaching all the way to the upward curl of the terrain. The strategy here is to play to the middle or back of the green (to avoid the gargantuan false front!), and then putt to the hole locations, usually set around the perimeter - it's a sparkling example of classic Golden Age golf architecture.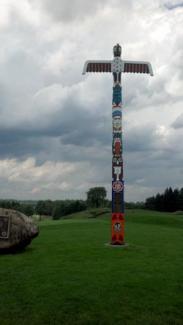 Everybody Loves the Totem Pole!
Similarly, some might argue that the short, drop-shot par-3 13th might be Travis's version of a "Short" hole in the Macdonald vernacular (just without the trademark thumbprint in the green), but I think it more resembles the 13th at Merion. In both cases the hole is tiny - anywhere between 100-125 yards. And in both cases the roughly square-shaped green is completely surrounded by trouble, mostly water. I call such holes "Bonhamme Richards" because they're tiny, but they'll sink your scorecard if you underestimate them.

Are there some flaws? Of course, but remember, the Mona Lisa doesn't have any eyebrows, so even Da Vinci made mistakes. Or as my girlfriend likes to say, "Nobody's perfect, and if they are, then that's their flaw."

A minute later she looked at me and asked, "What are my flaws?" I answered without even missing a beat . . .

"You're perfect." How's that for acing the test?

Anyway, the interesting thing about Yahnundasis's few flaws is that they occur on the same holes where there is also some of the best architecture. The par-4 third is a quintessential example - it shares the best terrain on the golf course with the fourth hole next door, but it also has a blind pond.

Now we love blind shots around here. There's nothing worse than when some modern designer homogenizes a classic golf course by ironing out all the quirks. We'll even tolerate a blind bunker so long as you get a look at it beforehand (like at Lederach, for example), but a blind pond is asking a lot. Here, the pond is offset far to the right and well short of the green, so only a goofy slice or a flat-out block will find the water, but it's a little much to require on a blind shot that the golfer also avoid a blind water hazard.
That being said, the rest of the hole is marvelous. The tee shot is uphill towards a great knobby hill standing sentinel over the wildly undulating fairway. Then the approach is played to a green tucked cozily in a dell beneath the hill, prim as a cameo nestled in its velvet-lined lacquer box.

Similarly, the tee shot on the par-5 sixth must be threaded between two ponds bracketing the fairway, penal architecture indeed, but the green complex is outstanding - a geometric surface surrounded by bunkers and framed with multicolored fescues, again reminiscent of Merion and the green setting of its par-5 fourth hole.

Yahnundasis shows us something else Merion made evident - if you have smaller, more contoured greens and tilted fairways to make the golfer work the ball both ways, you don't need ridiculous length or ubiquitous water hazards to defend a golf course. Yahnundasis seems short on the card - 6,767 from the tips and 6,480 from the member tees - but plays much longer due to the number of uphill approaches, wildly undulating terrain and par-71 routing. It's not a long golf course, but it's an extremely smart golf course, one where each shot must be properly planned and executed.

But it's also a great nature walk with your golf clubs as well, and in high summer with all the course's variegated flora in bloom, it looks and plays as it did 100 years ago. Though it rained bricks and bats intermittently on the day we played, at dusk the clouds parted and a double-bowed rainbow flourished majestically over the course, right over the top of the club's iconic Native-American totem pole, and the last rays of sunset broke through the layer of clouds, bathing the valley in a warm prismatic palette of reds and golds. Later that night, fireworks streaked skyward in the area's annual Fourth of July celebration, and for a few hours we were all be united in our love of country just as all Yahnundasis members are united in their love of golf.

One day, always too soon, autumn will come to the valley and the crystal-blue skies will be filled instead with tall ships of cloud sailing across the sky. Winds will rise, whispering of bitter winter to come, and fallen leaves will leave barren trees reaching skyward in a phantasmagoric dance like a scene from a Tim Burton movie. But for now - and a few more blessed days at least - we are reunited with summer, a welcome guest indeed, like an old friend from years gone by who now sits on the porch, takes out his pipe, lights it and fills the night with stories of the places he has been and the things he has seen since he last saw you. Entranced and enchanted, we see clearly that heaven can be found in any town where the golf is as good as the people.
Since launching his first golf writing website in 2004, http://jayflemma.thegolfspace.com, Jay Flemma 's comparative analysis of golf designs and knowledge of golf course architecture and golf travel have garnered wide industry respect. In researching his book on America's great public golf courses (and whether they're worth the money), Jay has played over 420 nationally ranked public golf courses in 40 different states, and covered seven U.S. Opens and six PGA Championships, along with one trip to the Masters. A four-time award-winning sportswriter, Jay was called the best sports poet alive by both Sports Illustrated and NBC Sports writers and broadcasters. Jay has played about 3 million yards of golf - or close to 2,000 miles. His pieces on travel and architecture appear in Golf Observer (www.golfobserver.com), Cybergolf, PGA.com, Golf Magazine and other print magazines. When not researching golf courses for design, value and excitement, Jay is an entertainment, copyright, Internet and trademark lawyer and an Entertainment and Internet Law professor in Manhattan. His clients have been nominated for Grammy and Emmy awards, won a Sundance Film Festival Best Director award, performed on stage and screen, and designed pop art for museums and collectors. Jay lives in Forest Hills, N.Y., and is fiercely loyal to his alma maters, Deerfield Academy in Massachusetts and Trinity College in Connecticut.