Yes Victoria, You Have Great Golf
By: Jeff Shelley
Victoria, the capital city of British Columbia, is known for its historical landmarks, impressive floral displays (it's known as the "City of Gardens"), lovely harbor and the Empress Hotel, now over a century old and still one of the grandest places for overnight stays in North America.
With 80,000 residents, the city is the hub for a surrounding population of 300,000. People come to this place on the southern tip of the 290-mile-long Vancouver Island from all over the world to see the sights, dine (suggestion: try the Canoe Restaurant - www.canoebrewpub.com), visit government buildings, spend a night in the Empress, and, yes, take tours of the turn-of-the-19th-century Victorian homes that characterize a town settled by the English in 1841, making it one of the oldest urban centers on the continent's West Coast.

Victoria is located about 60 miles - as the crow flies - from Vancouver, the third most-populated city in Canada, and about the same distance from Seattle. Other than flying in via a variety of aircraft - water and land, most visitors arrive by ferry. The area is situated within a "rain shadow" and, blessed with relatively little rainfall - about 24 inches a year compared to Seattle's 38 and Vancouver's 47, plenty of sunshine.

In addition, Victoria - with its British influence (it was, after all, named after Queen Victoria) and as a trading post for the Hudson's Bay Company in the mid-1800s - boasts a wealth of golf courses. Indeed, the oldest golf facility in the Northwest is Victoria Golf Club, which was built atop a promontory overlooking Oak Bay in 1893.

A group of us were invited up to Victoria to sample three of the region's courses in September; the trio is part of the 12 on the Vancouver Island Golf Trail. The weather was just as advertised - cool and crisp with a hint of fall in the morning, followed by glorious sun in the afternoon.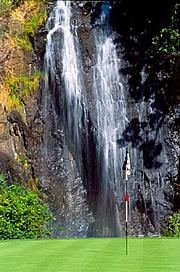 The Waterfall behind the
17th Hole at Olympic View
Olympic View

Situated just 20 minutes from downtown, this course is the most popular in greater Victoria, hosting upwards of 50,000 rounds a year. The reasons for this are pretty clear: golf here is a naturally endearing experience, with no homes adjoining Olympic View's secluded, tree-lined fairways. The venue's claim to fame is that it was the very first Canadian course played by Tiger Woods, in 1994.

The facility is run by head pro-general manager Randy Frank, a former member of the Canadian Tour and still a fine player. In addition to the layout designed by Bill Robinson, a golf architect who now lives in Florence on the Oregon Coast where he owns Ocean Dunes Golf Course, Olympic View boasts a fine practice facility - home for the GBC Golf Academy - and a restaurant with a bar and sandwich-oriented menu.

The course meanders around and through the tall timber representative of layouts west of the Cascade Mountains, with 12 lakes, assorted wetlands and rock outcroppings also entering play. Noteworthy holes include the 12th, a short (338-yard) par-4 with a pond-squeezed landing zone off the tee and a water-fronted, elevated green, and the 17th, a stiff, 455-yard, two-shotter whose green is backed by an impressive waterfall. Wildlife viewings are abundant at Olympic View, with eagles flying overhead and deer lazily grazing alongside fairways.

For more information, visit http://www.golfbc.com/courses/olympic_view.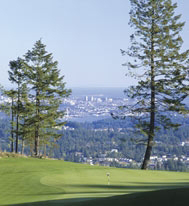 View of Victoria from the
Mountain Course
Bear of a Mountain

This high-end resort (officially called a real mouthful: The Westin Bear Mountain Golf Resort & Spa, Victoria) boasts 36 holes designed by the Nicklaus family: Jack Sr. and his son Steve conceived the original Mountain track (which actually contains 19 holes), while Steve assumed solo duties on the newer Valley. Both splay off the foothills of Mount Finlayson, west and slightly north of Victoria.

Adjoining the golf courses is a Westin hotel (where we bedded down during our two-night stay), a spa, several restaurants, meeting spaces, and upwards of 3,500 planned residential and vacation units scattered across the approximately 1,300-acre site. The venue received international acclaim in 2010 when it hosted the Telus World Skins Game, played by Fred Couples, England's Ian Poulter, Camilo Villegas of Colombia, South Africa's Retief Goosen, and Mike Weir, a native of Maple Leaf nation. Former Masters champion Weir won the most skins - $270,000 - in this edition of the two-day, 18-hole event.

With it being broadcast to 18 countries around the world, golfers from Spain, South Africa and elsewhere found their way to Victoria to play the course later this summer.
Bear Mountain has a very colorful, and checkered, back story. After retiring from the National Hockey League following a short (184-game) journeyman career, Len Barrie, a native of Kimberley, B.C., now 41, became a member of Royal Colwood Golf Club, a private facility in Victoria that opened in 1913 and received one of the rarely appointed "royal" designations by King George V in 1931. One day, Barrie, who lived beside the course, decided to cut down some trees that were blocking his views of the nearby fairways.

Because he did this without approval from the club's board of directors, Barrie was ejected from Royal Colwood. So he decided to become a real estate developer, with help from his wealthy father in law who owned a construction business. Barrie gathered up 20 or so of his hockey-playing buddies - including Mike Vernon, Joe Nieuwendyk, Rob Niedermayer, Ray Whitney and Ryan Smyth, who each invested $1 million in getting Bear Mountain off the ground.

With the first Nicklaus course nearly complete, Barrie leveraged the burgeoning resort property to purchase the NHL's Tampa Bay Lightning with Oren Koules. The move proved disastrous, despite over $119 million (Canadian) in Bear Mountain property sales between January 2009 and March 2010. Barrie and Koules were later forced by the NHL to sell the Lightning, and in March 2010, the B.C. courts placed Bear Mountain under creditor protection. In late September, Barrie announced he was going to bid on repurchasing Bear Mountain. That idea was quashed in early October, when the B.C. Supreme Court rejected Barrie's bid and the resort's assets were ceded to HSBC. The ruling means 88 unsecured creditors owed a total of $9.7 million will each receive $500 regardless of the size of their claim. That money is to be paid over the next 30 days. In a subsequent Vancouver Sun report, the Bear Mountain assets, now under HSBC's control, are to be marketed and sold over the next three years. Under terms of the plan, if revenue from selling the assets exceeds $195 million, unsecured creditors would get some of the excess.

When we visited Bear Mountain adjustments had been made in the management structure. Westin hired Francis Parkinson, previously of the Fairmont Waterfront Hotel in Vancouver, to run the hotel and golf facilities. Also on board was an experienced golf professional, Shayne Dysart, who during his long career has made several sojourns in Cuba (Canadians have no travel restrictions to Cuba). If these veterans can handle the throngs from the 2010 Vancouver Winter Olympics and the whims of Fidel Castro, they shouldn't have any problems righting Bear Mountain's once-listing ship.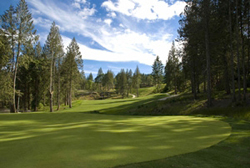 The 17th Hole on Bear Mountain's
Valley Course
After a late-afternoon arrival following a trip from Seattle to Victoria on the Victoria Clipper, we headed to the resort's private Wine Cellar, a gathering spot for the hockey pros-owners during their term as proprietors. We were told that at one time the cellar housed over $500,000 in privately owned bottles of various vintages, with that amount reduced a bit while the financial issues were getting sorted out. Regardless, the five-course dinner (steak tartar, corned duck breast, Kalamanzi sorbet, seared halibut and panache chocolate bar) we were served was perhaps the best and most sumptuous meal any of us golf writers ever had. This was not your typical golf-familiarization trip fare.

We only had one day to play Bear Mountain's courses, so I selected the Valley course, which debuted in 2010. Both tracks are wall-to-wall bentgrass, albeit with different strains, according to superintendent Darren Burns. Despite the economic challenges faced by the resort, Burns said his annual maintenance budget has stayed around $2 million, and during peak season he has 44 workers on staff.

I had no issues with the conditioning of Valley, but I did find it extremely penal for a resort course. Steve Nicklaus outfitted the layout with slick, rolling greens, some big and blind drop-offs and forced carries off tees, impenetrable fairway-side rough, and bunkers ringed by nasty and tall fescue. In several instances, balls directed toward these traps were lost before they even found the sand.

One other observation: If the name Valley is self-descriptive, what the hell is Mountain? The newer course has probably 300 feet of elevation changes, while the original track involves considerably more, not to mention another 400 yards of length.

Despite the difficulty of the courses, one's Bear Mountain stay rivals those experienced at the best resorts in B.C. The food, service and natural setting are right up there with Whistler and Kelowna.

For more information, visit http://bearmountain.ca.

Another Neat Hole at Highland Pacific
An Excellent Respite

Perhaps the antithesis of the difficult and expensive (although its rates are coming down due to the financial reorganization) Bear Mountain, is the lovely and fun Highland Pacific Golf (no course in its name) near Victoria.

Situated within a residential area off Creed Road northwest of city center, this 6,603-yard, par-71 gem is the most accessible course we played. The front nine (Pacific) opened in October 2008 and the back (Highland) in June 2010.

The facility is augmented by a two-tiered driving range, a small restaurant, a laundromat (!) and an outdoor deck overlooking the course. We were greeted by a long-haired cart attendant named Brad Morris, who moonlights as a yoga instructor offering breathing and stretching tips for golfers. Morris, one of the most affable cart attendants anywhere, gave me a tip that I continue to use today: Before putting, take a deep breath and release it all the way to our feet to feel grounded over the ball. Try it, it works.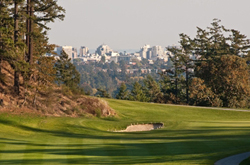 View of Victoria from Highland Pacific
Both nines were crafted by a fellow named Chris Young who, if this course is any indication, has a very bright future in the world of golf course architecture. Before Highland Pacific, Young paid his dues, apprenticing as a shaper and later an associate with Greg Norman and top Canadian designers Doug Carrick and Thomas McBroom.

While the Highland (back) nine felt a bit compressed into its site, the Pacific (front) side is truly sublime. Indeed, it's one of the best sets of holes I've played in years. Very well-maintained and affordable (with peak fees in the $60 - Canadian - range and $55 to $45 in the shoulder and off-seasons), the versatile venue offers views of the Olympic Mountains, Strait of Juan de Fuca and nearby Thetis Lake Park.

For additional information about the course, visit http://www.highlandpacificgolf.com.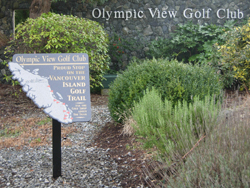 One of the 12 Stops on the Golf Trail
Other Courses on the Vancouver Island Golf Trail

From Victoria, the Vancouver Island Golf Trail heads northward on the massive landmass. Near Victoria is Arbutus Ridge, while the other stops include Cowichan Valley Country Club and Duncan Meadows Golf & Country Club in Vancouver Island's "Wine Country"; Fairwinds Golf Club, Morningstar Golf Course and Pheasant Glen Golf Resort near Parksville and Qualicum Beach; and Crowne Isle Resort and Golf Community and Storey Creek Golf & Recreation Society (!) in the Courtenay and Campbell River area.

Off the course there's plenty to do up and down the Trail: antique shops, wineries, fresh- and saltwater fishing, hiking, whale-watching, kayaking and many more outdoor activities in one of the world's prettiest places.

The Vancouver Island Golf Trail is part of four six different areas promoted by the B.C. Golf Alliance (http://travel.golfbritishcolumbia.ca/destinations) through the British Columbia Golf Association. The others include Whistler, Vancouver, Kamloops, the Okanagan and Columbia Valley.

For a full list of the courses and various stay-and-play packages on Vancouver Island, visit http://www.golfvancouverisland.ca/index.asp.