You can Play a U.S. Open Venue Today
By: Blaine Newnham
So you want to play a U.S. Open course under U.S. Open conditions? Maybe you don't. But of course you would, given a chance.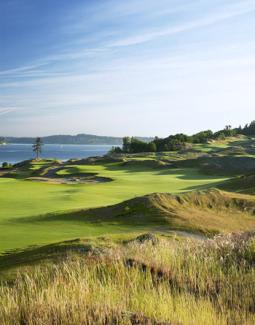 Chambers Bay (photo by Aidan Bradley)
First of all, there aren't many U.S. Open courses on which you can get a chance. Name them. Ostensibly, you can play Pebble Beach and Pinehurst, but both are expensive resorts and require a first-born in return. Bethpage Black in New York is a deal if you can get on. Torrey Pines in San Diego has green fees over $200.

But here we have Chambers Bay, the surprising pick to host the 2015 Open, a different kind of course, an Irish-Scottish course, where the fairways are firm, the greens tumbling and where it isn't as important where your ball lands as where it ends up.

Chambers Bay is also a rigorous walk with no golf carts allowed. It was designed by Robert Trent Jones Jr. with wide fairways and without rough. There is only one tree on the course and it isn't in play. All that was fine until the United States Golf Association got involved.

Right now, if you want to get a preview of what it will be like four years from now when the U.S. Open is played in the Pacific Northwest for the very first time, have at it. But be aware there is knee-high rough in some places, and that the course can be nearly as hard and fast as it was at last summer's U.S. Amateur when, in August, they quit watering for a couple of weeks and the course appeared moribund, almost a butterscotch brown, and balls glanced everywhere.
Mike Davis, the USGA official charged with setting up the course, admitted that it had been slightly overcooked for the qualifying rounds and ordered some hand-watering to bring things into a sense of normalcy. On the other hand, the concern for the 2015 Open was that it would be played in June, not August, after months of what could be a sunless, wet Northwest spring.

David Fay, the former head of the USGA, once asked, "What if the course were soggy, and soft, and offered little defense against the world's best players?"

So the Chambers Bay staff set off this year to find out, and was blessed - sort of - with one of the wettest Northwest springs on record. The rough responded to the challenge, growing tall wispy fescue that proved daunting if not agonizing. It is not dense enough you can't find your ball, but playing out of it is costs at least half a stroke. Or more.

The regular patrons at Chambers Bay are not as enamored with the rough as you might think they should be. Rounds are taking longer, and a few balls are indeed lost. "It is comforting to know that we can give the USGA what it wants," said Dave Weineke, Chambers Bay's superintendent.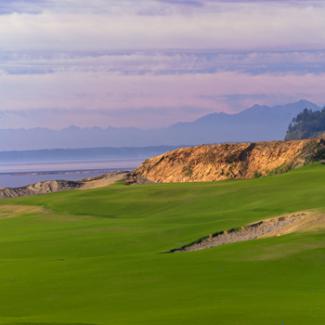 Chambers Bay
"David Fay expressed concerns and we went to work on it with a sanding program that has left us nearly as firm and fast as we were in August."

Larry Gilhuly, who is monitoring the course for the USGA, agrees. "If they get a week of warm, dry weather before the Open it will be as firm as it was in August," said Gilhuly. "The rough can be as high as we want it to be."

Once the test is over and the USGA understands the situation, there is hope by the officials at Kemper Sports, the course's management firm, that the rough can be returned more to normal. In terms of general maintenance, Weineke and his troops have continued to keep the native poa annua grasses out of the course. They've also done battle and won with Scotch Broom and thistles.

"No one,'' said Weinke, "has ever been able to keep poa annua out of a course before. We're not letting one plant culture dominate, I've seen more animal life than ever before, rabbits, mice, bald eagles, owls, coyote, foxes, red-tail hawks."
Because of last year's Amateur, the treatment to remove moss from the greens was delayed and they still show a considerable amount of moss, although it doesn't seem to affect the speed or smoothness of the greens.

"I have no concerns that Chambers Bay will be ready for the Open," said Gilhuly.

Unlike recent Opens, Chambers Bay will not have graduated cuts of rough. There is a five-foot-wide first cut at about an inch-and-a-half and from there the rough has been let go.

The key to the maintenance of Chambers Bay and its firm surfaces is sand, according to Weineke. Ironically, he may need some sand shipped in; ironic because for 100 years they shipped sand out of the Chambers Bay site to golf courses around the Northwest.

"Most of the golf courses around here were built with sand from this mine," said Weineke.
Blaine Newnham has covered golf for 50 years. He still cherishes the memory of following Ben Hogan for 18 holes during the first round of the 1966 U.S. Open at the Olympic Club in San Francisco. He worked then for the Oakland Tribune, where he covered the Oakland Raiders during the first three seasons of head coach John Madden. Blaine moved on to Eugene, Ore., in 1971 as sports editor and columnist, covering the 1972 Olympic Games in Munich. He covered five Olympics all together – Mexico City, Munich, Los Angeles, Seoul, and Athens – before retiring in early 2005 from the Seattle Times. He covered his first Masters in 1987 when Larry Mize chipped in to beat Greg Norman, and his last in 2005 when Tiger Woods chip dramatically teetered on the lip at No. 16 and rolled in. He saw Woods' four straight major wins in 2000 and 2001, and Payne Stewart's par putt to win the U.S. Open at Pinehurst. In 2005, Blaine received the Northwest Golf Media Association's Distinguished Service Award. He and his wife, Joanna, live in Indianola, Wash., where the Dungeness crabs outnumber the people.