Young Women Pros Will Miss Their 'Grandfatherly' Mentor
By: Dave Andrews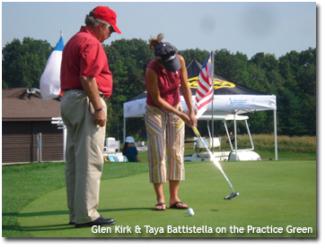 As a fixture on the Duramed Futures Tour for the past three seasons, he was the man the young women pros turned to when starting their professional careers. At every stop along the way in the tour's six-month-long swing around the country, young pros patiently waited for their turn on the putting green to get Glen Kirk's help. They knew, after all, that Glen's advice could be the difference in their making it to the LPGA Tour, the goal shared by all of them.
Kirk is the traveling representative of YES! Golf, the Denver-based manufacturer that makes the most popular brand of putters on the Duramed Futures Tour. Over 50 percent of the players on the tour used its putters in 2008. YES! had a three-year sponsorship deal with the tour but, unfortunately for the players who came to rely on Glen's help, the company will not be returning as a sponsor in 2009.
YES! made its putters available - for free - to all the players on the tour. Kirk is the company's expert who fitted the pros for one of the several models sold by the company. Now 69, he's old enough to be the grandfather for most of the players, and was certainly much more than just a company "rep." He worked with any player who asked for help, regardless of whether she used a YES! putter. His workday typically began around 7:30 a.m. and often didn't end until dusk, when the last of the pros wound up their time on the practice putting green.
Many players have sought his putting advice over the years. He analyzed their strokes on high-tech video equipment, and routinely changed putter shafts, heads and grips. He tweaked the "lofts" and "lies" to best fit each player's individual style and preferences. Over the years he spent on the tour, many players credited him with taking several strokes off their scores. As they say in professional golf, putting is "the name of the game."
This past summer, Vicky Hurst, the 18-year-old rising superstar from Melbourne, Fla., mentioned Glen by name in her victory speech at one of the events she won. She credited her YES! putter and Glen's advice and instruction on the putting green with helping her to victory. Hurst finished first on the Future Tour's money list in 2008. She also had the lowest stroke average and set a single-season tour record in earnings en route to earning a spot on the LPGA tour in 2009.
Unfortunately for YES! Golf, her putter probably won't be going with Hurst, who recently signed a lucrative multi-year endorsement contract with Callaway Golf. She will likely be using an Odyssey (a division of Callaway) on the LPGA Tour. Several players on the LPGA Tour do use YES! putters, however, after Glen introduced them to the brand when they played on the Futures.
Kirk, a former Marine who was a professional golfer on the mini-tours back in his younger days, knows what he's talking about when it comes to putting and golf in general. The Texan is still a near-scratch golfer. With his busy schedule he doesn't have much time to play, but in a two-day amateur event last summer Kirk shot a pair of 73s on a course he'd never played. He's one of those rare senior golfers capable of "shooting his age" any time he tees it up. Most of the young women pros he worked with probably would never have imagined that he could give them a run for their money in a head-to-head match.
Glen says his biggest enjoyment in working with young players came from seeing many of them improve their putting and lowering their tournament scores. He knows what a mystery putting can be, and that even the best players go through ups and downs with the "flat stick." Most professionals will go through a series of putters and techniques during their careers as consistently good putting is one of the game's most elusive elements.
He often shook his head at those he called the "yeah, but" players. These are the young pros that came seeking advice when their putting was in trouble. He'd work with them, analyze their problems, and teach them a better style. At the end of the session, when he would ask them if they agreed with his suggestions, they would often respond, "Yeah, butů" Right away he'd know they weren't entirely committed to his advice.

Glen Kirk understands that in the game of golf there is only so much anyone can do to help a golfer with his or her game. In the end, it's always up to the player to put all the pieces together to make it work.

Over the past three years the young women pros on the Duramed Futures Tour knew that, in Glen, they had someone they could always turn to for help when their putting needed it. When the 2009 season opens up in March and they don't see Glen or the big YES! Golf tent at his usual spot next to the putting green, they'll miss him a lot.

He will miss them, too.
Dave Andrews is a Harvard-educated former television news reporter. He's also an avid golfer who has become a fan of the Duramed Futures Tour. His home course in Concord, N.H., is annually the site of one of the tour's events. The inspiration for Dave's 2007 novel, "Pops and Sunshine," came from meeting many of the young aspiring women golfers on that tour. Each of them has a passion, dedication and determination that he finds remarkable. His novel is a fictionalization of the dream that these young women share. To order Dave's book, visit http://popsandsunshine.com.