Zach Johnson Wins U.S. Open, Oops, I Mean Masters
By: Jay Flemma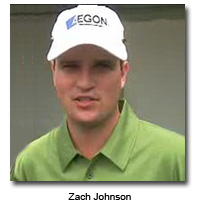 Lets get something out up front - what you saw last weekend is NOT how "firm and fast" is supposed to play. As a result, we got a U.S. Open instead of a Masters.

Fast and firm conditions are primarily - almost exclusively - found on courses built on sand, usually seaside courses. They allow the ground game; bump and run shots from up to 100 yards (or more!) are commonplace. The game more resembles snooker than lawn darts. The idea is that firm and fast conditions provide more options. You can stick the pin, OR you can bump and run. At Augusta, firm and fast actually worked to provide FEWER option rather than more options. Once a masterpiece of temptation - "should I go for it? I can make eagle or double bogey" - Augusta was reduced to a center-line, target-style golf course.

At Augusta, firm and fast are used to artificially deflate scoring. We got a U.S. Open aggregate score-to-par and the same type of "restrictor-plate racing" effect as well; i.e., players all bunched together before they fall away like leaves, and whoever is left standing after 72 holes is the winner.
And while we're at it, I completely disagree with the talking heads and the USGA, one-over-par is not a winning score for a major. Enough of this head-banging garbage about "we want majors to be tough!" We don't raise the hoop another foot for the NCAA Final Four do we? We don't move the pitcher's mound 10 feet closer and move the outfield fences to suppress scoring in the World Series, do we?
I watch a championship game in any sport to see the highest form of the craft, not to watch everybody bump into each other like the Three Stooges. I want lightning-fast offensive strikes in football, I want raining threes and pin-point passing in basketball, I want clutch hitting in baseball. Above all, I want comebacks. Fans crave excitement.
The Masters is the Masters because players shoot up and down the leaderboard like fireworks. So when some ding-dong tries to tell you "it's great to see the pros struggle like us," just think about how much fun a 0-0 baseball game is . . . or a 45-36 basketball game, or a Super Bowl filled with holding calls and false starts. If I wanna see guys shoot 80, stub chips and three-jack all day, I'll bring my camcorder with me next Saturday when my lunkhead golf buddies are with me and we'll post it on YouTube. See how many hits that'll get!
No, Augusta is supposed to be "roaring on the Pines" and there were too few roars. Nobody was able to put the hammer down and make a bold move. That's boring people. I love the Masters, but the first three days this year were downright lackluster. Sunday was better, but it still wasn't 2004. That was a Masters. Ernie, three-up with five to play, then Phil starts eagling. 1996, that was a Masters: when siren's temptation buried Greg Norman in a watery grave in Rae's Creek.
1986, that was a Masters. Jack was Jack for one last magical day. I had a choice. Go to see the Psychedelic Furs play Trinity College's spring concert, or stay inside on a beautiful day and watch TV. I watched Jack win his last major in unbelievable fashion. So what that I missed "Don't you Forget About Me?" I saw Jack win the '86 Masters. Check and mate!
No, next time some media boob tells you, "this is how majors are supposed to be," send him an email telling him how crazy he is.

Crazy also describes anybody who doesn't think Zach Johnson is sexy enough as a winner for the Masters. As is typical, Madison Avenue underestimates Middle America and family values. Try this quote from a New York City newsie: "The sad truth is we'll probably forget this disposable hero by the next sunset. Even the green jacket didn't fit quite right on Johnson. It tugged and bunched along his back as if it desperately craved a different, taller and thinner model."

Good Lord, where do you stop debunking such ignorance? 1) A hero is not disposable because he's not "sexy" enough for a sportswriter or gets in the way of your Tiger worship. 2) No, we won't forget Zach, he's a Masters champion forever. We will forget your ridiculous blasting him however. I have to words for haters like you - Ben Curtis. This is the PGA, not the NBA. Good guys - guys who are respectful and humble and cordial are well-liked by fans and players alike. Just because they won't sell a few extra papers to a few "casual eyeballs" does not mean they achieve anything less than a scowling prima donna. 3) The green jacket didn't crave a "taller thinner model," you did. If Woods doesn't win, the "casual golf media" don't know what to do with themselves. "What's that? You say the new Masters champ is from Iowa? Prays to God? Sorry, he won't sell. What else ya got?"

Sorry, Charlie, golf is above all that. You tried to tell people that Zach Johnson isn't good enough for them because you didn't have anything sexy to write about him, because you couldn't draw a few more "casual readers" that you would get if Tiger won. I'll bet you Augusta National is just pleased as punch that a nice, respectful, humble gentleman won. Let me break the news to you. There is a difference between a winner and a champion. A champion is someone who wins with grace, class and sportsmanship. He is a person who, in winning, makes everyone around him and the game itself look good. Johnson will do that just fine. I'll bet you anything his caddie won't throw a camera in a lake. I bet he won't throw a club or rake a green at a U.S. Open. I bet he won't start coming to the first tee with a scowl on his face and engage in gamesmanship with his playing partners. No, I'll bet you a John's Pizzeria double-pepperoni thin crust that we won't have a single snap, snipe or sour note from Johnson.

Besides, for a while, it looked like Rory Sabbatini might be the one with the green jacket. Think THAT would have turned a few heads? (Would he have served fast food at dinner? Would Faldo have been served a meal? Would Faldo retire to the bar and order steak . . . like everyone did when Sandy Lyle served haggis?)

Anyway, Johnson is still an unlikely winner. Unlikely does not mean unworthy. He survived a crucible that came eight weeks early. Nevertheless, Johnson looks more like a surprise winner of a U.S. Open than a Masters. Two stats jump out: First, he was 157th in driving distance; and two, his previous best major finishes were a T-17th at the 2005 PGA and a Masters T-32. Those are the numbers of guys who come out of the woodwork at the U.S. Open, not guys who work Sunday magic at Augusta. So sadly, some media chumps will say he somehow has to "validate" his win with another major.

Some people just don't appreciate art. Johnson doesn't have to validate a darned thing. Did Villanova or North Carolina State have to "validate" their NCAA Championships? Please. The whole concept of "validation" of a major is media doublespeak. Zach Johnson won the Masters, plain and simple. He went out and took it. He didn't back into it, he seized it with a final-round 69, the same 69 Woods could have shot, but didn't. Yeah, he got some breaks, but that's how you win a major.

So I say we all got lucky. A boring tournament turned exciting on the last day. It was a coming out party for a delightful young man, one who will be as great a champion, as he is a winner . . . a champion who needs no "validation" to become sexy for the media or Madison Avenue.

But all that aside, the Masters is not the Masters without the "roaring on the pines" and the "three-or-seven" cloak and dagger roller-coaster swings. This isn't the Open after all . . . it's better. Let's keep it that way.

Big Props

Life in the Tiger era is so boring, we had to take prop bets on the Masters like "low Aussie." Jonas from Gonzalez e Gonzalez beat every sportswriter when he picked Stuart Appleby as low Aussie. He picked Appleby without hesitation!

"Sure you don't mean Allenby?" - No.

"What about Ogilvy?" - No.

"You sure you want him?" - Yes.

Pause . . .

"Nick O'Hern is still available. What about him?" No hesitation as Jonas says, "Jay, I want Appleby." (I still can't believe it!)

Congratulations, Jonas. You won the pool!
Since launching his first golf writing website in 2004, http://www.jayflemma.thegolfspace.com, Jay Flemma's comparative analysis of golf designs and knowledge of golf course architecture and golf travel have garnered wide industry respect. In researching his book on America's great public golf courses (and whether they're worth the money), Jay, an associate editor of Cybergolf, has played over 220 nationally ranked public golf courses in 37 different states. Jay has played about 1,649,000 yards of golf - or roughly 938 miles. His pieces on travel and architecture appear in Golf Observer (www.golfobserver.com), Cybergolf and other print magazines. When not researching golf courses for design, value and excitement, Jay is an entertainment, copyright, Internet and trademark lawyer and an Entertainment and Internet Law professor in Manhattan. His clients have been nominated for Grammy and Emmy awards, won a Sundance Film Festival Best Director award, performed on stage and screen, and designed pop art for museums and collectors. Jay lives in Forest Hills, N.Y., and is fiercely loyal to his alma maters, Deerfield Academy in Massachusetts and Trinity College in Connecticut.